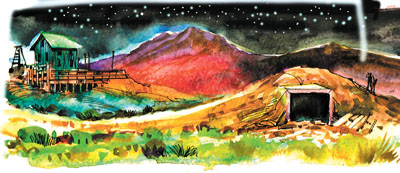 A dethroned Central Nevada mining queen, Tonopah preserves her past and regains prestige as a prime location for stargazing. Often considered just a fuel or snack stop along U.S. 95 between Las Vegas and Reno, the old town deserves a closer look. Located 200 miles from Las Vegas at the junction of U.S. 95 and U.S. 6, Tonopah offers overnighters a variety of motels and restaurants.
Visitors during the day spend hours walking or cruising the historical downtown to spot dozens of buildings and residences listed on the National Register of Historic Places. Turn in the gates of the regional Central Nevada Museum to visit indoor and outdoor exhibits just off the highway. Across the highway, explore the 100-acre Tonopah Historic Mining Park. After dark, the night skies over Tonopah glitter with the light from 7,000 stars.
The town's remote location far from urban light pollution makes it one of the best places left in the United States for observing the night sky. Lights in most urban areas limits nighttime visuals to just 25-50 of the brightest stars and erases most of the Milky Way, even on moonless nights.
Tonopah's 6,200-foot elevation and unusually clear skies assist stargazers in seeing the Milky Way and many other features in outer space. The unusual clarity and darkness of the skies over Tonopah at night gain the attention of the International Dark-Sky Association, a group fighting visual pollution worldwide. Learn more about Tonopah's stargazing possibilities on the Internet at tonopahstartrails.com. Bundle up when you set outside, for Tonopah's nights are crisp, even in summer.
Tonopah's museums garner awards, attaining the highest listings as Nevada's most popular rural museums year after year from Nevada magazine. The free Central Nevada Museum remains open all year Wednesdays through Sundays from 10 a.m. to 1 p.m. and 2 to 5 p.m. The Tonopah Historic Mining Park stays open seven days a week from 9 a.m. to 5 p.m. from April through September and 10 a.m. to 4 p.m. from October through March. Visiting the main building is free, but exploring the grounds on self-guiding trails costs $5. Ask at your motel for the locally available coupon for $1 off the walking tour price.
The Central Nevada Museum's indoor exhibits explore many aspects of life in the region's early days a century or more ago. Visitors find out about the nomadic native people of the area, the ethnic make-up of early miners and townfolk and the history of the military in Tonopah. Exhibits demonstrate how people ranched, mined, railroaded, fought fires, kept the peace and entertained themselves. The museum's gift and book shop helps support development of this evolving facility.
The museum's outdoor exhibits preserve structures typical of the rude buildings hastily erected to house miners and businesses when the town boomed in the early 1900s. Some of those early buildings got moved to other mining camps. Many others succumbed to fires before Tonopah had time to erect stone and brick structures.
The Tonopah Historic Mining Park sits on a hill above the old Nye County Courthouse with its distinctive silver dome. It protects mining company buildings and equipment from several major mines, maintaining them in a state of "arrested decay." First explore the main building with its gift shop and display rooms and watch the introductory video. Then head outside to start your self-guided tour. Dress in layers, wear sun block and carry bottled water.
Since the mining park's trails include at least a mile and a half of paths with some steep portions and irregular steps, wear sturdy shoes or boots. Disabled visitors may have difficulty, but they may drive to a central area to visit a major mining company hoist house and outbuildings, including one devoted to extensive rock samples and a black light display. Restrooms are centrally located.
Visitors view open stopes hundreds of feet deep from a bridge over a black gap and a wire cage suspended over the void. Drafts sweeping up from below carry the faint scent of explosives, still acrid after many decades.
Margo Bartlett Pesek's column appears on Sundays.