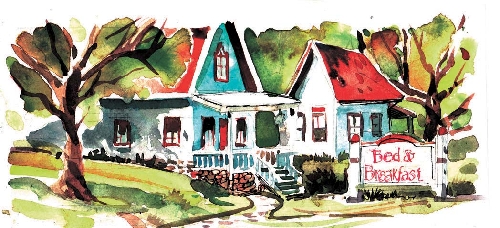 Scattered across Nevada in communities large and small, ghost towns, ranches and other isolated locations, bed-and-breakfast inns provide options for travelers. They appeal to those looking for something different from cookie-cutter motel chains and impersonal large hotels and offer charming surroundings, personalized service, opportunities to meet like-minded guests and delicious breakfasts.
The Nevada Bed and Breakfast Guild lists 18 members, and there are a few inns that are not members of this group, which is headquartered in Virginia City. For instance, the popular Belmont Inn in the Central Nevada ghost town of Belmont remains open but does not appear on the guild's latest list, perhaps because it is for sale. The quaint Steptoe Valley Inn in Ely appears to be closed and for sale. The restored miners cabins in Gold Point south of Goldfield house guests on weekends part of the year. The historic Boulder Dam Hotel in Boulder City, small hotels in Pioche, Ely, Tonopah and the lodge and the hotel at Mount Charleston might not meet the guild's criteria of "breakfast included."
As with other small businesses, bed-and-breakfasts are subject to changing conditions. Some are started optimistically by people who think they know what they're getting into but find that feeding, caring for and cleaning up after guests is a lot of work and perhaps not as much fun or as lucrative as they originally thought. Innkeepers might quit when they get sick or old or just too tired.
When trying to locate a bed-and-breakfast in advance of a trip, start with the Nevada Bed and Breakfast Guild's listings at www.nevadabandb.com. You can also try expanding your search to include listings for country inns and guest ranches.
Keep geography in mind. There are many B&Bs around Lake Tahoe, but most of them lie on the California shores of the lake, and none is on the guild's list. Beware of postings on the Internet; they never go away, even if the inn no longer exists.
Try calling the chamber of commerce in Nevada towns large enough to have one. They might have listings for B&Bs not found on any association's website, such as the one in Jarbidge in Elko County. Some chambers of commerce serve areas that include several small communities. Usually the person answering the phone knows the area well, including which establishments are still in business.
Try to contact the inn directly for room rates, information, directions and reservations. Inns charge room rates that vary widely, from comparable to prices at better-grade motels to downright extravagant. Ask if the inn provides other meals upon request for an additional charge, common in remote areas.
Nearly half of the Nevada Bed and Breakfast Guild's listings are in the Reno, Carson City, Lake Tahoe area. Reno lists the Wildflower Village B&B near the Truckee River. Virginia City has listings for Edith Palmer's, the Cobb Mansion and the B Street House, all historic buildings. In Carson City, the Bliss Bungalow downtown dates to the 1800s. Guest ranches include Deer Run Ranch near Carson City and the Cottonwood Creek Ranch and the K High Five Ranch near Gardnerville.
The wide-open spaces of rural Nevada have scattered inns. Off Interstate 80 nearing Winnemucca, a side road south takes you to remote Unionville's Old Pioneer Garden and Country Inn. In Paradise Valley, along U.S. Highway 95 north of Winnemucca, guests stay at the stately Stonehouse Country Inn. In Deeth, east of Elko off I-80 lies the 71 Ranch, a working cattle operation with guest facilities. Along U.S. Highway 50 in Central Nevada, Austin lists the Union Street Lodging near downtown and the Paradise Ranch Castle a few miles outside of town. Nearby Kingston Canyon boasts Mile's End. In Eureka, look for the Eureka B&B, housed in a residence built in 1886. Off U.S. Highway 93 in Lincoln County, Panaca has the Pine Tree Inn and Bakery.
In Southern Nevada, the guild lists only Boulder City's Milo's Inn in historic downtown and Stay at Dar's B&B in a spacious house in Pahrump.
Margo Bartlett Pesek's column appears Sundays.