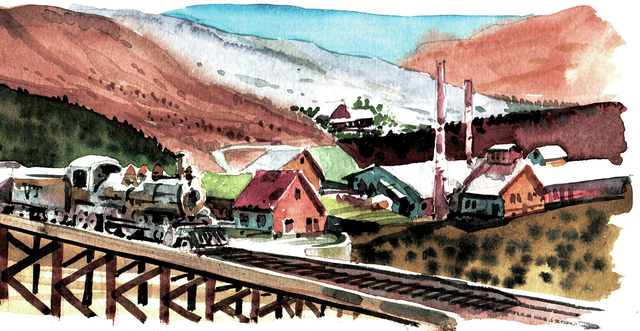 A picturesque mountain setting and a core full of 19th-century structures from its Comstock Lode glory days draw tourists to Virginia City, Nevada's most famous mining boomtown.
The little town offers visitors special events, many attractions, specialized adventures, accommodations, eateries, saloons and plenty of charm.
Virginia City makes an easy side trip during a visit to the Reno-Tahoe-Carson City area. The old town, perched at 7,000 feet, is 21 miles from Reno and 14 miles from Carson City.
Many appealing events are scheduled throughout the year to entertain visitors and keep them coming back. The town attracts hundreds to fun events such as the 55th annual International Camel Races, Sept. 5 to 7, and the hilarious Outhouse Races, Oct. 4 and 5.
When gold and silver discoveries in 1859 led to the fabulous riches of the Comstock Lode, the influx of fortune seekers was reminiscent of the California Gold Rush a decade earlier. Virginia City rapidly grew from a crude camp to one of the most important mining towns in the West. Although the area produced quantities of gold, its greatest fortunes lay in its rich deposits of silver. The riches extracted there were destined to build San Francisco into a great city, to help the Union win the Civil War and to bring statehood to Nevada.
Virginia City's steep streets are lined with quaint Victorian houses, lavish mansions, ornate churches, false-fronted commercial buildings and handsome public structures. Most of the town is included in a National Historic Landmark listing, recognized as a collective legacy worth saving for future generations. There are so many museums, mine tours, mansions, cemeteries and adventures worth experiencing in Virginia City that visitors cannot take in all of them. Many visitors find enough to keep them busy just by exploring the saloons, shops and souvenir stores crowding the downtown area, mainly along C Street.
Drop in at the visitor center at 89 South C Street for information and tickets for many attractions and adventures. Take a narrated tram or trolley ride to save some walking and acquaint yourself with the town's history and attractions. These tours cover 2½ miles downtown in less than half an hour, helping you plan your visit by noting places and attractions to return to see. The tours operate year-round from 9 a.m. to 5 p.m. for nominal fees.
Inquire about rides on the historic V&T Railroad. Short train excursions take passengers through the Comstock area to Gold Hill and back, while longer rides travel to Carson City on part of the famous railroad's original route. The visitor center also offers four different Comstock Adventure Passes to save on entrance fees to museums, mine tours and train fares.
The largest museum in Virginia City, the Fourth Ward School is a stately four-story structure that served the community from 1876 to 1936. The restored building reopened in 1986 as a museum. It is open afternoons during the town's busiest season, from May through October. Other popular draws include the Mark Twain collection in the Territorial Enterprise offices, a firemen's museum, a peace officer's museum in the courthouse jail, mining excursions, a Comstock-era mansion and a mine set up for gem hunting or gold panning.
Virginia City boasts several historic public buildings that have been in service since the early days and are open to visitors today. The handsome 1876 Storey County Courthouse is the oldest continuously operating courthouse in the state. Beautifully restored Piper's Opera House, built in 1885, once welcomed the best performers in the world and still serves as a cultural center. Built in 1875, lovely St. Mary's in the Mountains is Nevada's oldest functioning Catholic church.
Margo Bartlett Pesek's Trip of the Week column appears on Sundays.