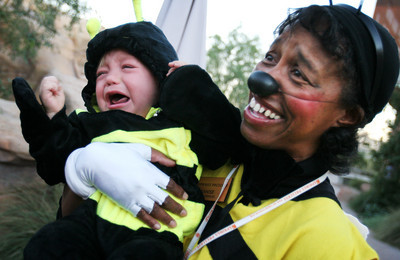 Fear has a name in Las Vegas, and its name is … (cue scary organ riff) … Duke Mollner.
OK, a bit overly dramatic. Still, it is true that, for 17 Halloweens now, Mollner has been scaring the bejabbers out of Southern Nevadans with his Freakling Bros. roster of live-action haunted houses.
When he's not serving as Las Vegas' own fearmeister, Mollner is a baccarat dealer at Bellagio. His seasonal gig is an outgrowth of the decorating Mollner and his wife began doing at their home in 1976 to scare trick-or-treaters.
Fifteen years later, the homegrown attraction morphed to the point where people were coming from all over the valley to see it. So, in 1992, Mollner — along with his son and his son's friend, and now dubbing themselves the Freakling Bros. — opened their first commercial effort, the Circus of Horrors, at Sahara Pavilion.
In the years since, the trio's slate of spooktaculars expanded. The Dungeon in 1995. The Black Box in 1996. The Mortuary in 2000. Castle Vampyre in 2004.
These days, the attractions rotate periodically, changing locations throughout the valley. This year, Castle Vampyre is at Sunset Station while two attractions, the Circus of Horrors and The Mortuary, share the United Artists Theaters parking lot at Rainbow Boulevard and Smoke Ranch Road.
The twofer at United Artists is "a real gamble for us. We've never done that before," Mollner said. But he figures value-conscious fright fans will enjoy the gasoline savings and convenience of exploring two haunted houses at the same location.
Mollner says preparing each year's Halloween extravaganzas has become "almost a nine-month deal now, with repair work and marketing and designing."
But, he adds, the basics of a good scare are eternal.
"We're all wired a certain common, basic way," Mollner explains. "So if you apply the same principles to any theme, you're gonna be able to scare people."
Key to the equation are trained live actors who, Mollner says, can fine-tune their moves to the size of a group, change their positions for maximum effect and do whatever else it takes to offer a good fright.
Live-action scares are particularly effective today, "when everybody is so used to video," Mollner says.
"When you walk through a haunted house and every character is live and in your face, that's intimidating, and it's different (from computer-generated effects.). So, from that standpoint, the basics always remain the same."
Here's a rundown of this season's roster of frightening facilities.
• The Freakling Bros. present the Circus of Horrors and The Mortuary at the United Artists Theaters parking lot, Rainbow Boulevard and Smoke Ranch Road, and Castle Vampyre at Sunset Station, 1301 W. Sunset Road, Henderson. All three are open through Nov. 1, from 7 to 11 p.m. Sundays through Thursdays and 7 p.m. to midnight Fridays and Saturdays. Admission is $11 for one attraction, $18 for the two UA theaters attractions, and $24 for a Freak Pass good for one admission to all three attractions. It also serves as a line pass. No one younger than 5 is admitted, and no one younger than 12 will be admitted alone (362-3327).
• Circus Circus' Adventuredome again this Halloween transforms into the Fright Dome haunted theme park. The attraction — ranked for the third straight year as one of AOL.com's top Halloween attractions — includes five haunted houses, including HillBilly Hell, Vampire's Bloodfeast and The HEX-MAS Nightmare; 23 rides and attractions, including aerial haunts with "drop demons," premium rides, a haunted 4-D FX theater; and the live-action Xtreme Sideshow Circus. Hours are from 7 p.m. to midnight today through Sunday and Oct. 29 through 31. Tickets are $33.95 for a single night (Fast Pass tickets, available for an additional $15, also allow express line entry for all five haunted houses). Not appropriate for children younger than 12 (794-3939).
• "Scream," the chamber of horrors at Madame Tussauds Las Vegas, 3355 Las Vegas Blvd. South, at The Venetian, is open from 10 a.m. to 9 p.m. Sundays through Thursdays and 10 a.m. to 10 p.m. Fridays and Saturdays. General admission is $24, $18 for seniors, $17 for students and locals, and $14 for ages 7 to 12, while children 6 and younger are admitted free (862-7800).
• Las Vegas Springs Preserve, 333 S. Valley View Blvd., turns into Haunted Harvest, an eight-acre "bootanical" garden, through Oct. 31. Attractions include a haunted hayride, Safe Street trick-or-treating, band performances, demonstrations of the theremin — the instrument that creates those spooky sounds in classic horror movies — and performances by The Ghosts of Shakespeare from Theatre Las Vegas. Costumes are welcome. Open Thursdays through Sundays from 5 to 10 p.m. Admission is $9 for adults and $6 for children ages 5 to 17 (ages 4 and younger and annual pass holders admitted free) (822-7700).
• On Oct. 31, Mandalay Bay's Shark Reef aquarium, 3950 Las Vegas Blvd. South, becomes the Haunted Reef, where visitors pass through darkened tunnels with ghostly decorations, jack-o'-lanterns and sound effects setting a Halloween mood. Hours are from 10 a.m. to 6 p.m. Admission is $16.95 for adults, $10.95 for children 5 to 12 (children 4 and younger, free) (632-4555).
• Bonnie Screams! Wicked West Halloween Fest, the haunted ghost town at Bonnie Springs Old Nevada at Red Rock Canyon, about 18 miles west of Las Vegas off Charleston Boulevard, features a haunted train ride, haunted houses, a Carnival of Screams and a Midway of Madness, as well as live bands, street shows and other attractions. Open through Oct. 31, with a Day of the Dead Celebration Nov. 1 and 2. Gates open at 6 p.m. General admission is $20, and free for children under 32 inches tall (1-888-972-7326).
• The Morbid Manor, inside the Halloween Connection, 5675 S. Rainbow Blvd., features state-of-the-art effects, including "The Last Ride," which simulates being placed in a coffin and buried. Open through Oct. 31 from 6 p.m. to midnight. Admission is $15 (682-6677).
• Monster Mayhem, the Haunted Village, at Town Square, 6605 Las Vegas Blvd. South, offers three haunted houses, including The Haunted Mansion, the 3-D Morbid Clown Manor and the Aces & Eights Haunted Casino. Also features The Boneyard, an above-ground graveyard. Open through Nov. 1 from 7 p.m. to midnight. Admission is $22 (676-3327).
• Stagecoach Depot's Haunted Corn Maze in Glendale, a drive of 35 minutes on Interstate 15 North (use exit 90), offers a corn maze in the shape of a firetruck. Admission is $12 for adults and $10 for children ages 12 and younger. Open from 7 to 11 p.m. Fridays and Saturdays though Oct. 31, weekdays by appointment only. Closed Sunday. Admission is $12 for adults and $10 for ages 12 and younger (864-2288).
• Hotel Fear, in the Home Depot parking lot at Craig Road and Camino del Norte, and The Asylum, in the Home Deport parking lot at Charleston Boulevard and Hualapai Way, are open from 6:30 to 10 p.m. Thursdays and Sundays, 6:30 p.m. to midnight Fridays and Saturdays. Special Halloween week hours. Admission is $11 (631-6682).
Contact reporter John Przybys at jprzybys@reviewjournal.com or 702-383-0280.
ON THE WEB More Halloween events