Extravagant and ecofriendly: Henderson home created for 2014 International Builder's Show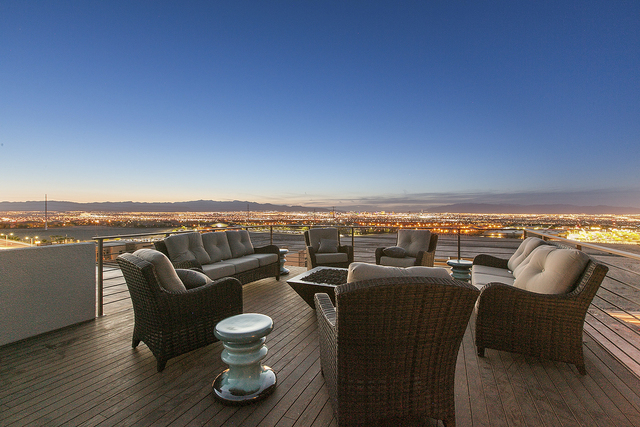 Since 1984 the National Association of Home Builders' International Builders' Show has commissioned a New American Home to showcase the latest homebuilding technology.
This year that home was the uber energy-saving residence at 2256 Sunrise Ridge Court.
Colorado-based architects Jeffrey Berkus and father, Barry Berkus, who died last year before the project was completed, teamed with local homebuilder Josh Anderson, Florida-based interior designer Tiffany Bowman and Florida-based energy auditor Drew Smith to deliver a tour de force of design styles that blended beauty and efficiency.
The desert contemporary, high-performance home carries a long list of accreditations from some of the nation's top energy and efficiency agencies. It is within Henderson's Sky Terrace gated community, which is being developed by Blue Heron. In April, Ivan Sher of Shapiro & Sher Group listed the home on the local real estate market for $3.85 million.
The uber-energy-saving residence has 16.2 kilowatts of solar panel arrays that generate 85 percent of the daily electricity needs of the home, according to Anderson of Henderson-based Element Building Co.
This New American Home home was not built for numbers alone. Bowman of Marc-Michaels Interior Design Incorporated aesthetic feng shui practices into the home that has high-tech computer programming, custom finishes, elegant materials such as marble and natural wood and Bowman's contemporary interior design artwork. The combined effect is a beautiful showcase complemented by subtle building features that are reminiscent of the intricate clockwork mechanisms inside an exquisite Swiss timepiece.
"The prevailing attitude about the luxury home industry has been that a bigger home over 5,000 square feet could not be green or energy-efficient," Jeffrey Berkus said.
Anderson said, "We wanted to create a high-performance luxury home in the same way that the automotive industry creates high-performance luxury cars, to give consumers more choices."
While the home appeals to those who are environmentally conscious, it is also extravagant.
The home features five spacious bedrooms, seven baths, two powder rooms, an office nook, a three-car garage, covered patios, kitchen, dining room, elevator, and fireplace built within 6,715 square feet. At the entrance of the home is a pond with white slab stepping stones. Visitors are greeted with cool, moist air. The central walkway into the house is two stories high with natural light flooding into both floors through two ceiling skylights. Inside is a 30-foot waterfall feature with natural wood siding that showcases the expanse and earthiness of the surroundings. Further along the walkway is the kitchen and atrium living area that reveals a spectacular view of the Las Vegas skyline. Outside, is an infinity-edge swimming pool that seems to cascade off the edge of the property. Next to the pool is an extensive covered patio with barbecue grill area.
The boundaries of the home are flexible. Sliding glass walls allow flexibility of outdoor and indoor living spaces near the pool and patio area. Pull-down shades in the patio can partition the outside living space and provide extra comfort from the summer heat. A rooftop sky terrace expands the home to three levels. It is accessed by a spiral staircase from the second floor. Patio and deck space on all three levels of the home cover about 3,000 square feet.
"We are seeing a new trend among builders toward elemental designs, that also incorporate several modern design styles," Ivan Sher of Shapiro and Sher Group said.
The five bedrooms include two master suites, one on each level and a unique casita with a bath and shower that can be accessed from the garage. To access the casita, a visitor must walk over the pond on stepping stones to reach the room's front door.
The kitchen area has a long stainless-steel countertop and a cooking island with two Thermidor electric stovetops. On the second floor there is a smaller kitchen that accesses the sky terrace.
Smith of Two Trails Green Building Consulting was brought in early on the project to help shape the team's designs. Innovative high-performance systems were installed that would also require minimum maintenance over time.
Some examples included four tankless gas water heaters that were daisy-chained for continuous hot water operation, even if all seven showers were running at the same time. Low-flow plumbing fixtures minimize the use of water through faucets, showerheads and toilets. Three air-conditioning systems include filtering, ventilation, heat recovery, ultraviolet lighting for germ dispersal and moisture control. Energy Star appliances minimized the use of water and electricity. Smart home environmental controls are available in every room to control temperature, lighting and window shades.
Outdoor landscaping focused on native desert plants that would require little water. An intelligent irrigation system monitors weather forecasts for rain and also conditions of extreme drought, in order to tune itself for the right volume of water delivery required over time.
The finished home design and operational environment were evaluated for certification by several different green building standards programs, including the U.S. Green Building Council's Leadership in Energy and Environmental Design program and the National Association of Home Builders' National Green Building Standard program.
The desert dwelling has received a LEED Platinum rating, an NGBS Emerald rating and also received a Home Energy Rating System index of 22 from the Residential Energy Services Network. RESNET is a national standards-making body for the building industry that also defines best practices recognized by federal government agencies, including the Department of Energy, Environmental Protection Agency and Internal Revenue Service.
Smith's HERS energy-efficiency audit calculated a comparative index number that was derived from a standardized computer simulation model. After completing the audit, each home is rated with an index number from zero to 150. The fewer the number, the less energy and resources consumed, the more efficient the house becomes. The local Southern Nevada Home Builders Association uses the HERS index system to evaluate new homes for energy-efficiency and conservation of resources through its Green Building Partnership program, www.snhba.com/fyi.asp
"The Green Building Partnership program was put on hiatus during the recent recession but costs have been coming down at the same time as local builders are recovering financially and can begin offering these amenities once again," said Monica Caruso of the SNHBA.
ABOUT THE HOUSE
▶ List Price: $3.9 million, listed in April
▶ Size: 6,715 square feet
▶ Rooms: FIVE bedrooms, nine baths, media and exercise rooms
▶ HISTORY: built in January as International Builders' Show NEW AMERICAN Home
▶ Special features: Two-story atrium, 3,000-square-foot patio and deck space, infinity-edge swimming pool, water features, fireplace, elevator, rooftop terrace, three-car garage, casita and smart home environmental controls in all the bedrooms