'Ghost Adventures' host is selling his $2.5M Las Vegas house — PHOTOS
October 2, 2015 - 3:18 pm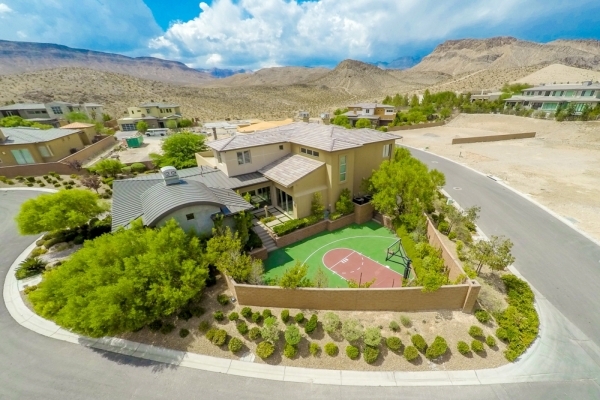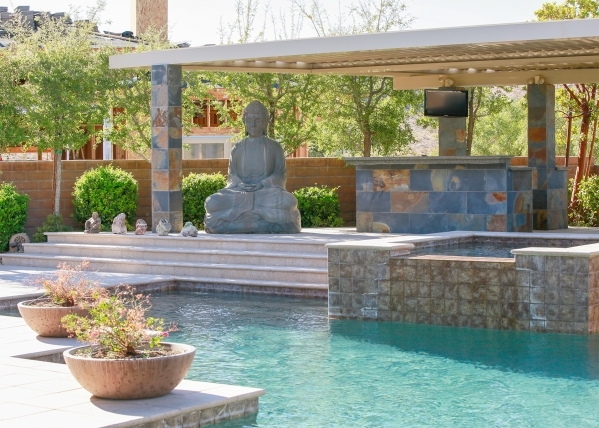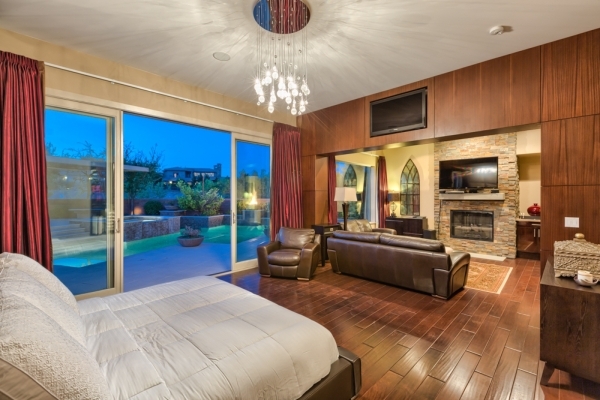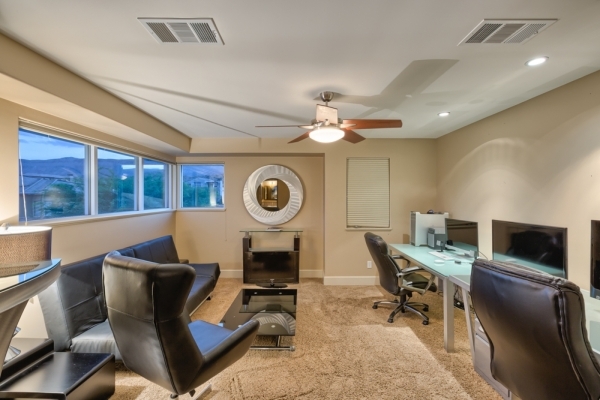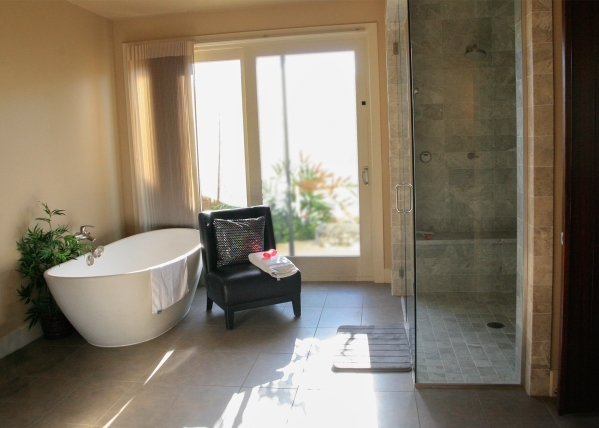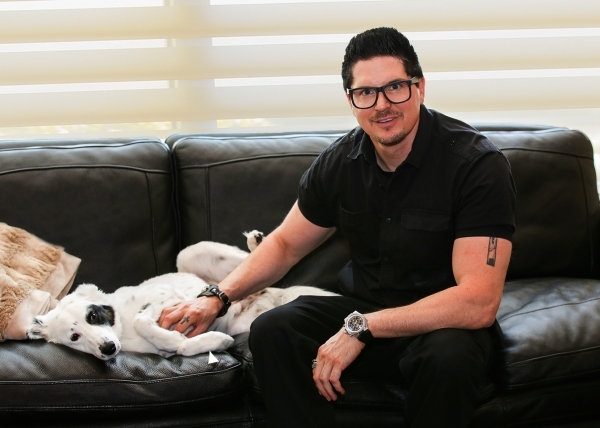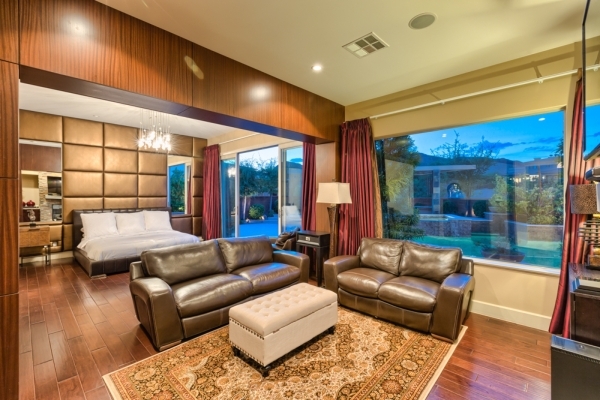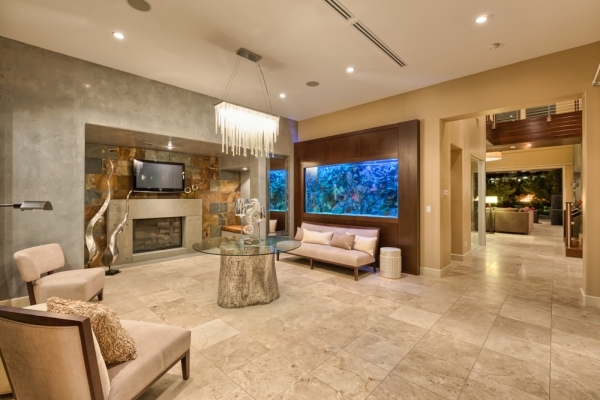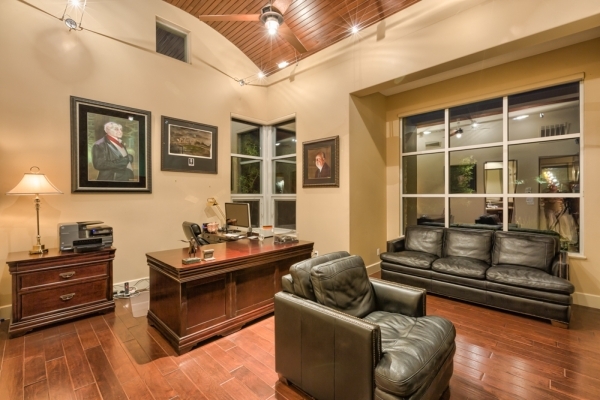 Zak Bagans is the host and lead investigator of the reality series "Ghost Adventures," which presents instances of paranormal activity around the country. He lives in a two-story house in The Ridges of Summerlin and, on a recent cool September afternoon, invited Real Estate Millions to tour his home.
Nestled into the Spring Mountains, the two-story, desert-contemporary-style, semi-custom residence was built by Christopher Homes and is in a cul-de-sac in Boulder Ridge. It has five bedrooms, six baths and is 5,800 square feet.
Bagans bought it in May 2014 for $2.1 million from former UNLV and NBA player Marcus Banks.
Previously, he was living in a loft near Jones Boulevard and the I-215 Beltway.
A year and a half after buying it, he has put it on the market for $2,499,000.
"I like to just move around a lot. That's just how I am," he said. "It's a beautiful neighborhood. I just like getting new things … cars, and switching out new houses. I guess I'm part nomadic."
As a student of the supernatural, he appreciates the untouched beauty of the surrounding area.
"It's quiet here. You don't think you're in Las Vegas. You think you're in some exclusive resort. It's different in The Ridges. It's very spiritual," he said. He gestures to the mountains behind his home. "Over here you've got the Red Rock (National) Conservation Area, and the overall energy this area gives off is very cleansing and relaxing. As soon as you exit The Ridges, you're back in the hustle-bustle, but in here it's very spiritual. I'm drawn to that whole Red Rock area. I don't know if it's from the Paiute Indians that were there or just the geographic aspect," he said.
One of his favorite things about the house is the vanishing walls, which are all glass and disappear like pocket doors at several key entry points. He gestured to the west: "This (fall) is now becoming the best time of Las Vegas."
He zips around on his IO Hawk, a new "personal motorized transporter" similar to a skateboard but turned 90 degrees. "It's the perfect house for it. I can go everywhere with it," he said, at least on the first floor where there is no carpeting.
His other toys are in the garage — a Lamborghini which shares space with a set of weight equipment. The house was decorated by his mother, Nancy Knapp, who is a local interior designer.
Just off the front door, a full bedroom and bath is being used as his office. Framed prints of Alfred Hitchcock, Grandpa Munster and Dracula line the walls.
This room and the first floor have a barrel-vaulted ceiling made of tongue-and-groove wood, which is a nice feature of desert contemporary homes, according to Erika Geiser, vice president of sales and marketing for Christopher Homes. She said this home is "Residence Three" of their customizable portfolio. It also has a curved metal roof line visible from the exterior.
The entry hall leads to open areas at the base of the staircase. To the left is a seating area with a slate tile-trimmed fireplace and an aquarium mounted into a cabinet above a sofa. Across the hall is an area, which was probably intended to be a dining room, with two sets of modern glass light fixtures floating in the center. A 400-bottle, climate-controlled, glass-enclosed wine room is adjacent. Another vanishing glass wall provides access from here to a large grass-and-concrete courtyard on the side of the house with water feature and small basketball court.
An elegant powder room with a vessel sink and floating cabinet is lined with dark chocolate brocade designed wallpaper, and the commode is separated from the sink by a heavy velvet curtain trimmed with fabric matching the wallpaper.
The second floor houses three bedrooms and a media room with a 100-inch screen and leather seating for 10, situated directly above the master bedroom. The room's best feature is an outdoor balcony with fire pit and view of the pool and mountains.
Directly below the media room, the master bedroom includes a lounge seating area with a fireplace. Behind lush blackout drapes, the walls open up to for direct access to the outdoor pool and deck area. The master bath includes split vanities, steam shower and soaker tub, an expansive closet and a small, private wall-enclosed exterior space suitable for a yoga or meditation room.
The home's contemporary touches include an entry hallway with a floating open wood cabinet and a stairway lined with glass panels and wire roping. Upstairs hallway and bedroom windows are at a higher level, as typically found in modern homes.
The kitchen is well-equipped with Viking appliances, a butler's pantry, espresso cabinets and an island made of tiger wood. It is open to a family room with concrete-trimmed fireplace and out to the back patio area.
The house has an expansive backyard that features an outdoor kitchen and geometric-shaped pool and waterfall.
The house is on an interior lot in The Ridges, meaning it's not on the Bear's Best Golf Course. It is surrounded by vacant lots that are being developed. An aerial photograph of the home shows it is on a corner lot that comes to a point on the side meeting the street. If you're old enough to understand the reference to the board game Trivial Pursuit, this lot is one pie piece of the cake.
Explained Realtor Rob Jensen, who has the listing, most interior lots in The Ridges back up to big homes.
"People are looking for a view, which is likely a golf course lot, or privacy, and finding an interior lot that's actually private is challenging. This one offers privacy and lots of entertainment amenities "between the pool, kitchen and mini basketball court. A buyer with either kids or dogs would appreciate it," he said.
"Ghost Adventures" airs on The Travel Channel and is starting its 12th season. Bagans mentioned he's starting another series but would not elaborate on that. "Ghost Adventures" is filming at the end of September inside the old Riviera Hotel for an episode to run early next year.
Bagans, who is in his thirties, would like to settle down, he said, "But I can't meet the right woman. I have a tendency to attract some rather interesting women."
When the house sells, he said, he doesn't know where he'll buy next, but he's not in a hurry. "My career has been growing, and so right now this fits my lifestyle."
Despite an abundance of ethereal memorabilia in the home, it did not appear to be haunted in any way; but then, it was only built in 2008 so, maybe … cue the spooky music … whoo HOO whoo, down the line, Bagans may be revisiting his Summerlin bachelor pad.
LOCATION: 7 Boulder Crossing Circle, The Ridges' Boulder Ridge in Summerlin
SIZE: 5,822 square feet, two levels, 0.44 acres, five beds and six baths
FEATURES: Movie theater, pool, wine bar, glass walls for indoor-outdoor living, office, and slate-tile-trimmed fireplace. The first floor has barrel-vaulted ceiling made of tongue-and-groove wood.
HISTORY: Built in 2008 as a semicustom home by Christopher Homes. Zak Bagans bought it in 2014 for $2.1 million from pro basketball player Marcus Banks.
OWNER: Zak Bagans, host of The Travel Channel's "Ghost Adventures"
PRICE: $2,499,000, Rob Jensen, listing agent