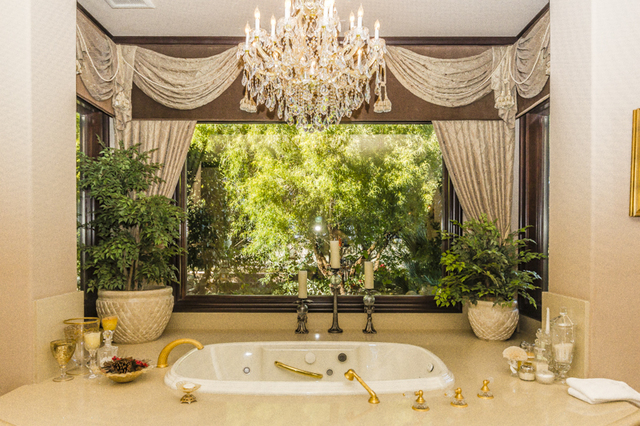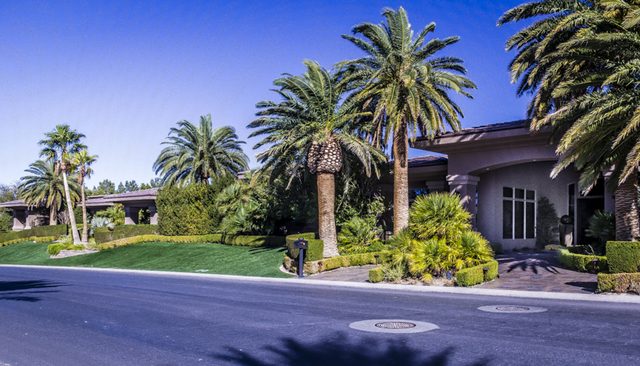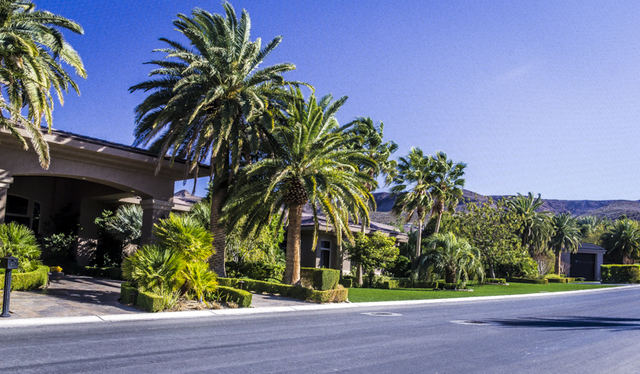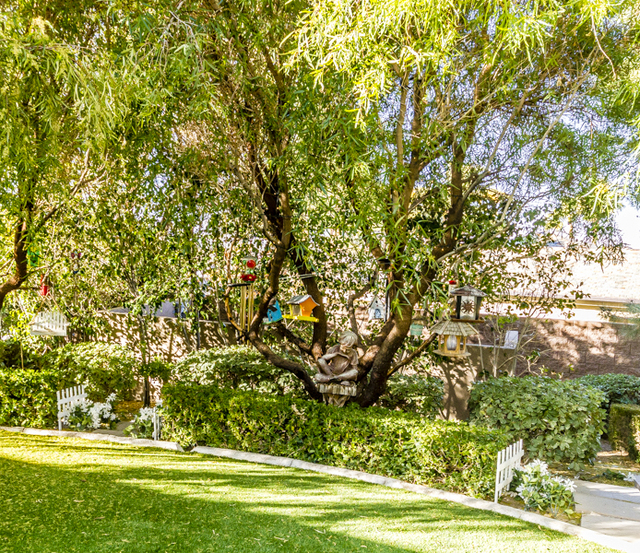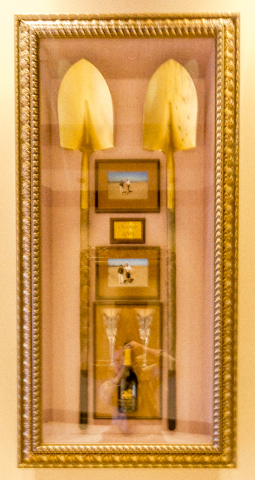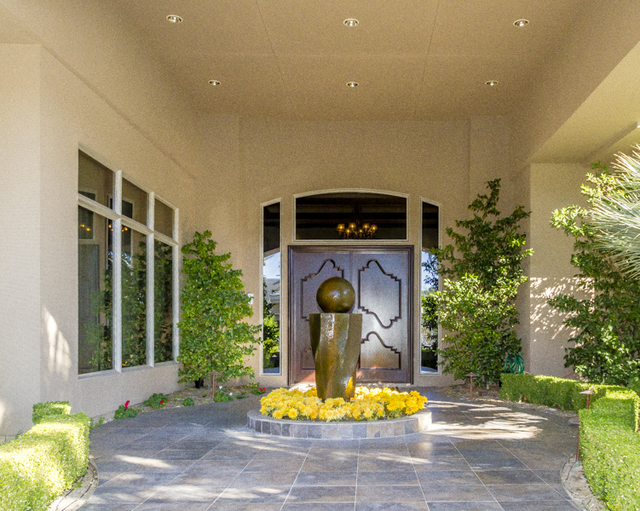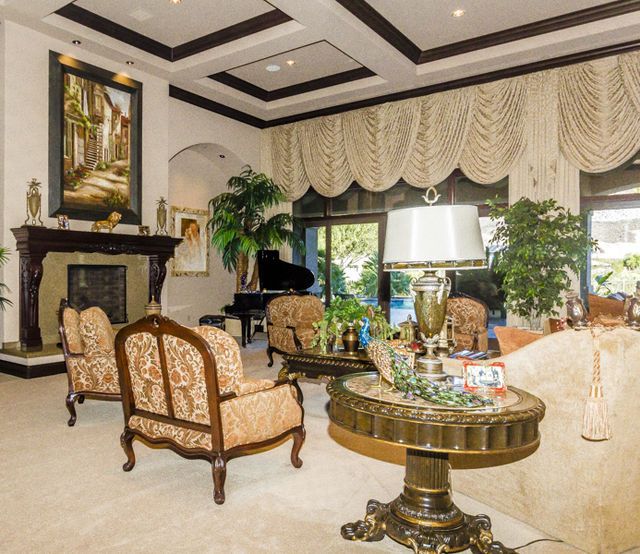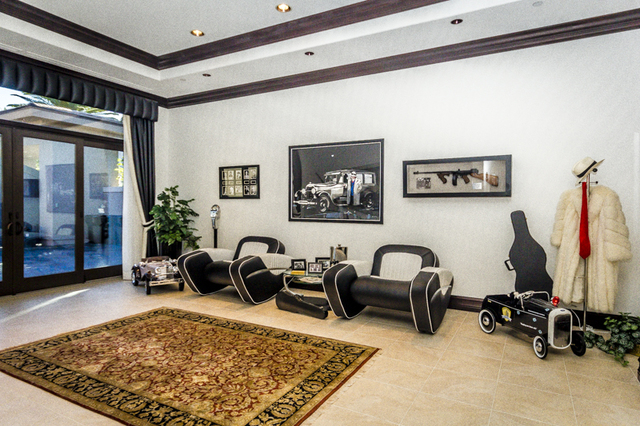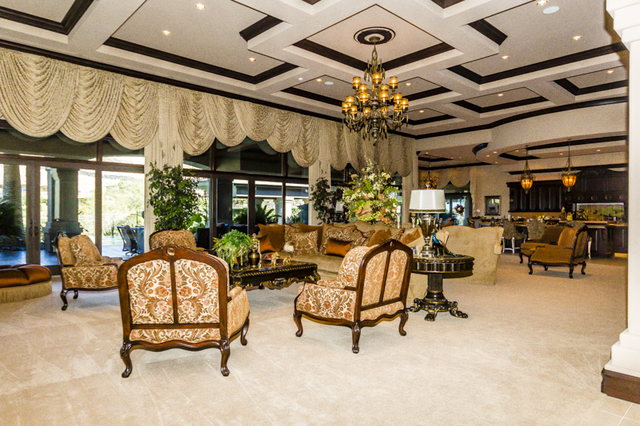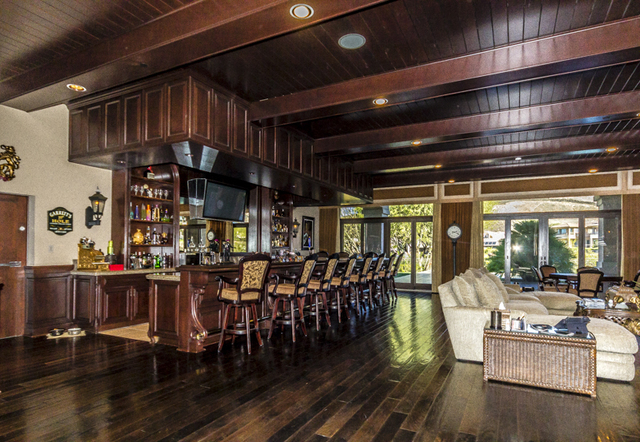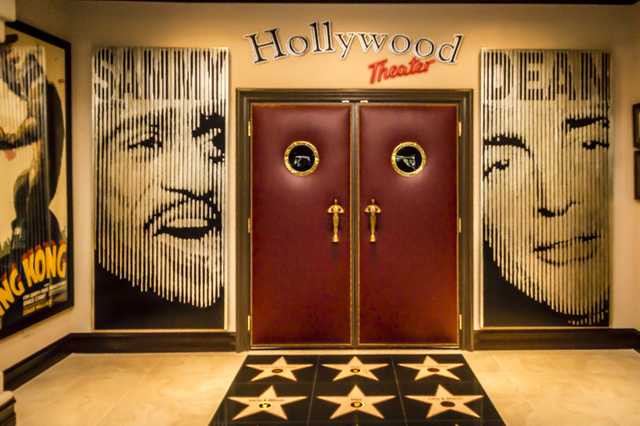 If a man's home is his castle, Michael Garrett must be Superman, because his house is super-sized.
Driving up to his Henderson house from the MacDonald Highlands gate, you notice the sudden appearance of a large patch of green, after passing desert-scape. It takes a moment to realize the wide expanse is the front lawn of a single home, not a community building or multiple homes.
At nearly 31,000 square feet, it is reportedly the largest single-story home built in Nevada, seated on 2½ acres overlooking the Dragon Ridge Country Club. A bubbling fountain flanked by hurricane palms creates a welcoming entrance into the foyer.
The house was completed in 2008 after 13 months. Architect Shelden Colen's firm drew the plans with specific instructions from homeowners Garrett and his wife, the late Betty Foster Garrett.
"She was the best client to work with," he said "because she knew exactly what she wanted." His firm, SCA Designs, also designed the Garrett's previous 15,000-square-foot home in The Legacy neighborhood in Henderson.
At one end is a motor court, and at the other, one of the two master bedroom suites. In between both is a porcelain-tiled, 300-foot-long center hallway, off which are: four guest suites, a movie theater, media control room, wine room, a second master suite, four powder rooms, two laundry rooms, a home office, gift wrap room, a great room, kitchen, prep kitchen, an exercise room-salon combination and a pub.
This hallway is literally the size of a football field (minus the end zones). And its residents have been known to toss around a ball or two. It's so long that the owner, should he get all the way to the garage and discover he's forgotten his keys in the master, can make use of a motorized scooter to quickly retrieve them. Yet it doesn't feel cavernous, due to the inclusion of arches, varied ceiling heights and a coffered ceiling.
All of the entertaining rooms are on one side of the hallway, with doors leading outside to the infinity-edge pool, complete with swim-up bar with built-in seating, and the home's second bar area. It is 70 feet long, so Garrett can swim laps, which he has done since his youth.
The great room is directly across from the entry foyer, and features a grand piano and fireplace. It is open to a full kitchen, behind which is the real prep kitchen, closed off so guests don't have to be exposed to any kitchen drama. The Garretts have hosted parties with as many as 400 guests.
The kitchen has granite and Caesar stone countertops and bronze fixtures; Viking appliances, including cooktop, stove, two (each) refrigerators, freezers and ovens.
The backyard is elevated enough that it has a vast view of Las Vegas and the Dragon Ridge Golf Course. Unlike the front yard, which is made of a high-quality synthetic lawn, the back has a mix of real grass and tiles arranged outside of the bedrooms and great room. It has four separate patio seating areas, fireplace and TV, each of which could host its own small gathering.
The master suites have large sitting areas and walk-in closets tall enough to accommodate three rows of shirts. One master suite even has a small galley kitchen with a full-sized refrigerator and dishwasher. All the appliances are trimmed to match the woodwork in the bedroom. The room includes a large sitting area off of the bath.
This suite has a spa tub under a chandelier, in front of a window overlooking a secluded garden area at the end of the house. It is decorated with a collection of birdcages and wind chimes under a canopy of shade trees, surrounded by neatly trimmed hedges. This was where Betty used to gather with her close friends to share good times every Thursday, said Michael Garrett. The suite has a separate shower room, with natural light coming in on one side through glass walls facing the street. Privacy is provided by the mature landscaping.
The four guest suites are all 20 by 20 feet, have a large bathroom and closet, and a mini-refrigerator. They each have a theme, like the Polo Room with stuffed pheasants and rifle; the nautical Captain's Quarters with framed knot; and the Royal Suite.
Should any guests require pampering, there is a dedicated room for self-improvement. It has workout equipment, massage table and every piece of professional-grade equipment necessary to open a basic beauty salon, including one of those hair-washing sinks.
The hallway leads to the 6,697-square-foot garage area. Before reaching the first, smaller, 2½-car garage is a lounge area with a bootlegger theme. On display are several guns, including a framed machine gun owned by Al Capone; a hood ornament collection, and a reproduction of a gas pump.
Next is the auto-crafts room, with plenty of storage cabinets, sink, and stainless steel countertops where Garrett builds model boats. This leads to the larger garage, which houses seven cars, all of which are silver, and include everything from a Smart car to a Rolls-Royce; three custom golf carts and Garrett's favorite toy, a dune buggy.
"I grew up 15 minutes from sand dunes," he said.
There is a third garage designated for a recreational vehicle, with a 600-square-foot, high-pressure car wash.
These days, Garrett spends a lot of his time in "the pub," a large room with a dozen seats arranged around a full-size bar on one side, with walk-in cooler, fireplace, game table and oversized chairs on the other side. The room has a warm feel, with mahogany wood flooring and gas wall sconces, and a neon sign hangs above the entrance reading "The Foster's Final Final." Visitors can watch a game on one of the TVs, or gaze out the windows to the pool.
"It's better than most bars in Las Vegas you can visit," Colen said.
It is conveniently located across from the 12-seat old-time movie theater.
Just next to the pub is a room that holds 1,400 bottles, and is "guarded" by a figure wearing a jacket designed by Garrett, made of bottle corks.