Last Veer Penthouse listed for $1.9 million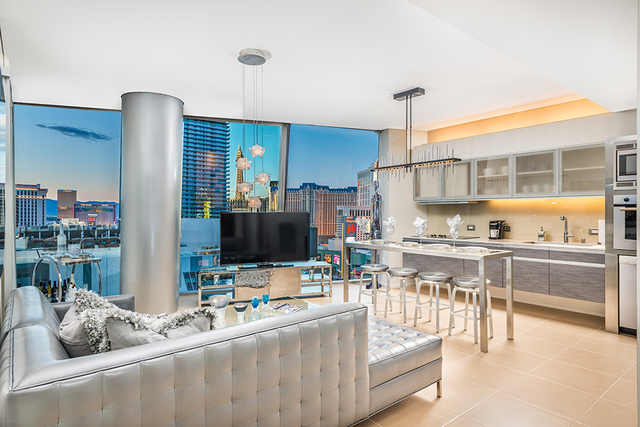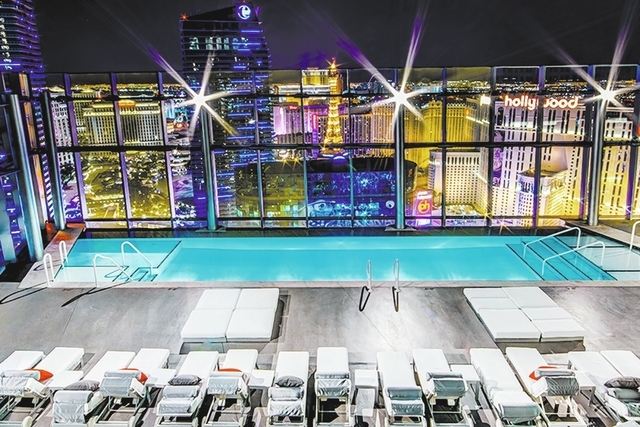 Veer Towers stands out in CityCenter, with its two towers built at opposing 5-degree angles, its shiny golden-hue glass exterior, and being the only all-residential development within the multi-use project along the Strip.
The 37-story, two-tower development of 670 units seems to be standing out among prospective home buyers, too.
Since 2013, Pordes Residential has been dedicated to selling the 427 units that L V T Owner LLC purchased in a 2012 bulk sale from CityCenter Veer Towers Development LLC. As of Aug. 3, Pordes Residential has sold 337 units, with 42 closings in 2016 and another 10 pending, according to Jim Navarro, Veer Towers vice president of sales.
"Veer has been part of the Las Vegas housing market's recovery. I worked in sales at Veer before the crash, and I was brought on after Pordes Residential re-introduced the property for sale," said Darwin Dizon, Veer Towers sales director.
"I think one of the reasons why we have been so successful in sales is we have done a good job in reintroducing the properties we have to the market," Dizon said, noting that inventory has been released for sale in phases, and each phase has included a variety of unit sizes and price points, locations in both towers and different vantage points.
Pordes Residential is selling studio and one- to three-bedroom units at prices ranging from $265,000 to $2 million.
"The market has improved tremendously and buyer confidence is shown in our rapid sales, but we are still selling lower than replacement value," Dizon said.
Among the high-rise units remaining through Pordes Residential is Veer Towers' last penthouse — Unit 3603 in the west tower. All of its 16 penthouses are on the 35th and 36th floors of both towers.
The available 2,014-square-foot penthouse features clean lines with hues of white, gray and silver. Its open design and airy feeling can be attributed to 20-foot ceilings and views of the Strip, city and sky from its floor-to-ceiling windows. The residence also features two master suites, 2½ baths, a gourmet kitchen overlooking the living room and artwork by Peter Lik. This penthouse is available furnished for $1.9 million.
Veer Towers offers another interesting opportunity for buyers — a "combo" residence, in which the wall between two units has been torn down to create a larger residence.
"We have sold two combination units already, two are under construction and two are in the planning stages. This offers buyers the opportunity to have a larger residence that is not necessarily a penthouse," Dizon said, adding that some residents have inquired about the availability of next-door units, wanting to explore creating their own combo residence.
Unit 1202 in the west tower is a combo residence for sale through Pordes Residential. The three-bedroom residence was created by combining a two-bedroom unit and a studio, now measures 1,815 square feet and is priced at $1.4 million. An advantage is its 270-degree views of the Strip and city.
Another unique purchase opportunity, newly available, is what was until recently Veer Towers' sales office. Unit 3001 in the west tower is where many homeowners got their first peek at the Veer lifestyle while enjoying 270-degree views.
Resort-style amenities are
selling point
"The architects decided to put most of the amenities on the top floor, instead of penthouses like other developments, to give everyone the same luxury lifestyle and wonderful views that can only be enjoyed from the roof level," Dizon said.
Among the rooftop-level amenities are infinity-edge swimming pools, hot tubs, barbecue areas, fitness centers with steam rooms and saunas, and media and billiards rooms.
Other amenities include valet parking, concierge service, business centers and boardroom access. Residents also receive benefits of the MLife Curated Living Program, which offers priority access to dining and entertainment and other advantages.
According to Navarro, its location within CityCenter attracts buyer interest.
"Veer Towers offers a prime location in CityCenter with easy access to all of its amenities. With its location along the Strip, and all of the activity and development surrounding CityCenter, this is becoming the epicenter of the city," Navarro said.
"… This location appeals to both second-home buyers from out of state, primarily California, as well as those who appreciate living near the Strip and work there."
Both Navarro and Dizon said with a chuckle that Veer Towers' next-door neighbors are Louis Vuitton, Gucci, Dolce &Gabbana, Tom Ford, Prada, Fendi and Tiffany &Company, all located within The Shops at Crystals.
The upturn in the real estate market and economy has played a crucial role in Veer Towers' uptick in home-shopper interest.
"The market today is different than in years past. When Pordes Residential began selling Veer Towers, it was at the low and we have been part of the recovery process," said Navarro, who joined the sales team when Pordes Residential took charge of sales of the 427-unit bulk purchase by L V T Owner LLC.
"For those who come from out of state, Veer Towers provides a great deal. Compare our prices to Miami where you can purchase a high-rise unit in the $1,400- to $1,800-per-square-foot range or the prices in New York of $3,000 per square foot. Veer's (sales) price is blending at $500 per square foot, which when compared to other high-rises near the Strip is a good value," he said.
"I think buyers are choosing Veer because they feel good about the market. They feel good about the value found at Veer and, for those who are purchasing a second home, they feel good about the market of their other home."
Veer Towers, veertowers.com, received the LEED Gold Certificate from the U.S. Green Building Council and features the architectural designs of Murphy/Jahn Architects of Chicago.