Luxury Henderson home lights up the neighborhood — PHOTOS
December 14, 2015 - 11:45 am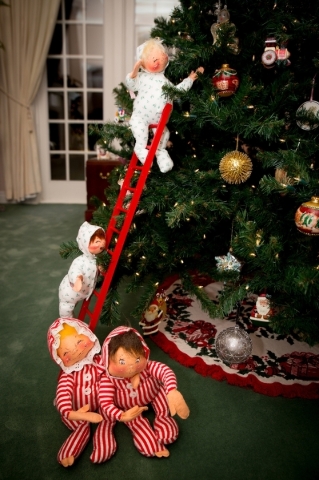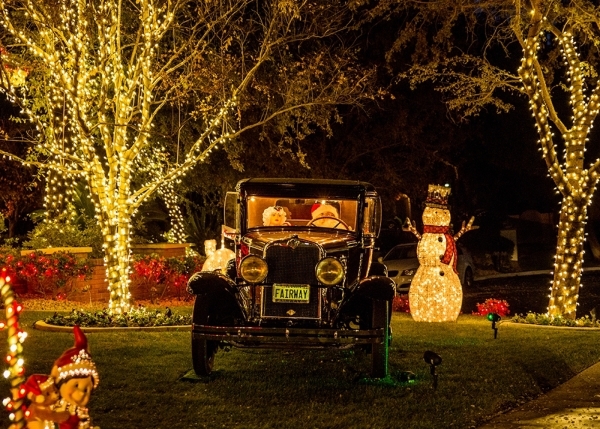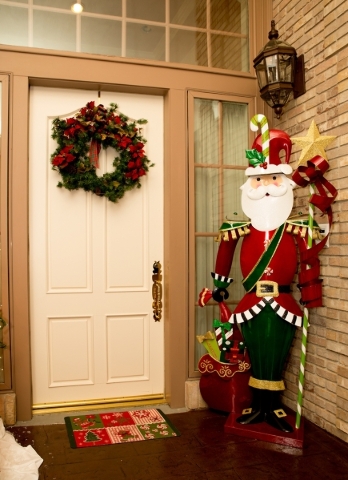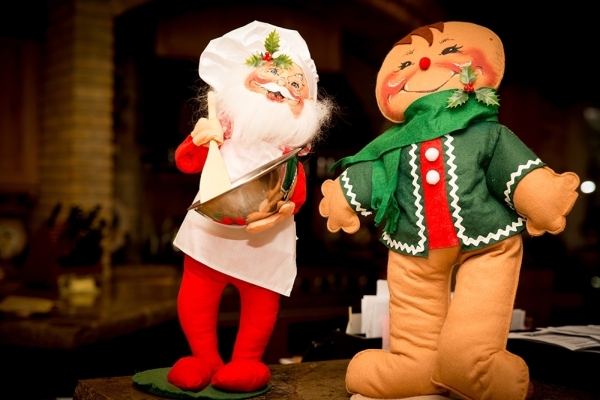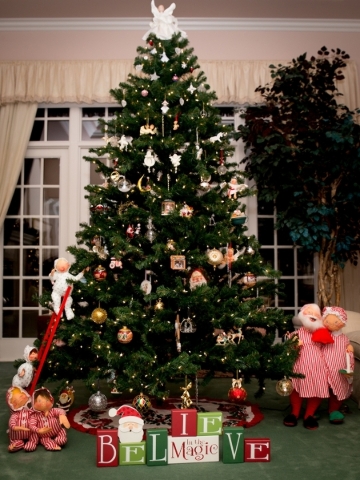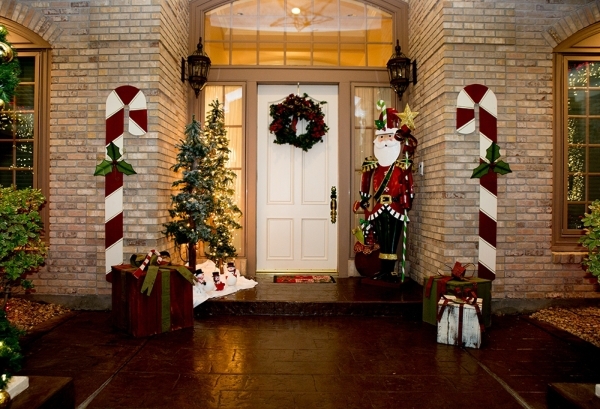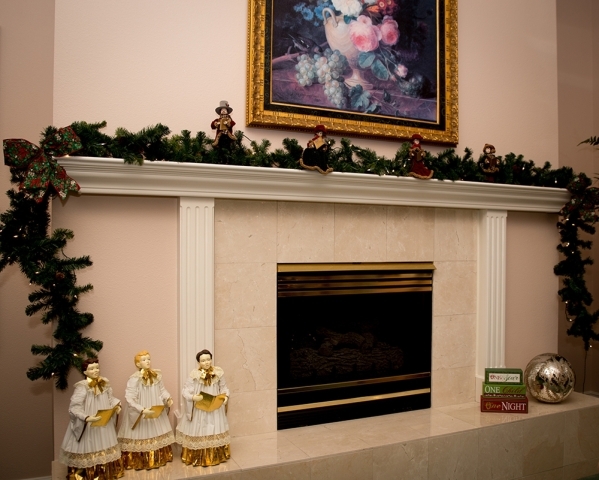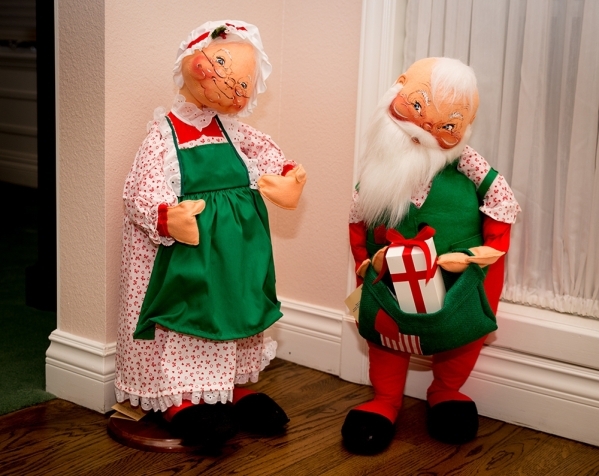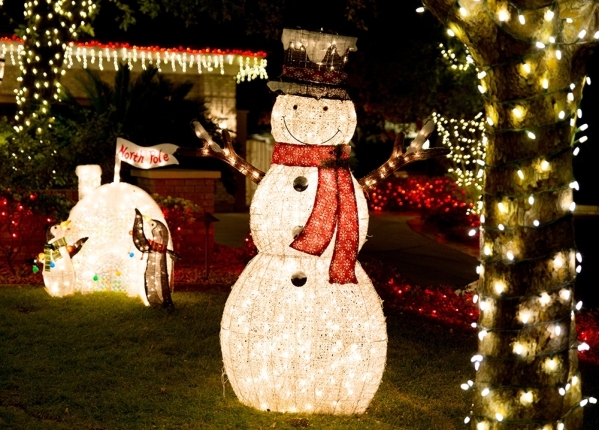 Christmas is Barbara Heinrich's favorite holiday, which is why she starts early — usually around September — planning her picturesque postcard gift to everyone who drives or strolls by her residence at 2335 Dolphin Court in Henderson.
The roofline facing Dolphin Court is strung with red-and-white LED icicle lights. Two smiling elves, also haloed by light, greet visitors as they walk to the front door. On one side of the yard is a wire-frame train ringed with white LEDs lights. The opposite side of the yard boasts a tall Frosty the Snowman and an igloo.
All the trees are strung with sparkling illumination. But what really stands out is the 1930 Chevy coupe automobile on the front lawn. A smiling Santa Claus is behind the wheel with Mrs. Claus next to him. The rumble seat is loaded with gifts.
"I try to do a theme every year," Heinrich says. "The elves are putting presents in the train. Mr. and Mrs. Santa Claus are heading off with presents from the North Pole."
Walking toward the little train, Heinrich smiles and says that she has had it for 20 years and that you can't find trains like this anymore made out of wire. Now, everything is constructed from plastic, she says. Likewise, the white star hanging above the doorway is a collectible. She bought it around the same time she bought the train.
"My husband (Greg) collects antique cars," Heinrich says. "He has 50 cars. This car was put out on his front yard when he was 10 years old. Once we started putting it out, our front yard really came alive. … People stop to thank us for doing this, and little children love posing to have their pictures taken. We are very happy people enjoy our decorations so much. We leave them up until after Jan. 1 for everyone to see."
The Heinrichs, who own several automobile dealerships in the Las Vegas Valley and Pahrump, spent about $4,000 on holiday decorations, which are stored and put up by Holiday Illumination of Las Vegas. Taking Barbara Heinrich's creative ideas each year, Holiday Illumination does their magic to make it all work.
"Barbara's is our favorite home to do," says Laurie Caldwell, office manager. "It took us a full day this year with eight installers. They have several antique cars that we change out each year.
Up until Christmas, Caldwell says they are busy working 10 hours a day, seven days a week installing holiday lighting. Besides residential homes, Holiday Illumination decorates commercial properties. She says people spend between $700 to $15,000 for decorations with the average being between $1,200 and $1,500.
"We did The Linq outside and their 40-foot tree," Caldwell says. "LED lights are more prevalent now because they are more efficient and are more weather-tolerant."
Caldwell says the hot trend is for blow-up displays such as igloos or snow globes with animated displays inside. People are also following movie themes such as from the computer-animated Walt Disney film "Frozen."
"Las Vegas is more elaborate with decorations than other places," Caldwell says. "Right now we are doing a lot of properties in Anthem and Red Rock Country Clubs. … To me Christmas is all about color. It should be bright and pretty. That's the Christmas spirit."
While the Heinrich residence shines hard and bright on the exterior, upon entering the front door ringed by two tall candy canes and a white-bearded Santa dressed smartly in a tailored red jacket, holiday cheer is toasted perfectly with a luxuriously decorated, statuesque holiday tree.
Hanging on the tree are one-of-a-kind decorations that include a goose egg carved out with tiny deer inside, ornaments the Heinrich children made in school and a little golden angel that holds a special meaning in Heinrich's heart. It's the first ornament she hangs on the tree every year.
"My husband proposed to me with that angel 35 years ago," Heinrich remembers. "It was on a box, and inside was my engagement ring."
Throughout the living room are various sizes of collectible Annalee fabric dolls, their faces painted in intricate and varied expressions. Some dolls are peeping from around corners, clinging to walls, positioned on tables and several are tree ornaments.
"I've been collecting Annalee dolls for 35 years," Heinrich says. "They all have such happy little faces. … I just love Christmas. I love seeing people being happy, and what better time of the year to do this and share with everyone."
Greg Heinrich gives credit completely to his wife for decorating the inside and outside of their home each year. It's a project she enjoys and looks forward to very much, he says.
Barbara Heinrich, however, says if it wasn't for her housekeeper, Lulu, this annual holiday project would be much more difficult to complete on time.
"We are a good team," Heinrich says. "Lulu helps to bring everything up (from storage), and we work together putting all the decorations up inside. She has been with me for 17 years."
Sending uniquely designed Christmas cards is another holiday tradition Heinrich relishes each year. She has them custom-made at a shop in Summerlin, and they have included cards that turn into an ornament to hang on a tree, puzzles that the receiver had to put together to see who sent the card, and 2-by-2 inch puzzle cubes that challenge people's critical thinking
"This year it will be a scratch-off card with a naughty-or-nice choice that reveals something underneath," Heinrich says with a chuckle. "Now, this is challenging to come up with something creative each year. It's putting a lot of pressure on me, but I enjoy doing this."
In all, Heinrich sends about 500 Christmas cards each year, not only to family and friends, but to all their employees at the automotive dealerships.
"We look at everyone as being family this time of year," Heinrich says. "I have to admit I get really sad when all my home decorations have to come down. It seems so bare for a couple days, until I get used to it again. I wish December was a little longer."