Luxury homes sales up for 2015
February 28, 2016 - 4:05 am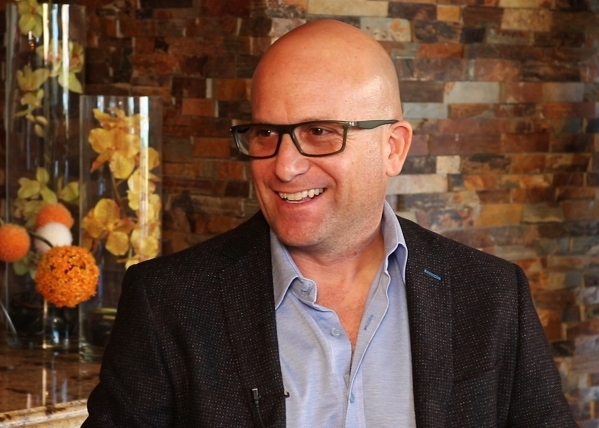 Things were looking good for the luxury home market last year, and experts call for more of the same for 2016.
Last year saw 330 resale homes of $1 million or more sold on the Multiple Listing Service, said Forrest Barbee, corporate broker for Berkshire Hathaway HomeServices, Nevada Properties. That's the most since the downturn in 2007. That does not account for the dozen or so lots that have been sold for custom homes, or the semi-custom homes and lower-end luxury homes priced at more than $500,000 being built in master-planned communities.
Dennis Smith with Las Vegas-based Home Builders Research Inc. estimates new homes priced at $1 million or more sold in 2015 numbers around 20. In the past year, he said, more traditional production homebuilders, such as KB, Ryland, Pardee, Pulte and Richmond American, are joining Wiliam Lyon and Toll Brothers in the luxury new-home market to diversify their products and "tap into that market." He added that because of high land prices it's harder for builders to provide homes in the lower price ranges.
"It shows the lack of opportunity in the lower-end market — $200,000 to $300,000," he said.
Barbee said activity in the luxury market has not been higher since the crash.
"It was a great year," he said. "Really, you could not have asked for a better year."
He credits low-interest rates and stable market values for the "pretty good situation."
For the past two months, about 400 homes were listed for $1 million or more on the MLS. Average price was about $1.3 million.
$11 million home priciest in 2015
Last year, Ivan Sher with the Shapiro & Sher team of Berkshire Hathaway HomeServices Nevada Properties sold former SLS Las Vegas chief Sam Nazarian's Falcon View Court home for $11 million — the priciest home sale for several years. The home had been priced at $17.5 million.
Zar Zanganeh of Luxe Estates represented the buyers, Jim and Sherrie Hale, of Henderson. Zanganeh said they have accepted an offer on their Roma Hills home that once belonged to Strip headliner Danny Gans, who died May 2009. The Hales had the home listed for $5.7 million. Meanwhile, they are remodeling their new mansion in The Ridges, Zanganeh said.
"That was a sensational home, absolutely incredible," he said while showing off another $11 million home at 59 Promontory Ridge in Summerlin he had recently listed. "We had it on the market for just a few months. It sold for $720 per square foot."
Luxury home prices increase
Sher, who has been selling residential real estate in Las Vegas for more than 15 years, said 2015 was the best year his company has ever had.
"I know that across the board, outside of Las Vegas, there were some highs and lows but in Las Vegas, the market did incredibly well. We saw record home sales, some of them private, some of them public."
In some neighborhoods — such as The Ridges — he said, prices have gone from $350 per square foot to $450, and for unique homes, more than $750 per square foot.
"We are almost back to where we were in 2006," he said.
This year it's all about being unique
Sher said he expects another record-breaker year for Las Vegas luxury homes, especially unique properties at the highest end of the market.
"Unique homes have a special air about them. They command a higher price per foot," Sher said.
He sees more people planning to build custom homes on lots. Meanwhile, the two newest luxury home communities — Ascaya in Henderson and Discovery Land in Summerlin are selling lots for more than $1 million.
Because of Las Vegas' international destination draw, many real estate experts were predicting that homebuyers for these new communities would be from out of state, and even the country. Yet, the developments have reported that most of their buyers have been Las Vegans.
"That means we have recovered and have the ability to do things we could not do in the past few years," Sher said.
The modern desert look
With the new mega-luxury developments, Sher thinks the city has upped its architectural style. He said the new projects are drawing architects into the valley because they want to be part of creating the new desert designs.
Overall, he sees more people building smaller houses — 5,000 square feet instead of 10,000 — but really spending the same amount of money to finish them with quality materials and striking designs.
Even though prices may be increasing for luxury homes, real estate experts agree that Las Vegas compared to other international destination cities — New York, Los Angeles, San Francisco, Chicago, London, Tokyo and Paris — are a great bargain. Earlier this year, CNN Money reported Manhattan's medium price of a single-family home was more than $1 million.
"You would need multiple lives just to pay off the mortgage in those cities," Barbee said.
Lyn Collier is the real estate editor for the Las Vegas Review-Journal. Contact her at lcollier@reviewjournal.com or follow her at LynCollier@collierinvegas.