Pahrump home with a race track was designed with thrill-seekers in mind — PHOTOS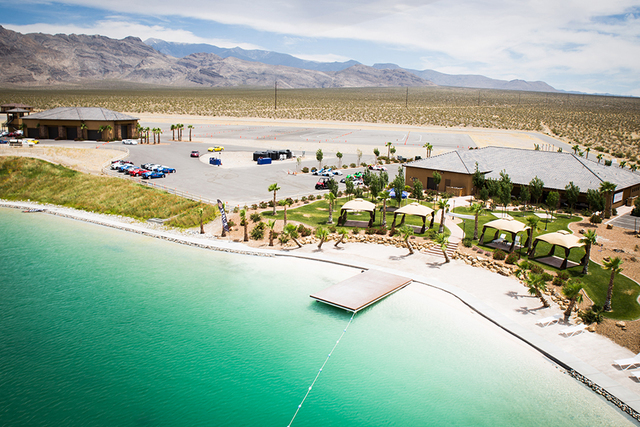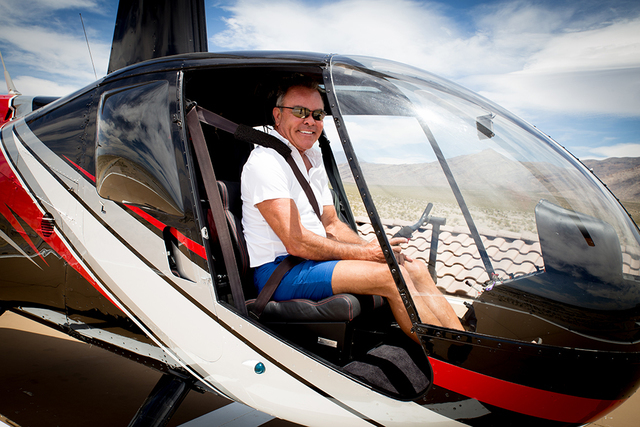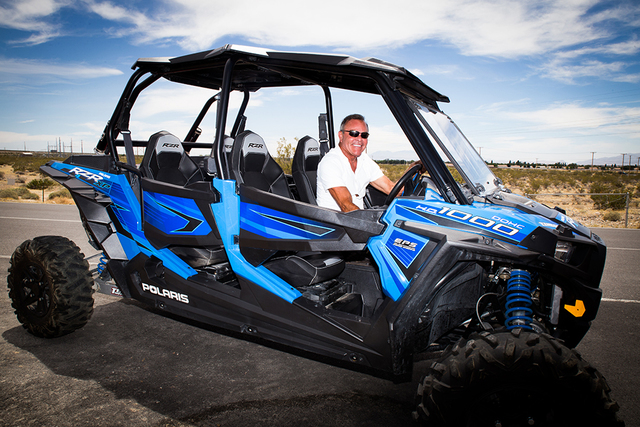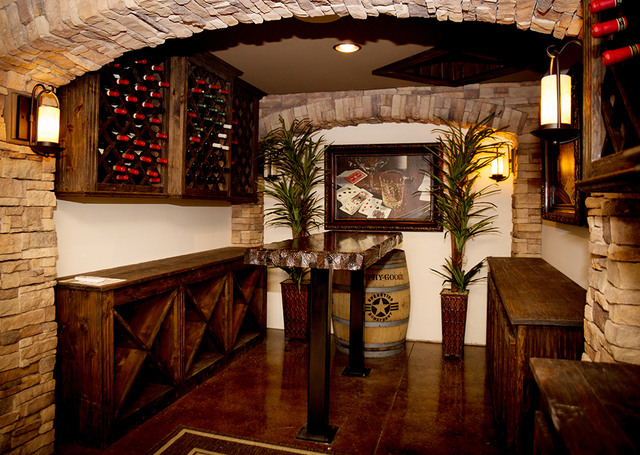 It's difficult to ignore the Robinson R-44 helicopter on the roof of John Morris' nearly 5,000-square-foot home at Spring Mountain Motor Resort & Country Club's housing development, Spring Mountain Estates.
Morris is the co-owner of the Pahrump-based racing destination, which is home to a 6.1-mile race track, clubhouse, condominiums, racquetball court and 4.5-acre freshwater lake where swimming, paddle-boarding, kayaking and Jetpack rides are available.
"I wanted something that blended with the mountains and desert," he said of his home, which was built in 2014. "I wanted a view based around how the sun rises and sets."
If Morris' helicopter isn't on the roof, it's housed in his 1,100-square-foot recreational vehicle garage on the right side of his home.
Upon walking into Morris' house, there's a glass panel on the floor that looks down into his wine cellar in the basement.
Also in the basement are his race cars, which are situated in a nearly 1,500-square-foot garage, including a Wolf GB08SM, Radical SR3, Wolf GB08 and a Corvette Z06.
The Pasadena, California, native was previously in the computer software industry before selling his company and purchasing Spring Mountain Motor Resort & Country Club in June 2004 with his brother-in-law, Brad Rambo.
The duo bought the property, which is more than 60 miles outside of Las Vegas and just three miles from the center of Pahrump, from Rupert Bragg-Smith, who opened it in 1998.
"I raced against him in 2002 and bought it from him two years later," Morris said of Bragg-Smith. "The whole idea spawned from when I raced and how it was just asphalt and Porta-Potties. I wanted to make something comfortable so racers could bring their spouses and families."
Morris can watch over the race track from one of his patios off his master bath that also houses most of his workout equipment.
The master bedroom is surrounded by patios on either side so he can watch the sun rise and set.
In the backyard, there's a large swimming pool with waterfall features as well as a hot tub, built-in trampoline and a small shooting range that leads into the desert.
A spiral staircase in the backyard leads to Morris' helicopter, which is situated on a helipad made from 3 inches of concrete and can hold up to 10,000 pounds.
"Flying and racing help me to focus and it's a definite adrenaline rush," he said. "The friends I've met in the racing world are some of the closest because we share that passion for competition. We all want to win."
Morris said in addition to his helicopter, he also has an airplane, which he keeps at the nearby Calvada Meadows private airport.
"I've taken the helicopter around the country and I take the plane everywhere," he said. "With the helicopter, you have to make more stops but you've got a better view."
What you won't find a lot of in Morris' home are bedrooms. Aside from the master suite, there's only one other bedroom for guests.
He also has an office in his home, which must get a lot of use these days as he said Spring Mountain Motor Resort & Country Club is set to undergo $200 million in development over the next two years.
Included in his plans are expanding the race track by nine miles, adding commercial developments such as a movie theater and hotel to the property as well as increasing Spring Mountain Estates from its current three homes to 80.
Home prices for Spring Mountain Estates start in the $500,000 range and 28 deposits on home lots have been accepted, he said.
Morris said many of the community's residents are among the more than 300 members of the Spring Mountain Motor Resort & Country Club who want to have as much access to the race track as possible.
"They have access to the race track 16 days a month, which is unheard of, compared to other race tracks," he said. "A lot of people here also love going out into the desert with their ATVs (all-terrain vehicles)."
Member and Spring Mountain Estates resident Jeffrey Cheng built his home next to Morris nearly two years ago.
Cheng's home is just over 3,600-square-feet and his four garages, which house several race cars, a man cave, Robinson R-44 helicopter and a Diamond Star DA-40 airplane, are larger than the amount of livable space by 150 square feet.
He said it was an easy decision to build at Spring Mountain Estates.
"John created paradise in the middle of the desert," he said. "This really is an adult playground."
Though Cheng said he spends most of his time at the race track, there are plenty of amenities at Spring Mountain Motor Resort & Country Club to keep his family busy.
"We all love cars but there's so much more to do here than that," he said. "There's every activity you can conceive."
Construction for additional homes in Spring Mountain Estates is expected to break ground in August and the following month for the commercial additions.
If you're looking for something to do on the weekends, Spring Mountain Motor Resort & Country Club opened to the public for the first time on June 4. It was previously only open to members.
Day passes are available for purchase for $15 from noon to 8 p.m. on Saturdays and Sundays, however, children 10 years and younger are not allowed in the lake after 6 p.m. Twilight passes are $15 for those over 18 from 4 to 8 p.m.
The property isn't open to the public on race days; June 18-19, Sept. 17-18, Oct. 15-16, Nov. 19-20 and Dec. 10-11.
While you won't be able to get through the gates of Spring Mountain Estates to see Morris' home firsthand, you might catch a glimpse of him flying overhead.
Contact reporter Ann Friedman at afriedman@reviewjournal.com or 702-380-4588. Follow @AnnFriedmanRJ on Twitter.
About the house
SIZE: 4,999-square-feet
OWNER: John Morris, co-owner of Spring Mountain Motor Resort & Country Club
HISTORY: John Morris built his home, which surrounds the Pahrump-based race track, in 2014.
FEATURES: Helipad on the roof, nearly 1,500-square-foot garage that houses several race cars and master suite that has patios on either side and off the master bath.