'Property Brothers' launches Dream Homes in Las Vegas — PHOTOS
February 17, 2017 - 2:06 pm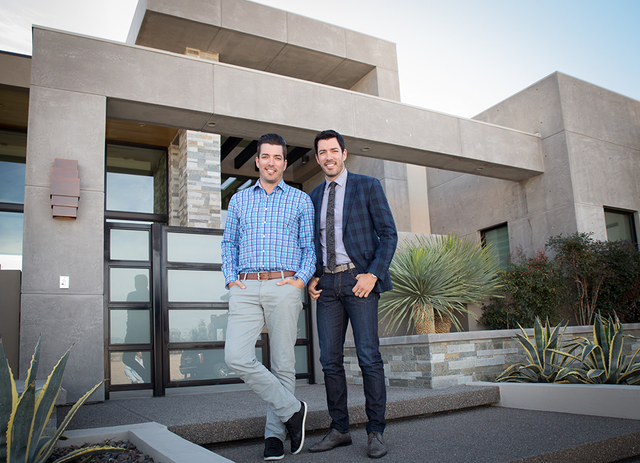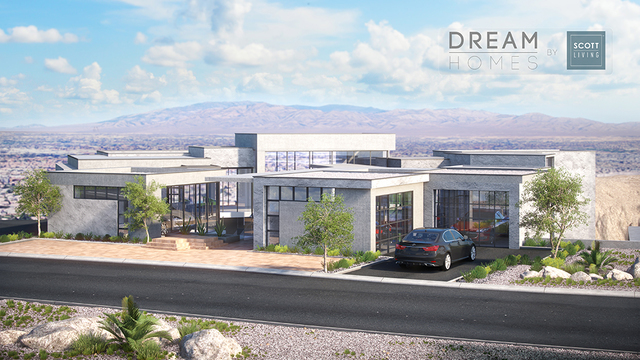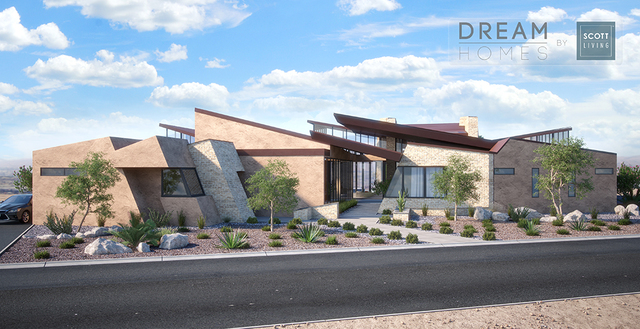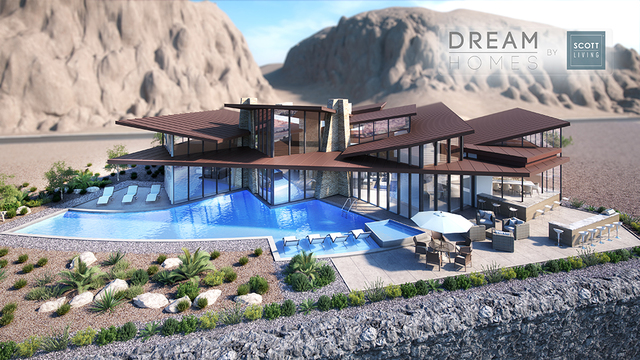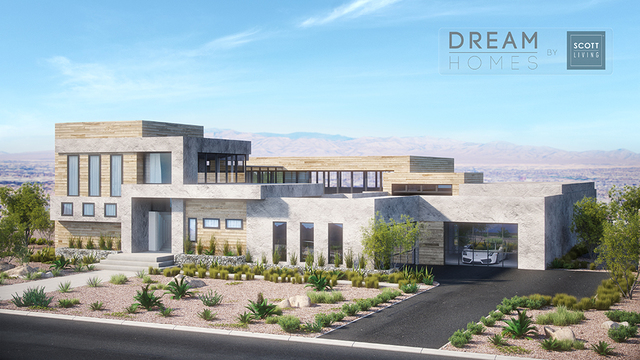 Las Vegas residents and beloved stars of the HGTV series "The Property Brothers" Drew and Jonathan Scott are giving their devotees the opportunity to own a bona fide, Scott brothers-designed home. But not the modest production homes featured on their shows. Dream Homes by Scott Living was announced late last month as a new venture for affluent buyers with big budgets and a taste for desert contemporary-style dwellings.
After producing hundreds of shows about helping average Americans get into their dream home through a fixer-upper, the identical twin brothers wanted to get back to their roots, Jonathan Scott explained in a recent interview with Real Estate Millions.
"Whether you have an audience who can barely afford a renovation on just one bathroom, or (clients) who are CEOs of companies or athletes looking for an incredible dream home, everyone has their own impression of what a dream home is. Initially, a lot of the renovations we did were commercial or big homes and we thought it would be nice to get back into that realm. Where you can take all the barriers out and just do something that's going to really blow you away."
Clients with the means can now hire their services to create a one-of-a-kind home here in Southern Nevada. They want absolutely every design to be not only one-of-a-kind, but also something that's notable, Drew Scott said. "You're going to have people talking about the architecture. So every single concept that we do for Dream Homes by Scott Living is unique. There will never be two of the same home anywhere. As soon as somebody purchases that design, it's done."
They plan to offer a collection of eight design plans this year, all of which are fully customizable. "It's really a balance of personal preference," Jonathan Scott said. "When someone's buying one of our designs, they have the ability to choose the materials that they want. We'll make the recommendation as to what we think would look best, what has the most longevity. We're trying to find ways to blend materials that are timeless. Architecturally we want to do things looking beyond materials alone. The architecture of the home is going to have lasting value," he said.
The company is collaborating with local firms Pinnacle Architecture to draw the plans, and Chateau Development will build them. The Scotts used Chateau during the construction on their own house in Las Vegas, and the company has done projects in Ascaya and MacDonald Highlands. Pinnacle was selected because the brothers work well with its president, Quinn Boesenecker.
"Quinn's been fantastic, said Drew Scott. "We can literally bring him a sketch of something … and he'll start morphing it into something. Initially, it's very collaborative, very much a partnership. With our builder as well."
Boesenecker explained the process. "We're an architecture firm. They're not. So what we do is a layout and we bring it to them for their approval, for their feedback. They have certain concepts they'd like to see, certain things they'd like to see, so we do the design, bring it to them and they give us feedback and we work from that. So we're really working together closely on this."
Of the first three designs, two are for view lots, and one for a non-view lot, Boesenecker said. Buyers would most likely want to build them in The Ridges, MacDonald Highlands, The Summit Club or Ascaya, he said. "This kind of design would go in any one of those neighborhoods."
Ascaya's sales manager Darin Marques said the Dream Homes building plans meet the basic design criteria for the Henderson luxury community, but they still will need to be approved by the architectural review committee.
"That's a huge benefit for any of these buyers, said Drew Scott. "They don't have to wait for plan approval, which can be a long process back and forth. We're good to go."
The homes are set to begin construction around Las Vegas first, but buyers can take the plans anywhere, and even though the project has just been announced, they are getting calls from international buyers, Drew Scott said. "Anybody else can build them. People are purchasing the plans. We've really put a lot of effort in our careers into finding out exactly what people are looking for. Even things here in Las Vegas that people haven't been exposed to yet, but we're aware of happening in other parts of the world … a lot of those trends filter back here. Trying to incorporate some of those things into the homes is important," he said.
The building costs on the designs will start at $300 per square foot, depending on the particular materials selected and modifications, Boesenecker said.
They will most likely cost more than $10 million dollars, Drew Scott said. "In this price point there are ways to make everything unique and exciting," he said. "I just love how there are no-budget limits. We can take one of our designs and whatever someone can imagine, we can adjust and tweak it. But we've already put into these designs so many amazing features that are what people are looking for."
Their goal is to have four or more plans purchased and starting construction by the end of the year, and they're confident the local market is ready. Despite the fact that many resale luxury homes can languish on the market for over a year, "the demand for (homes of $6 million dollars or more), that market has exploded," said Jonathan Scott.
"The demand is out of control. So it does take longer to sell a lot of these (older) lots," he said, referring to resale homes in the $1 million to $5 million dollar range. He added "in all honesty, they sort of have a cookie-cutter feel for a high-end home, and anybody with this sort of money to spend on a high-end project, they want something unique that they can basically show off — to say 'this is my piece of art and you're not going to see it elsewhere,' " he said.
After the homes become reality in Southern Nevada, they will concentrate on taking them to other parts of the country, or globally, Drew Scott said. "It's going to be interesting to see because as it stands now these are concept homes that we haven't built yet," he said. "It will be interesting to see whether it will translate to other areas, or thrive mainly in Vegas, where the high-end home market has just exploded, and you've got investors who are creating developments like Ascaya."
The entrepreneurs are approaching Martha Stewart-level lifestyle branding. Under the brand Scott Living, they market a whole line of home furnishings through partnerships with companies such as Bed Bath & Beyond, Lowes and QVC. They even have their own bobbleheads. This is in addition to their television shows, music, books and digital media content.
"We're fortunate enough to have a global brand, and even though you would think that the style of the homes we work on in our shows wouldn't appeal to someone in Asia, or maybe wouldn't appeal to someone who has $15 million for a new home, but in reality it does," Jonathan Scott explained. "We get those comments all the time and we're in over 160 different countries, now."
The Scott brothers show no signs of slowing down. They were off to Texas later this month to resume filming one of their spinoff shows, "Brother vs. Brother," which had been filmed in Las Vegas for the last two seasons. They are writing their second book, a memoir.
Jonathan Scott said he was approached by a prince of Dubai to remodel his home but declined. "It would have taken me away from for about a year and a half, which I couldn't do" because of a production schedule of 53-plus shows per year.
They reiterate that Las Vegas is their home and they love living here, and hope to spend more time in the valley when they kick off this new venture.
"We want to be part of the ceremony when we hand over the keys," Jonathan Scott said. "We're going to be there to celebrate with the homeowners and share the story of the home and why we designed it the way we did."