'Tanked' stars create over-the-top ponds for Las Vegas homes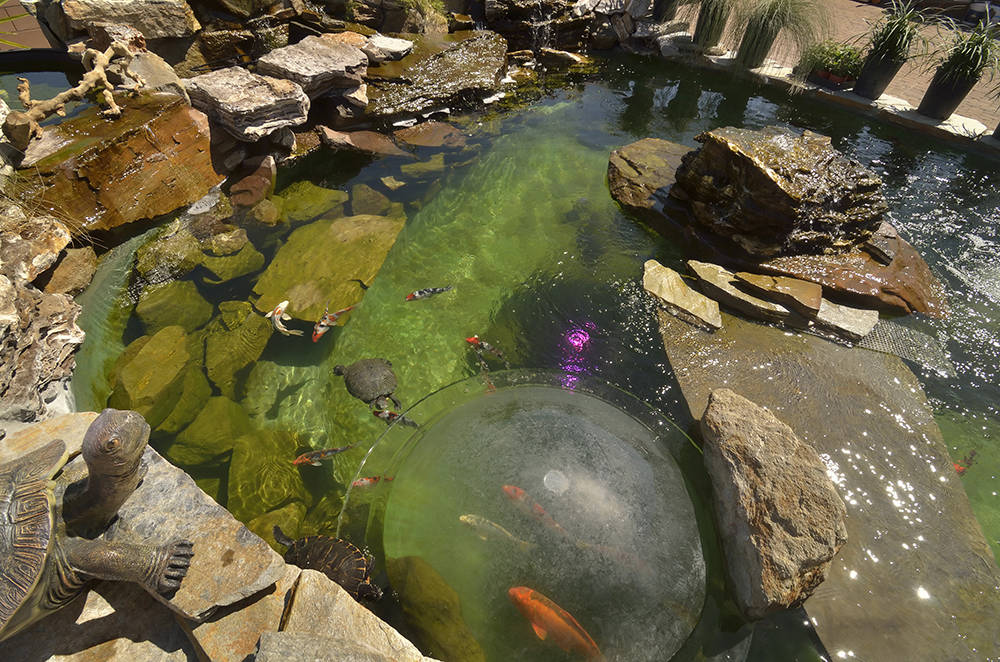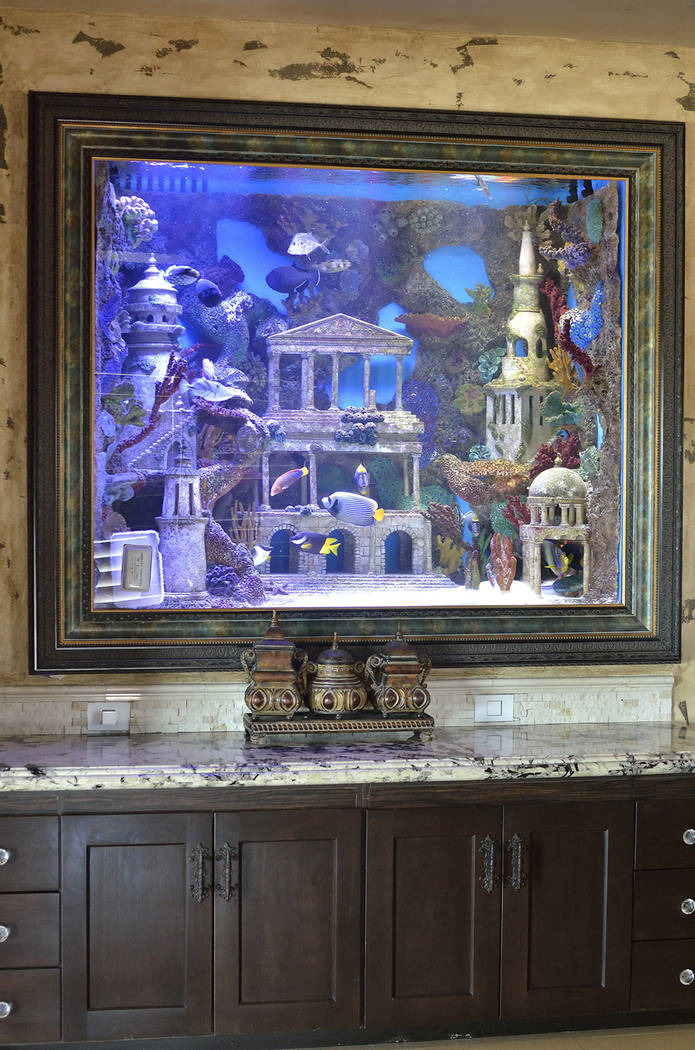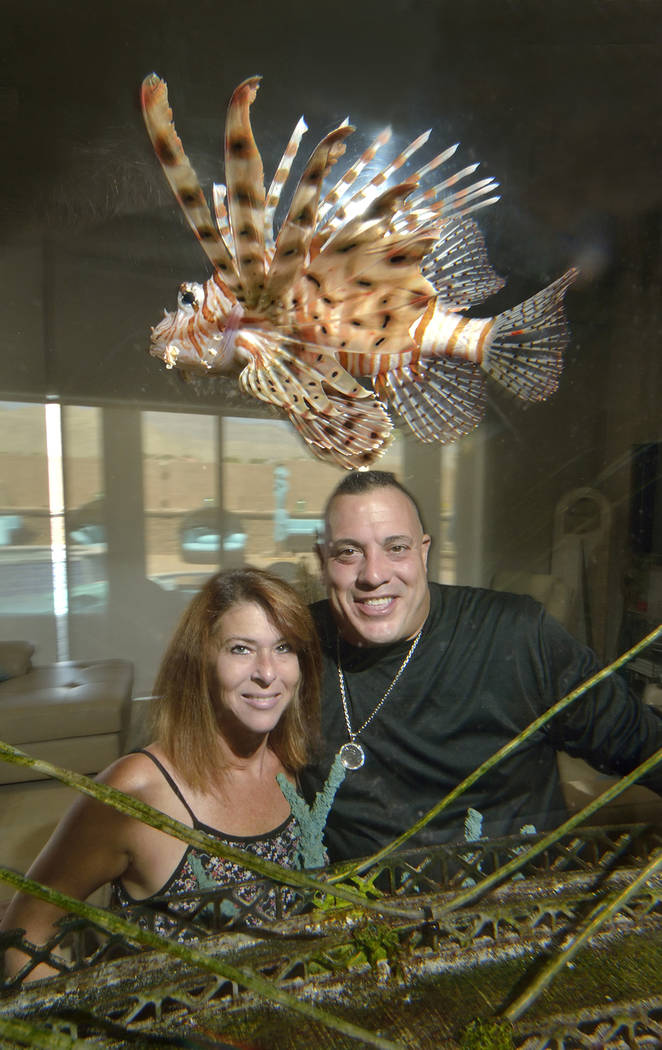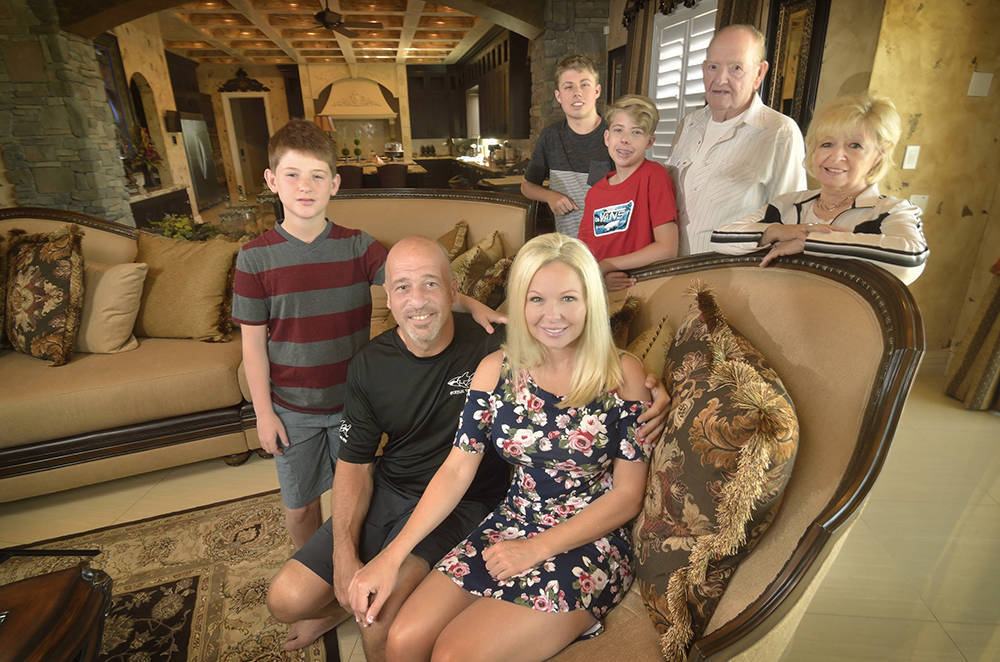 "I have found it a singular luxury to talk across the pond to a companion on the opposite side."
Henry David Thoreau
They've built aquariums for zoos, fish-holding tanks for restaurants and, more famously, decorative themed tanks for homeowners. Now, Wayde King and Brett Raymer, co-owners of Acrylic Tank Manufacturing and stars of Animal Planet's reality TV series "Tanked" have created strikingly unique ponds for their own homes.
On the June 30 episode, "Extreme Pond Off! Wayde vs. Brett" the brothers-in-law displayed their ongoing competitive spirits, each proclaiming to have come up with the idea of installing a pond and the inevitable superiority of his finished project. Like a pair of bratty children vying for attention, Raymer jokingly boasted "mine's definitely going to be better than Wayde's."
"You're copying me" King insisted.
The two families own homes a couple of miles apart in northwest Las Vegas. Both purchased their homes within the past three years and are in various stages of creating the backyards of their dreams, from approximately 5,000-square-foot blank slates.
For Raymer, the pond was the finishing piece of a patio that now includes a vegetable bed, fruit trees, a sunken fire pit lounge, Jacuzzi, pool with swim-up bar, outdoor kitchen with two televisions and several day beds. Who needs Wet Republic? He could open his own beach club.
The Kings' home had only the pool and spa when they bought it.
King said he and a friend rented a bobcat and backhoe and removed 24 dumpsters of dirt, then installed 12 pallets of pavers throughout the yard. The space is anchored by two planters with giant canary island date palm trees with leaves that span 15 feet, a number he calculated into their positioning to provide maximum shade. It's definitely a work in progress, including plans to install an outdoor kitchen and an 8-foot aquarium on a back wall.
The house has a contemporary exterior look and is painted a soothing sea foam green, a color that appears throughout the yard, starting with the large, custom, quartz dining table. Their pool is being retiled with green glass, and a waterfall will flow into it from the center of the house. And the pond walls were painted sea foam as well.
The business partners relied on Kent Wallace, president of Living Water Solutions, to review their original pond design plans and suggest adjustments. His Las Vegas-based company manufacturers pool equipment and has clients around the country.
"They asked me to come in and help because Vegas is kind of lean for pond (experts)," he said. "I helped them with the layout and to figure out what kind of filtration systems they would need and told them all the things they couldn't do. It was typical except for Brett's acrylic windows. That's not typical."
Raymer's vision was to see the fish from multiple angles, not just from above, he explained on the show. So he opted to install 3-inch-thick, acrylic, window-like panels on two sides of its rectangular frame to provide a sight line into the pond from various angles in the yard, as he had done with the pool's Jacuzzi. From the sunken fire pit, the view ended up being eye level.
On the show, Raymer initially explains to Wallace his vision of a pond with a waterfall "as big as the Empire State Building" that could be visible from the street, but his domestic partner, Trisha Chamberlain, nixed that idea.
"I want it to be nice back here!" she cried. "Not crazy, natural." Wallace said, "I kiboshed that right away because we have a lot of wind and evaporation, so the bigger the waterfall, the more water you lose through waste."
So they settled on her idea of a "theater in the park" where they can have family gatherings around the pond with its two LED TV screens that are visible from anywhere in the yard, custom made by All Things LED. In the show, Raymer said they are clearly visible for nearly a mile. A wrought iron park bench in front completes the setting.
At American Building Supply, Chamberlain selected Grand Canyon onyx stone for their pond's walls because it reminds her of the beauty of the Grand Canyon in her native Arizona.
Also, this stone doesn't have an impact on the pH level of the water, which is important for maintaining water quality. Its translucent quality gives off a nice glow from any LED lighting and provides sparkle from sunlight.
A few miles away, the King family pond seems Walden-like in comparison. Lagoon-style, it features audible sounds of bubbling water coming from three fountains and a low island where 16 turtles frolic alongside exotic koi and goldfish. The turtles began exploring the whole yard, so King has installed a separate pool for them to use when they want to lay eggs.
"We had one that's been running around (the yard) all day. He actually got under the fence, so we're blocking it now."
It has an elevated fire feature designed to be just far enough away that the fuel wouldn't touch the water and endanger the animals, something Wallace warned them about.
"I told them you have to do one that's above water because you don't want the residue from the propane or natural gas leaking into the water because that would be harmful to the fish," Wallace said. Fire by Design created the insert for King's pond.
Because its foundation is 4 feet below ground with just a foot and a half above, the temperature will "always stay perfect," King said.
Heather King, Raymer's sister, said because they travel so much for business that they wanted the outdoor space to be its own destination.
"Wayde wanted to do his own staycation in his own backyard. We kind of made it comfortable and tropical, so you feel like you're away."
Her husband added, "I think a lot of people work a lot and come home, they let their dogs out, and they let their backyards go. I think it's a major part of your property which you can enjoy more if it's comfortable … we just designed our backyard with different areas for comfort."
Of course, each home has a custom fish tank. Raymer's is a representation of the lost city of Atlantis. The Kings created one with a New York theme, backlit by a wall of LED lights. It's three dimensional and part of a smart system with a satellite link that can change appearance, depending on the weather in New York City.
"If it's a storm, it lets my tank know, and my tank shows lightning," King explained.
The ponds cost between $70,000 to $80,000 to build, not including Raymer's LED screens and the "$20,000 worth of acrylic I stole from the shop," he said jokingly.
About the ponds
• Raymer – Chamberlain family: A 12-by-16 feet, 2-f00t-deep, 4,500-gallon rectangle with acrylic used for visibility. Features a center-installed water feature with four spouts and fire on top; two TVs, two pedestal turtle islands, turtles, koi and goldfish.
• King family: Lagoon style, 18-foot diameter, 5½ feet deep, 6,500 gallons, with a turtle lounge in center. Three water features in back, graded steps in front, an acrylic magnifier, bottom bubbling aerators, king ladies goldfish, platinum ogon koi and turtles.