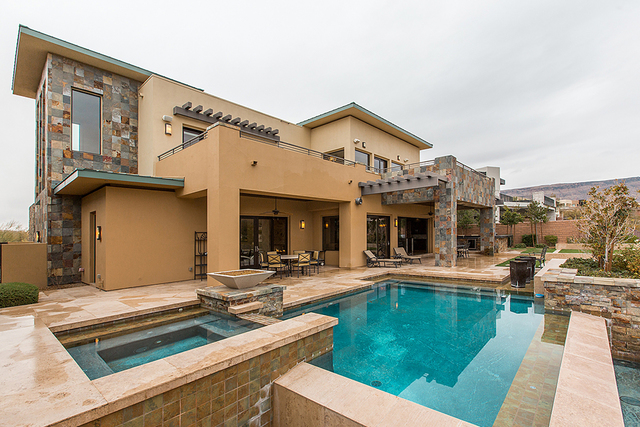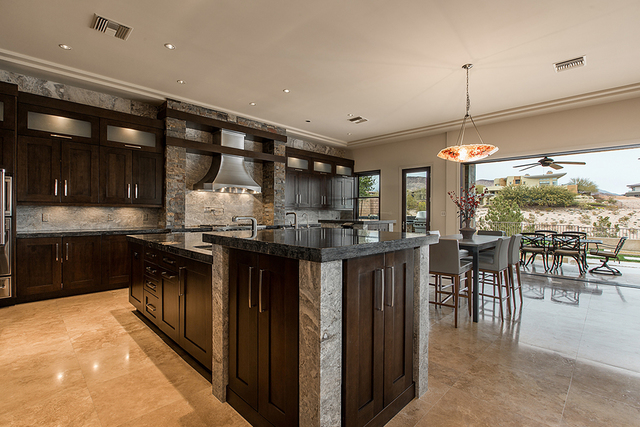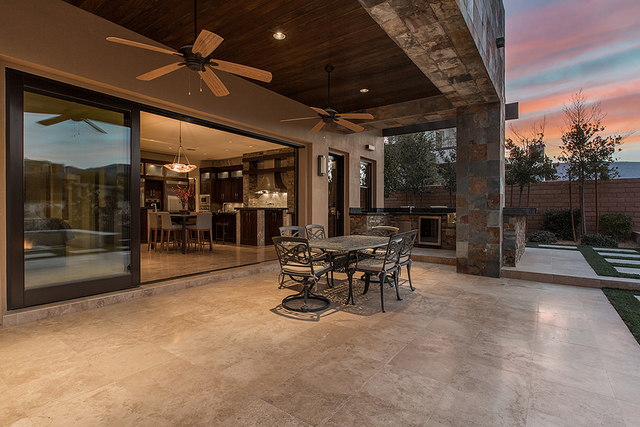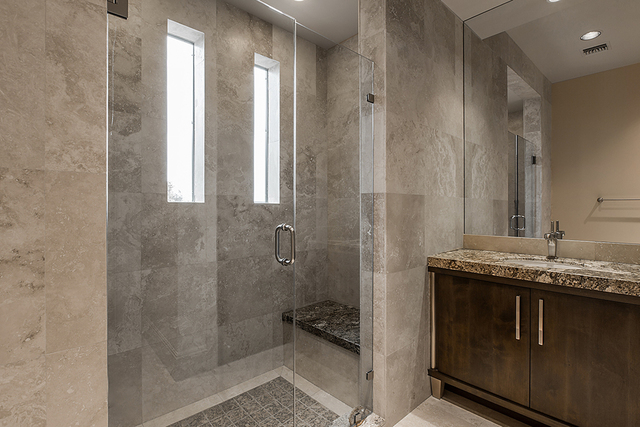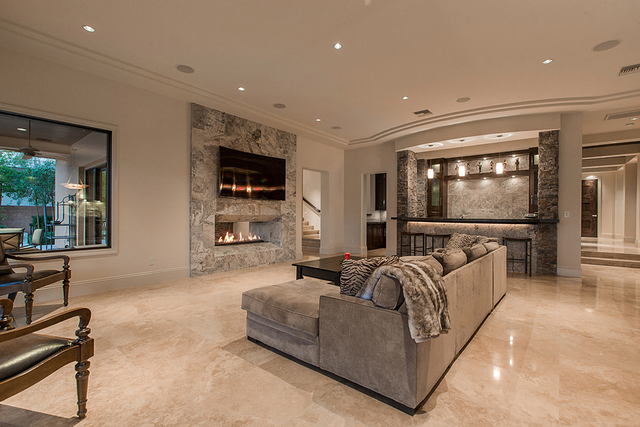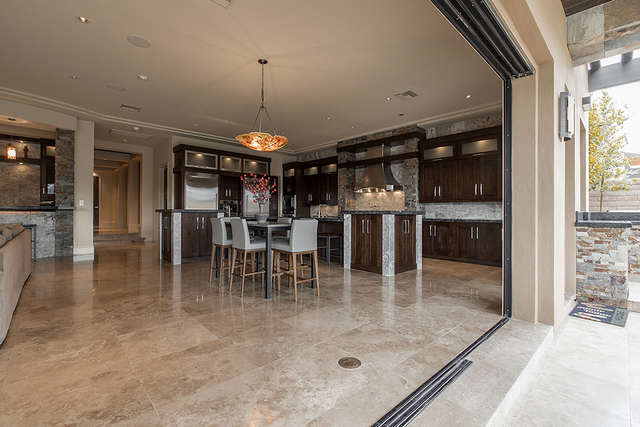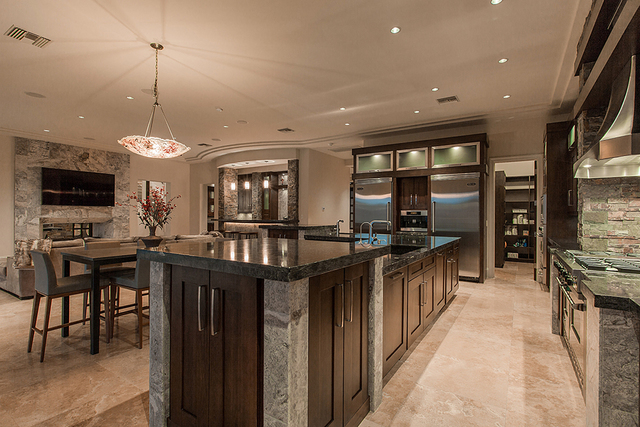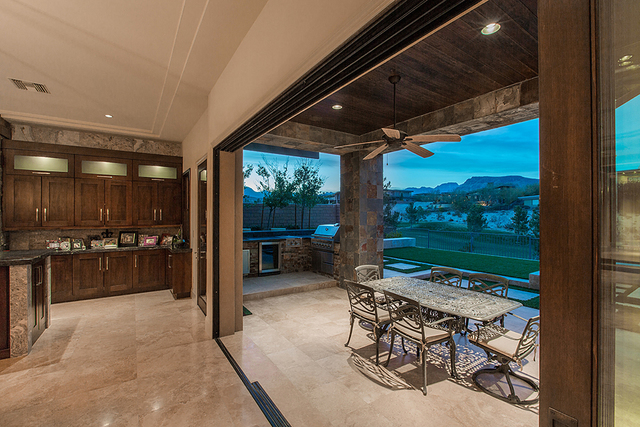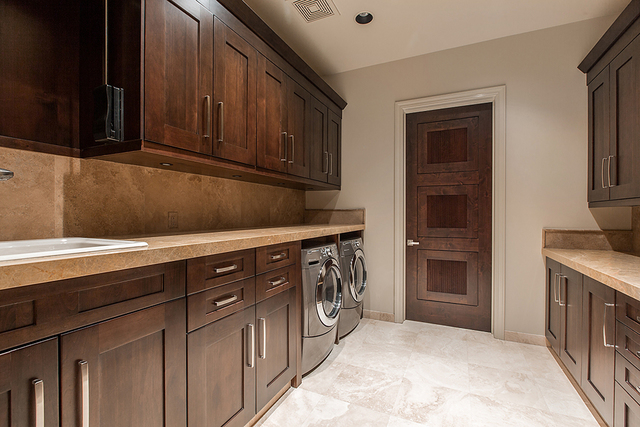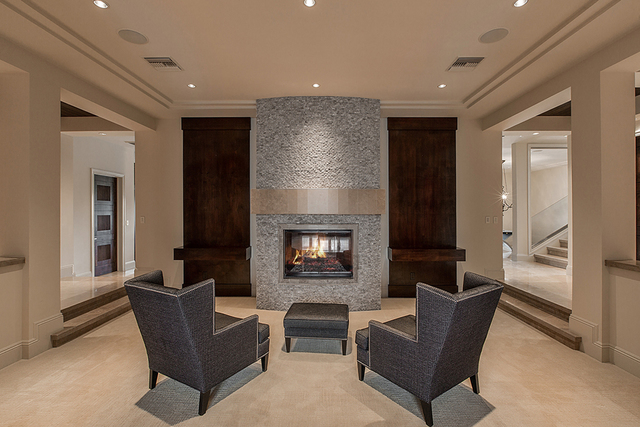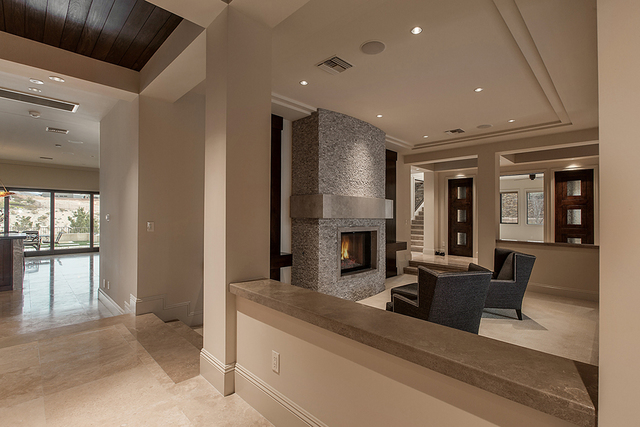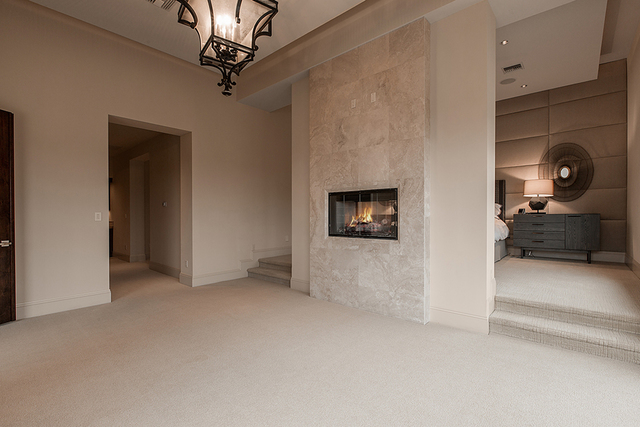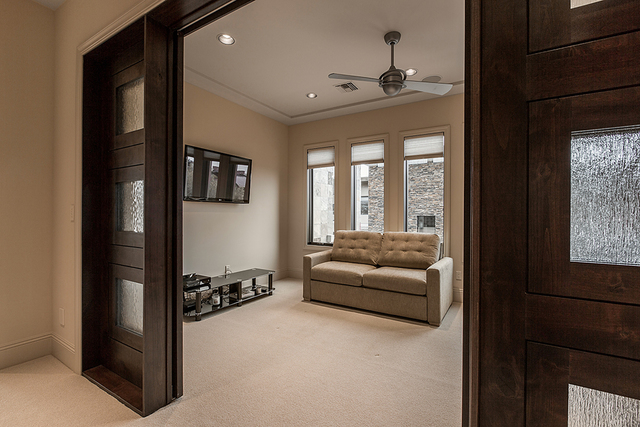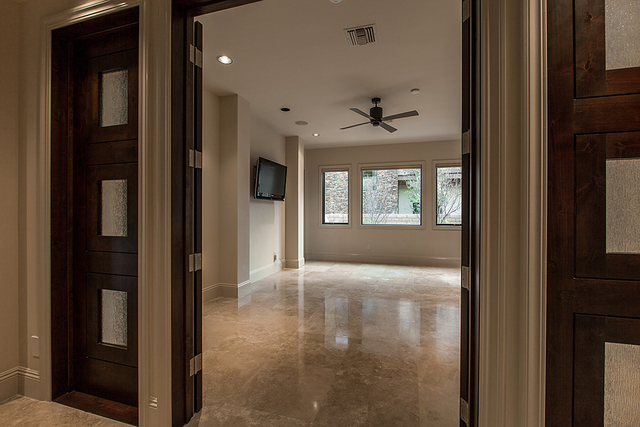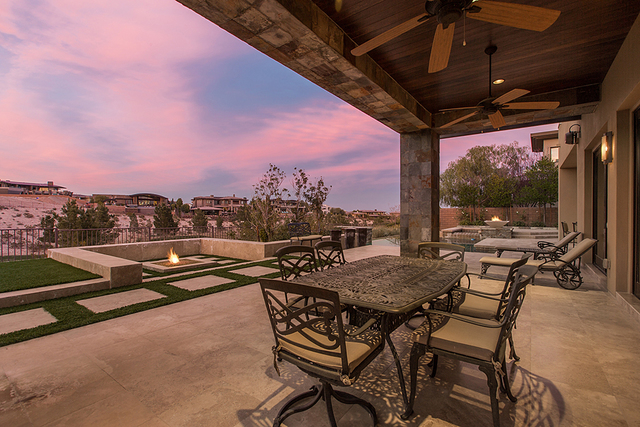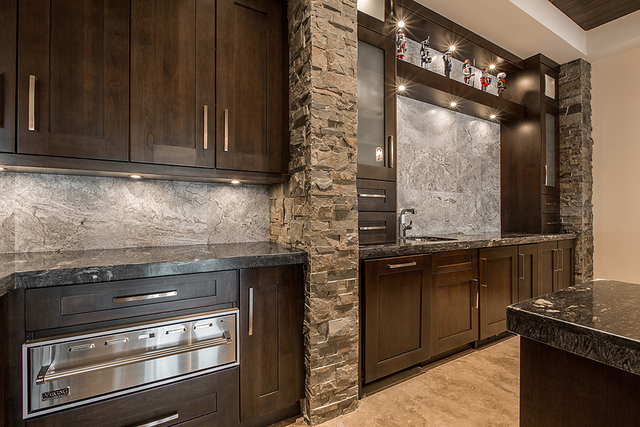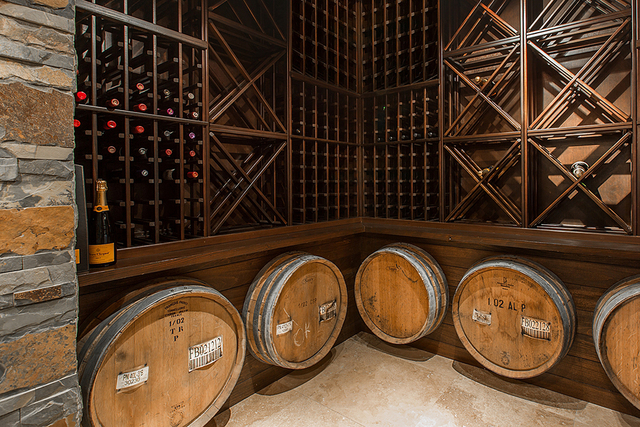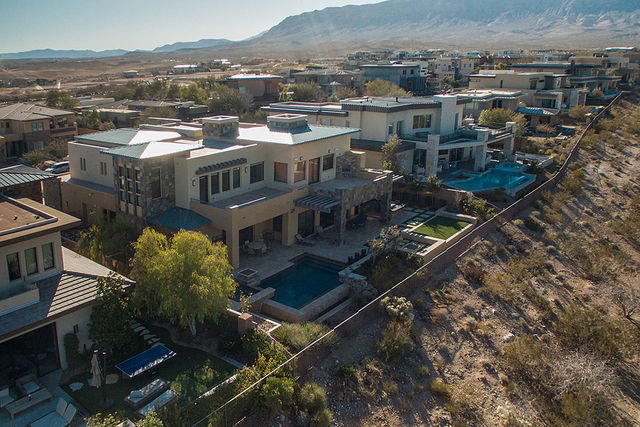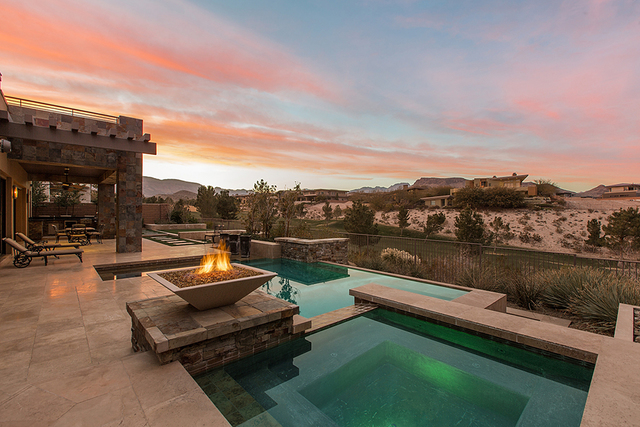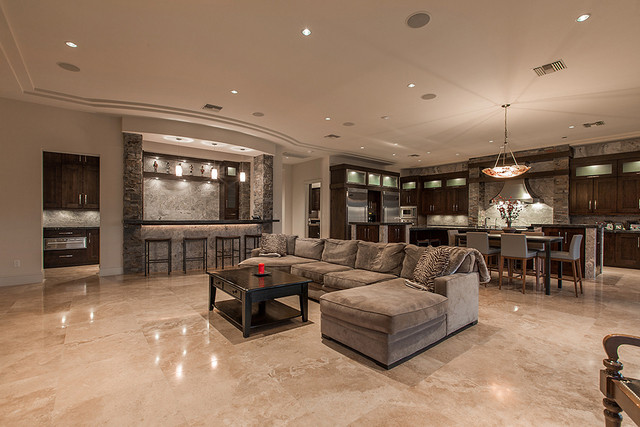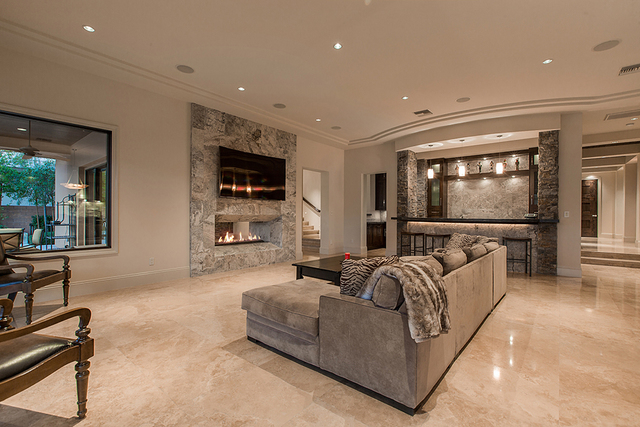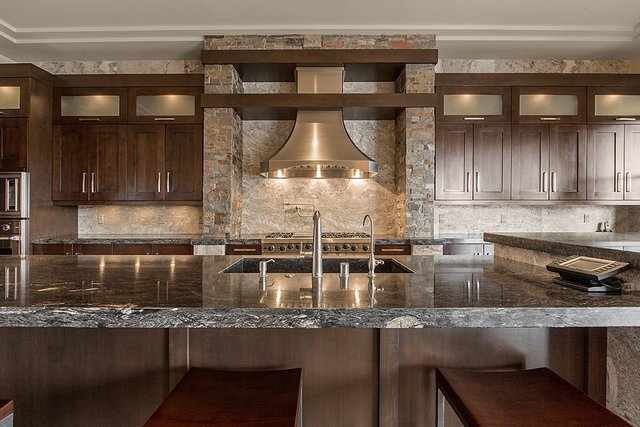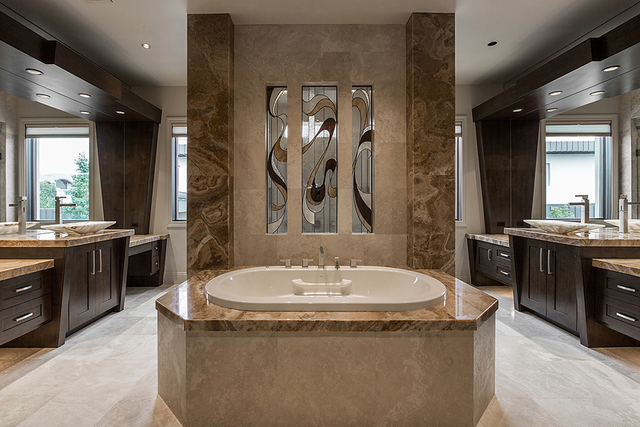 When Michael Mossholder moved to Las Vegas for a job with the Las Vegas Motor Speedway, he knew he wanted a home on a golf course and after renting at Red Rock Country Club for a few years, he bought his dream home in The Ridges right on the eighth fairway.
"My last four homes have been on a golf course, so I love the backyard golf course lifestyle with no backyard neighbor," said Mossholder, who since 2010 has been an executive vice president in the Global Sales Division of the UFC. He patiently searched for the right home.
"I wanted to take my time and make sure I made a quality purchase instead of a quick purchase," he said.
UFC was sold in August, and Mossholder is considering other career challenges. "Probably business operations for a major league team or private sports entity."
He may have to move, so he has placed his home on the market for $3,588,888. Mary Thomas of Berkshire Hathaway HomeServices, Nevada Properties has the listing.
He told the story of how he found his golf-course home.
One day while taking a home tour in the Falcon Ridge section of The Ridges, he noticed a home for sale in the section of Bear's Best Golf Course that interested him, so he took a chance and, without an appointment, knocked on the door of 54 Meadowhawk Lane. It happened to be occupied by the man who built it, Larry Ventimiglia, president of Lawrence Built Homes.
"Getting a tour from the builder is a dramatically different experience, because all of the detail he knew about the house and the craftsmanship that he put into the house was a big difference," Mossholder said.
And getting the home meant to be a builder's showcase is even more fortuitous.
Ventimiglia built the residence as a model home just before the housing crash. He said he wasn't intending to live in it, but decided to do so to minimize his losses.
"I never intended to move into it, but this is the new frontier for me, The Ridges. And it served its purpose quite well … but then, of course, the market went down."
The home's exterior is a rich, complex mix of materials and design details. The driveway is a mix of pavers and tile. The second level, front and back, has eyebrow trellises. Ventimiglia set a goal of building 25 homes in The Ridges, and is now halfway there. His addition of high-end finishes are quickly becoming standard. He was also the general contractor for the Las Vegas home remodel of "Property Brothers" Drew and Jonathan Scott.
The 8,000-square-foot home is made from warm, luxurious materials like slate and travertine, onyx and expresso wood. The finishes are consistently carried throughout the home, from exterior to interior. The multicolored slate used in the front of the house repeats on the back patio, and silver travertine was used to trim the kitchen island, backsplashes, fireplaces and bar. The black granite countertops continue from the kitchen to the outdoor grill area.
A lot of detail went into the materials selection, including the inch-and-a-quarter alder wood doors with tambour insets, and the under-lit onyx sinks in the master bath and powder room, which has matching Venetian plaster walls.
The home has an open floor plan and ample storage options and bonus rooms. "It was designed not modern, but not traditional. It was designed 'transitional,' depending on how you decorate this house," Ventimiglia said.
Mossholder doesn't cook much, but he said the UFC staff chefs who cater his parties love the large kitchen with Viking appliances and the 1200 CFM stainless-steel chimney range hood, which Ventimiglia said cost $9,000. ("That's a small car hanging up there.") Other entertaining niceties are the climate-controlled wine room and the combined bar and butler pantry, strategically laid out for efficiency.
The ease of entertaining inside or out with 50 or more people is important to Mossholder, who says he hosts parties several times a month for UFC functions, and for the several charity boards he sits on.
"I host large groups of people at my home a lot, and being able to have the indoor-outdoor experience without a backyard neighbor is great. Plus, the lot has gorgeous mountain views," he said. A portion of Red Rock Canyon can be seen from the outdoor decks, and is especially vibrant in the mornings.
It's a two-story, four-bedroom home; and all bedrooms have ensuite baths and walk-in closets. The one on the first floor is extra-large with tub and shower. Two rooms with pocket doors now used as office space or entertainment centers could easily be converted to bedrooms.
There are several open loft spaces including a large one at the top of the stairs near the master suite entrance. "Most of the homes that are 8,000 to 10,000 square feet are six bedroom homes," Mossholder said. "A lot of professionals don't need five or six bedrooms. I'd rather have the common space, the gaming space to be the square footage as opposed to the extra bedrooms."
According to Thomas, the next owner of the home won't have to worry about construction noise, since all the lots near it have been purchased and the last two golf course lots are finishing up construction. And both the present and previous owners agree that this particular lot is situated in a place that seldom attracts errant golf balls.
"That was a real checkup I did while researching this lot, because they can't really reach up this far, just once in a great while," Ventimiglia said.
"Because this is a par 5 and we're far enough down, it is very, very rare that I see a golf ball in my backyard," Mossholder added.
Thomas said while there was a noticeable lull in luxury home sales in the past nine months. That has reversed in the past weeks since the outcome of the presidential election.
"It was like crickets for probably the last nine months. If you look at comps for the guard-gated luxury communities in Las Vegas, it was really kind of sad," she said. "I think it's because of the election. Anybody with cash — they were sitting on the fence, waiting, but now that the election is over a lot of people are optimistic."
In just a week since the election, she said she has seen an uptick in showings. "There's been lots of escrows opened just this past week."
About the home
Location: 54 Meadowhawk Lane, The Ridges of Summerlin
Price: $3,588,888
Size: 8,192 square feet, four bedrooms, seven baths
Features: Golf course lot, infinity-edge saltwater pool, limo-sized garage and wine room
History: Lot sold for $805,000 in 2006 to Larry Ventimiglia, who built the home. Purchased in 2013
for $3,030,000 by Michael Mossholder.
Listing: Mary Thomas, Berkshire Hathaway HomeServices, Nevada Properties