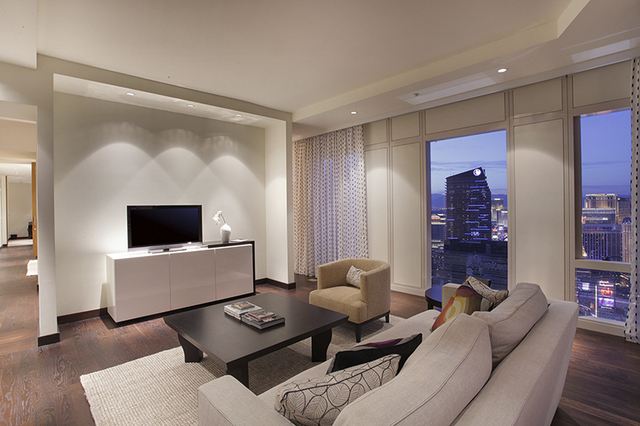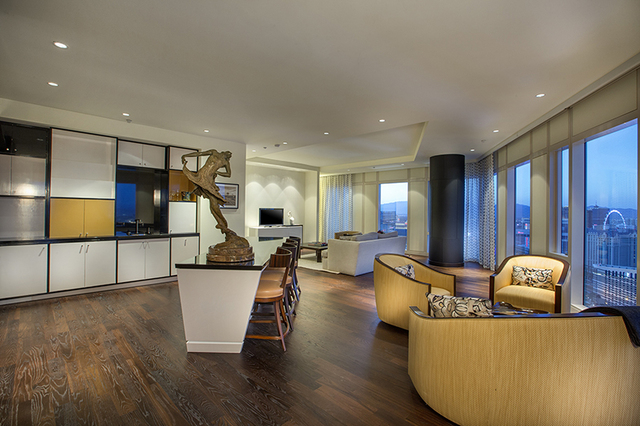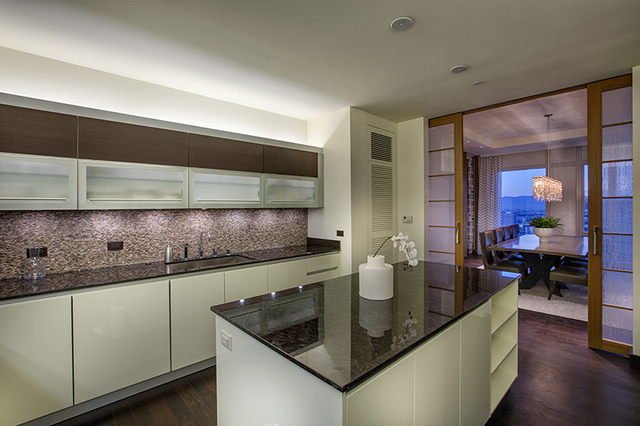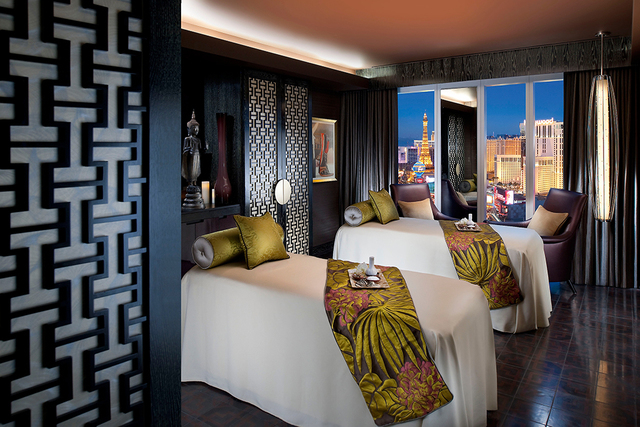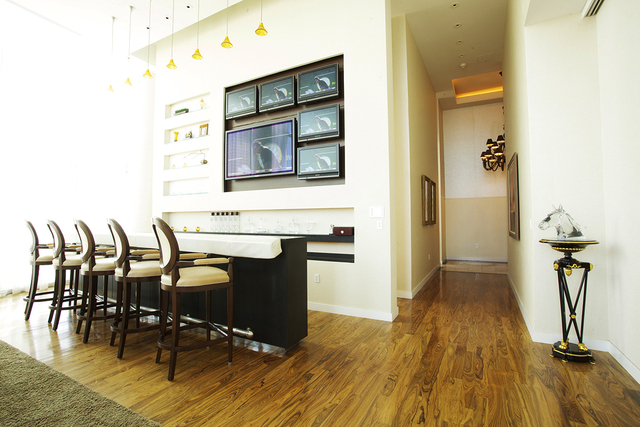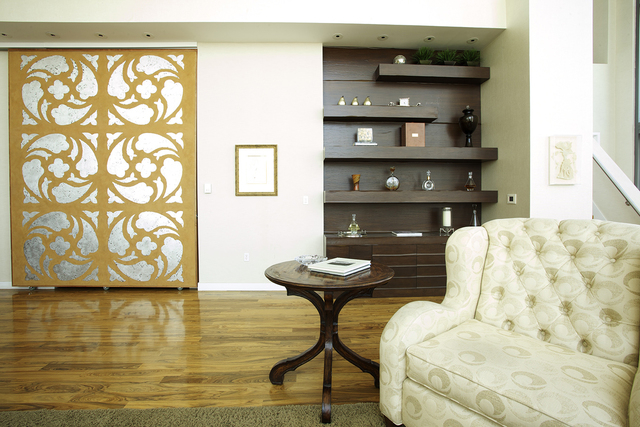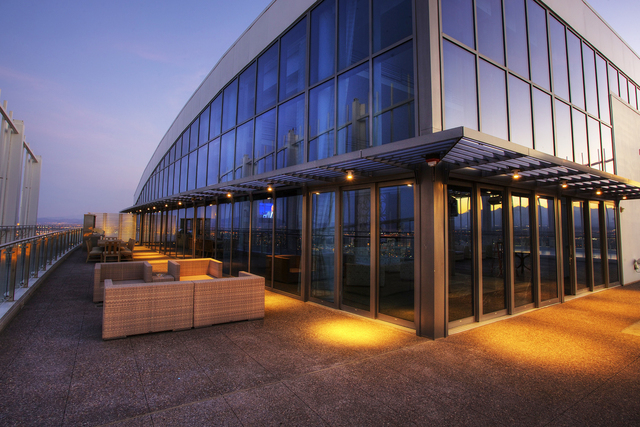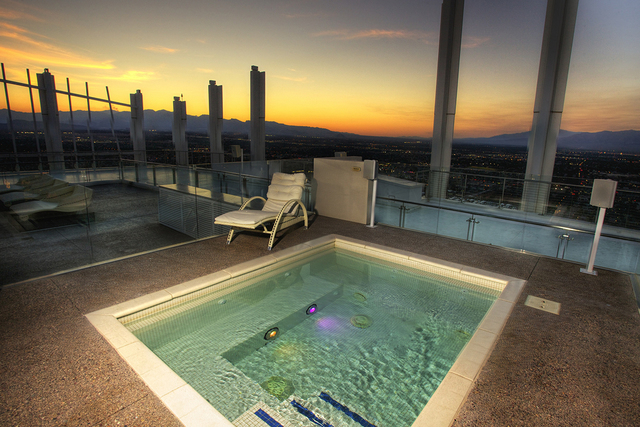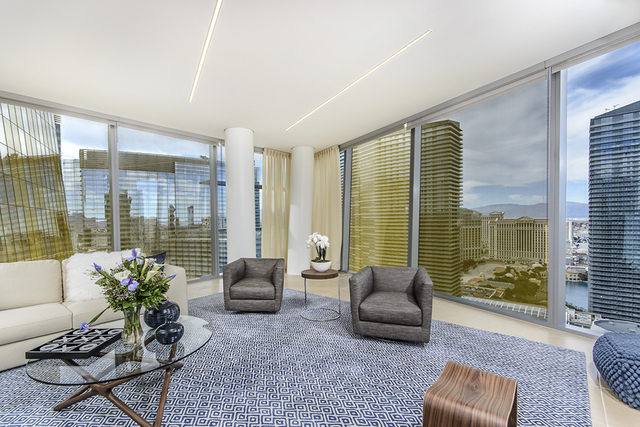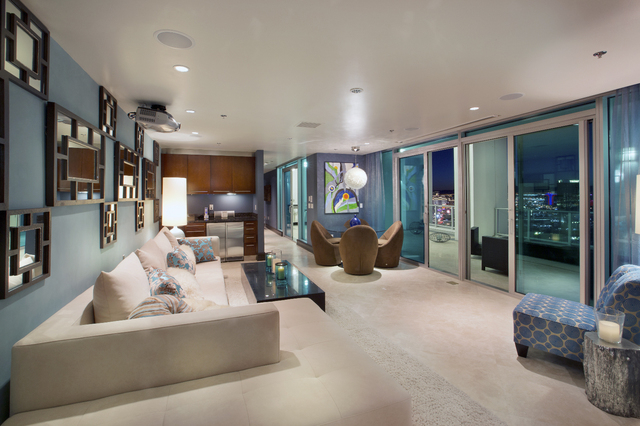 Editor's note: This is the first of a four-part series this month on the Las Vegas luxury high-rise market. Next Sunday, we'll look at how the downtown high-rise properties are faring.
Elio Khalife has been living the high life on the Strip for more than a decade. The Scottsdale, Ariz., resident and commercial real estate agent bought a condominium in Turnberry Place in 2000 because he was attracted by the opportunity to invest in a second home that offered lots of amenities near the Strip.
Turnberry Place was designed by architect Robert Swedroe and developed by Turnberry Associates of Florida. The project was one of the first luxury high-rise condominium complexes in Las Vegas with four, 38-story towers shooting 477 feet into the sky near the Las Vegas Convention Center on Paradise Road. Construction took place from 2001 to 2006 with a final room count of 769 suites.
The living areas are spacious, at an average size of 2,400 square feet. The 75,000-square-foot Stirling Club raised the bar for Las Vegas high-rise amenities, while promoting a new kind of luxury condominium lifestyle.
The success of Turnberry Place spawned the nearby Turnberry Towers that were completed in 2008. Other developers noticed their success and the race was on.
The ups and downs of the Las Vegas luxury high-rise market
During the boom times from 2001 to 2007, visitors to Las Vegas Boulevard witnessed a surge of cranes lifting high-rise structures south of Sahara Avenue and north of Russell Road: Park Towers, Metropolis, the Signature at MGM Grand, Panorama Towers I and II, the Martin, Sky Las Vegas, the Allure, Trump Las Vegas, Palms Place, Platinum, Vdara, Veer Towers, Mandarin Oriental and The Cosmopolitan of Las Vegas.
Then the real estate bubble popped in 2008. Some developments came to a grinding halt while others struggled toward completion, including the ambitious $8.5 billion CityCenter by MGM Resorts International.
CityCenter was the largest privately funded development in the world on 67 acres. The mixed-use, urban complex was planned and designed in 2004 and took six years to build. The development occupies almost 17 million square feet of luxury high-rise resort structures that include 4,800 hotel rooms, 2,400 high-rise condominiums and condo-hotels, shops, restaurants, gaming and luxury amenities. After a well-publicized financial challenge from its original investment partner, Dubai World, during the downward plunge of the Great Recession in 2009, MGM struggled to complete construction and open it in 2010.
"Sale prices for new luxury high-rise condominiums around the Las Vegas Strip dropped drastically, down 30 percent to 50 percent of the original building cost," said Sergio Colombo of TerraFerma Real Estate. Research of tax records and property listings by TerraFerma revealed that more than 10,000 luxury high-rise condominiums had been built on or near the Strip by 2012.
The result of this financial collapse led to a lot of creative financing, short sales and juggling by the local condo managers and sales staffs. Some luxury condos were rented to generate cash flow.
Gordon Miles, president and chief operating officer of Berkshire Hathaway HomeServices Nevada Properties, said the Las Vegas high-rise luxury condo market is in "recovery," and prices and number of units sold have increased during the past year.
In June, 10 units priced at $1 million or more were sold in the Las Vegas Valley, according to Equity Title of Nevada. The report showed that 73 units priced at least $1 million sold in the past 12 months.
This month, 112 units came on the market, and in the past 12 months 1,333 units have been listed, Miles said.
The Greater Las Vegas Association of Realtors reported 81 units sold for at least $1 million in 2013, compared with 20 units sold in 2012. The group's numbers show the median sale price of a luxury high-rise units so far this year is $1.4 million, down from $2 million in 2008 when the group started reporting on luxury high-rise sales.
Miles said the market has turned around rapidly, but predicts it will be slow and steady with a 4 to 5 percent climb in prices in the next few years.
"We are heading back in a steady motion," he said.
Condominium hotels are an important part of the luxury high-rise market
The owner of a condo housed within a working resort hotel could be given the option of leasing it back to the resort to use as part of its daily rental pool. That way, an owner could share rental revenue with the hotel when he or she is away from Las Vegas, while still retaining the deed to the property. As the U.S. economy gradually recovered and the Strip properties began filling up with visitors again, a reserve pool of high-end luxury suites allowed more flexibility for hotel management.
Condominium hotels in proximity to the Strip include the Signature at MGM Grand, Palms Place, Trump Las Vegas, Platinum and Vdara.
Condo hotels are in a different category from time-share resorts because of the degree of ownership and quality of luxury amenities.
The two industries are regulated under separate laws. For the condominium hotel industry, resort managers are licensed by the Nevada Real Estate Division. A condo hotel's business practices are monitored by state regulators.
As the U.S. economy recovers, some luxury high-rise condominiums remain at prices below their original construction cost. MGM has begun new projects, including a 20,000-seat arena, which should help increase property values within CityCenter.
Veer Towers has unique architecture, energy-efficient certifications
Khalife sold his condominium at Turnberry Place last year, after 10 years of residence, and traded up for a luxury condominium on the 25th floor of the western Veer Tower in CityCenter.
"It's awesome," Khalife said. "Everything is so close and convenient. I can use the spa at the Mandarin Oriental, while also shopping and dining at Crystals. The Aria is a great casino. The architecture of the Veer Towers is like something you would see in Singapore or Hong Kong."
Architect Helmut Jahn pushed the boundaries of gravity by creating two 36-story buildings that each tilt at five-degree angles in opposite directions. The twin Veer Towers have a greater angle of inclination than Italy's Leaning Tower of Pisa.
A series of support pillars run vertically up the 480 feet of each structure at different angles to suspend each building in space. Many of the pillars poke through the floor and ceiling of condominium suites, where interior designers adapt them to become an intrinsic part of the living space.
Rather than tint the double-paned windows with reflective glass like most high-rise office buildings, Jahn used yellow ceramic frit coatings on selected windowpanes to diffuse the light as it enters a room. Tiny yellow pixels break up sunlight to diminish the heat and glare as it passes through the window lenses. The tilting towers offer every floor a view that not only extends outward laterally, but also straight down to the street below.
The Veer Towers are energy-efficient, receiving a Gold certification from the U.S. Green Building Council's Leadership in Economic and Energy Development.
CityCenter uses its private co-generation power plants to burn natural gas and create electricity for all its towers. The process also emits heat that is captured to warm household water and swimming pools. The co-generation plant offsets electricity demands from NV Energy's utility grid during peak hours, when electric rates are highest, but can be turned off at night to use electricity from the grid, when utility rates are lowest.
Like Turnberry Place, Veer Towers house residential-only condos. The concierge service is available full time and social events are staged on a regular basis to encourage neighbors to connect with each other.
A rooftop sky deck includes infinity-edge swimming pool, hot tub, sun deck, kitchen area and a 360-degree view of the Las Vegas Valley that also looks down to the city streets below. A private gymnasium is accessible 24 hours a day.
After the economic downturn, MGM sold 427 of the 669 Veer condos to Ladder Capital Finance for $119 million. Ladder Capital hired Pordes Residential to resell the individual condos.
The living spaces are divided into studios, as well as one-bedroom, two-bedroom and three-bedroom suites. Prices range from $250,000 to $1.8 million depending on square footage. Studios start at 600 square feet. while three-bedroom suites can occupy more than 3,400 square feet. Homeowners association fees range from 68 cents to 84 cents per square foot, according to Jim Navarro, vice president of sales at Pordes Residential.
Mandarin Oriental, Vdara residents share amenities with hotel guests
The Mandarin Oriental and Vdara have sold most of their luxury high-rise condominiums over the past four years,
The Mandarin Oriental is a resort hotel that houses 225 residential-only condos. But unlike the Vdara, the Mandarin Oriental is not a condominium hotel.
The distinction is in the architecture, designed by Kohn Pederson Fox. Like a Chinese puzzle, the structure uses security doors, walls and a second elevator system to physically separate the residential condominiums from the hotel suites, even though residents share the same amenities.
The hotel guests and the residential condo owners are divided vertically at the Sky Lobby on the 23rd floor, that intertwines the main registration desk with the High Tea Lounge, Mandarin Bar and Twist restaurant to overlook an expansive view of the Strip.
"Hotel guests stay in furnished suites from the 22nd floor down while residential condominium owners live on the floors above the Sky Lobby," said Ike Moore of Synergy Sotheby's International Realty. "Luxury residences are on floors 24 to 40 while penthouse residences are on floors 41 to 47."
The smallest two-bedroom residential suites occupy 1,100 square feet while penthouse living space can be as large as 4,000 square feet.
For condo owners, amenities include a separate residential entrance with concierge desk, lobby, private elevator system and secure doorways that provide access to the Mandarin Oriental spa, gymnasium, swimming pool and luxury restaurants.
Mandarin Oriental penthouse lists for $5.6 million, measures 5,628 square feet
One unusual Mandarin Oriental property went back on the resale market for $5.6 million. The custom suite was listed by Synergy Sotheby's International Realty and is at 3750 Las Vegas Blvd. South on the 39th floor, No. 3904.
The 39th-floor penthouse is a hybrid, consisting of two neighboring condominiums that were purchased by the same owner. He removed the common wall to create a luxury suite with 5,628 square feet of living space that includes three full bedrooms, three baths and one powder room. By taking out the common wall, there is an unrestricted view to the north, east and south along the Strip. The view is more than 180 degrees, opening up the full breadth of the Las Vegas Valley.
Interior designs throughout this custom living space have been created by Joan Behnke &Associates of Beverly Hills, Calif. Some special touches include an Ariel chandelier over the dining area from Minotti and beckons the eyes out to the colorful lights of the Strip. A custom bar/lounge has been designed and built by Charles Gemeiner Cabinets. Thermador stoves, Sub-Zero refrigerators and Bosch appliances provide quality workmanship and energy efficiency in the kitchen.
When the desert sun shines too brightly, motorized shades from MechoShade Home Systems can be automatically lowered into place.
A gathering space in the southeast part of the condo features a flat-screen entertainment system created by JBL. Hidden motors automatically lift the display screen up and out of its black wood cabinet when ready to view.
Phil Maloof to sell Founder's Penthouse at Palms Place Tower
The most expensive luxury high-rise condo currently listed on the market is on the 59th floor of Palms Place Tower at 4321 W. Flamingo Road, which is near the Strip.
It is being sold by Phil Maloof, whose family built the Palms, at a list price of $38 million. Maloof took four years to plan and build the "Founder's Penthouse" that occupies 27,000 square feet of living space. The inside living space measures 7,100 square feet, while the outside rooftop patio spans 19,900 square feet and overlooks a 360-degree, unobstructed view of the Las Vegas Valley.
A concierge and private elevator provide luxury service to the interior living quarters that include three bedrooms, six baths, office and a full gymnasium. All three bedrooms have direct access to the rooftop space, in addition to sliding glass walls in the community area that integrate the outside space with the interior.
The penthouse is zoned as H1 commercial and can host 400 people for events, with a custom 30-foot-high fireplace, outdoor stainless-steel kitchen and culinary range, a 20-person Jacuzzi, outdoor movie theater, an elevated DJ booth and enough rooftop space and access to build a helipad.
"During August, we will be hosting an invitation-only gathering of international customers," said Lisa Sutton at Synergy Sotheby's International Realty. "We see the luxury high-rise condominium market turning around in Las Vegas right now and are excited to be part of its renewed growth."