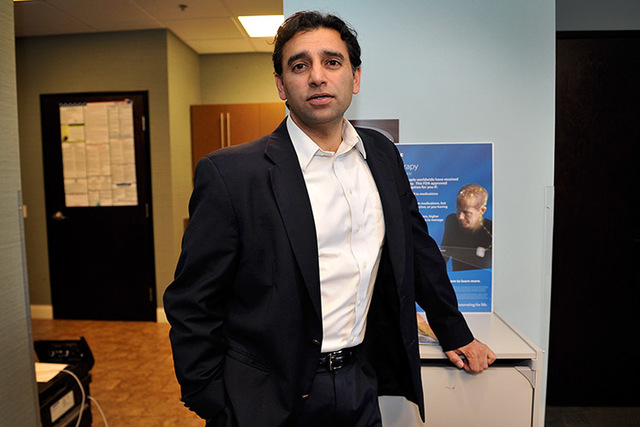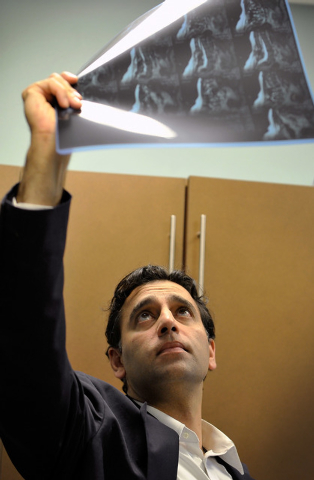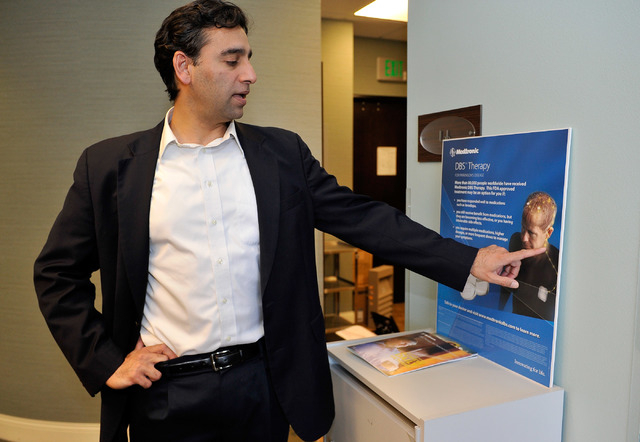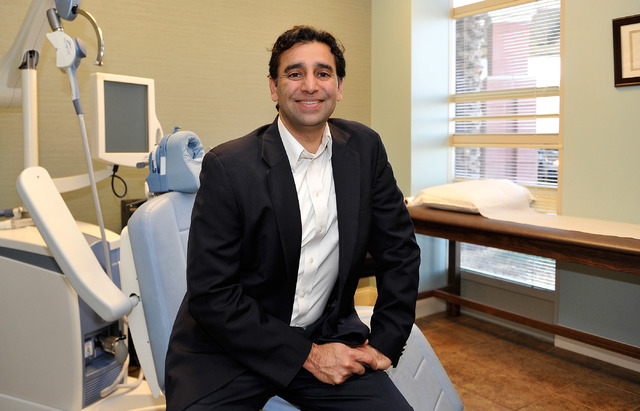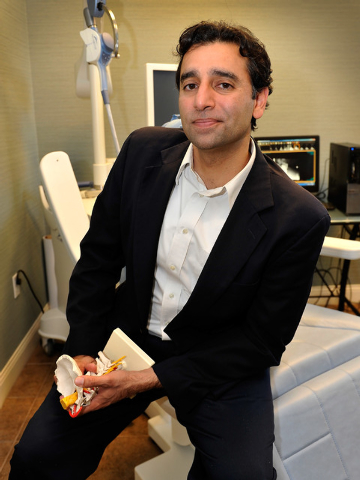 Evelyn Dela Cruz grasps her husband's left hand as they walk toward the kitchen table.
Although she is still working to keep balance, she has come a long way from where she was last year after a decade of living with Parkinson's disease, which had caused her health to deteriorate.
Her health took a turn for the better earlier this year when she met Dr. Aury Nagy, a neurosurgeon at Nevada Brain &Spine Care, and was introduced to deep brain stimulation.
"There is a whole field of amazing things we can do nowadays with the brain," Nagy says. "This is just one of them."
Deep brain stimulation implants a medical device known as a brain pacemaker that sends electronic signals into sections of the brain to help symptoms caused by neurological disorders.
Nagy says he wants to expand deep brain stimulation — something that has been done by other doctors across the country — to help people with psychological disorders such as depression and obsessive-compulsive disorder.
The procedure has been around since the late '80s, but the technology has improved over time, he says.
Before the surgery, Nagy uses MRI and computerized tomography, known as a CT scan, to find the part of the brain that needs to be stimulated.
Then, deep brain stimulation surgery is done in two parts: first, to implant the device, and the second to implant the battery.
Nagy says most people qualify for the procedure. However, he says he doesn't take people who have signs of dementia.
"The procedure could make it worse," he says.
Also, if patients have partial blindness, they aren't qualified because it might worsen the problem.
Most of his patients have Parkinson's disease or some other disorder that causes spasms or tremors.
"We usually get people who have been taking medications for a long time," Nagy says. "What happens over time is they take higher and higher doses. And the side effects become as crippling as the disease."
Nagy has performed one of the procedures about every other month for the past few years.
Dela Cruz, 66, had her surgery earlier in 2014.
After a year of experiencing tremors in her hand that prompted her to seek medical attention, Dela Cruz was diagnosed with Parkinson's in 2003.
She started medication immediately to help with the symptoms.
"At first they helped," she recalls.
In 2009, the effects of her pills started wearing off. She returned to the doctors to get updated prescriptions, getting more and more medications.
"They would make tweaks to her meds," Sid Dela Cruz says.
At the beginning of 2013, her health began to deteriorate; her medication seemed not to do anything for her symptoms anymore.
"It went downhill very fast," Dela Cruz says.
The tremors were back. She began having problems with her balance and was unable to walk without assistance.
Even her facial features were affected.
"Her face was stiff all the time," Dela Cruz says. "She would also have a tremor in her lower lip that caused her to salivate."
Dela Cruz became dependent on her husband because she couldn't do simple tasks such as bathing or getting dressed.
Because of some of her medications, she even began to hallucinate.
"She would see insects everywhere," Dela Cruz says.
In November 2013, they read an article about deep brain stimulation being done locally on other patients with Parkinson's. They consulted with a new neurologist to look into it.
Dr. Bess Chang, a local neurologist who works with patients with neurological diseases such as Parkinson's, says deep brain stimulation is never a first option.
"We want to give medication a try," she says. "(Deep brain stimulation) is almost a last resort."
But if a patient can't go any higher on a dose, she recommends the procedure.
"It depends on the doctor," she adds. "If a patient is already on three medications, I don't want to add a fourth, fifth, sixth or seventh while some of my colleagues might want to."
What she has seen in many patients, such as Dela Cruz, is the side effects from medications can be too much.
At that point, the Dela Cruzes were introduced to Nagy to discuss the procedure.
Even after the procedure, people are encouraged to take medication.
However, Nagy has had patients who are able to ditch the drugs altogether.
One patient who was in a wheelchair for three years was able not only to walk after the surgery, but return to the golf course.
Although patients' progress can vary, he says all patients will benefit from the procedure. But because it is neurosurgery, there are always risks.
"We are in the brain after all," Nagy says. "There is the risk of hemorrhage and infection."
There is also the risk of coma or death, as with any brain surgery.
Nagy says none of his patients has experienced those side effects.
During the process, Dela Cruz also met with other families who have had deep brain stimulation.
"It gave us a better sense of the procedure," Dela Cruz says. "Some said they were totally relieved of symptoms."
With a boost of confidence from talking to other people, the Dela Cruzes decided to try it.
Since Evelyn Dela Cruz was having such severe problems, she says Nagy decided to do the procedure in increments starting in February.
"He did surgery on the right side (of the brain) first," Sid Dela Cruz says. "Then about a month later, the left side."
Three weeks later, Nagy implanted the battery for the device.
Dela Cruz's tremors subsided nearly immediately.
"For the first time in a while, I saw her smile," her husband says.
They wish more people knew about the procedure.
"We know DBS isn't a panacea," Sid Dela Cruz says. "It doesn't get rid of Parkinson's. Once the person has been attacked by it, it can devastate the entire body."
But Sid Dela Cruz wonders what would have happened if the option for the surgery would have been presented earlier.
"I wish we would have done this earlier," he adds. "We don't know for sure, but I think if she would have had DBS done earlier before all the symptoms set in, she would have recovered much better."
In 2009, when symptoms started to worsen, he says his son showed him an article out of Georgetown University on deep brain stimulation.
Sid said Evelyn's previous neurologist dismissed the idea for unspecific reasons. Since it was based in Washington, D.C., Sid Dela Cruz didn't give the procedure further thought.
Evelyn Dela Cruz is now working with a physical therapist to help with walking and her balance issues.
"It's harder for her because they think she has other health issues, like arthritis," Sid Dela Cruz says.
Once they get other pain problems addressed, Evelyn Dela Cruz says she hopes to regain some of her mobility.
She won't have to worry about the device going out because Nagy says the battery could last as long as 15 years.
"But this technology has been around since the '80s so we don't have a whole lot of data," Nagy says.
Evelyn Dela Cruz returns to the neurologist every few months to fine- tune the signal's frequency.
"I'm still hoping they find the right tweak that will help with my balance," she says. "We haven't found it yet."
Contact reporter Michael Lyle at mlyle@reviewjournal.com or 702-387-5201. Follow @mjlyle on Twitter.