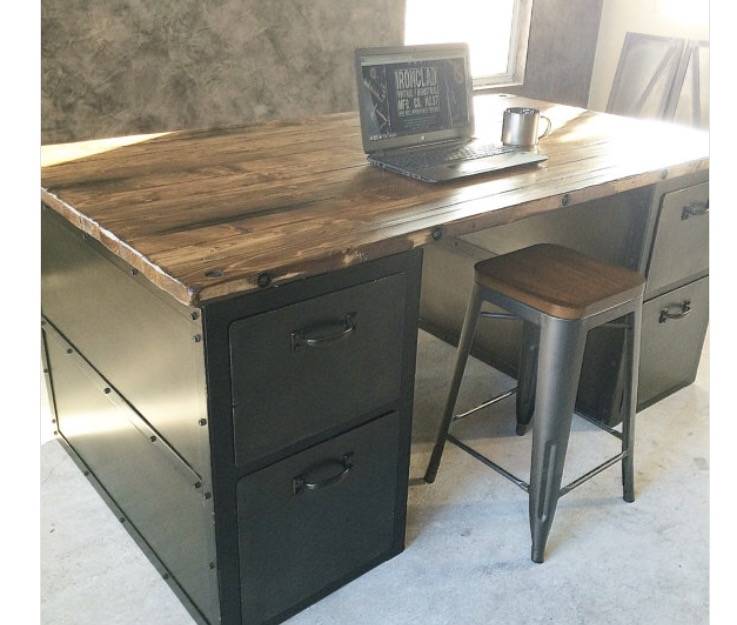 Sometimes, a room or space in your home needs that extra pop of color or a furniture statement piece.
Man-caves invite beer signs, barstools and big screens just as an artist's loft begs for mid-mod touches or furniture and wallcoverings that inspire creativity.
Unique furniture often speaks to a homeowner's influences or even a hidden side to his or her personality. Some who enjoy a bolder touch to a living space may opt for industrial-looking furniture where metal or iron are the dominant materials. These designs often tip towards rustic, but they can indeed be a perfect conversation piece that keeps a room inviting for the homeowner and the curiosity of guests piqued.
Weld and meld
Anthony Perez grew up in Las Vegas, where he had many friends who enjoyed off-road racing. While he didn't share their level of enthusiasm for the racing scene, by virtue of his involvement with the crowd, he was exposed to welding and metalwork. In time, these skills translated into a furniture-building business he created about five years ago called Ironclad Vintage Industrial.
"I was just always into art and creating stuff," Perez said of his shift from welding for industrial purposes to making furniture.
Perez describes his style as vintage, industrial and rustic. His work is built for the long haul and probably can endure an industrial setting, but the pieces are designed for the indoors. His furniture requests range from office desks to corner tables, media consoles, shelving units, beds and more.
"I would say the nostalgia of it really speaks to people, in general. So, the steel/wood combinations with heavy hardware, things like that, are becoming pretty trendy. … You're almost bringing in an element you wouldn't otherwise be inviting to an indoor space. It's kind of a juxtaposition," he said.
Perez has several signature pieces. His Cruz desk has a heavy steel, A-frame design with dark distressed wood for the top encased by a dark metal frame. All the steel is treated with a patina to darken it, he said.
His Bexley desk is an industrial office desk with plenty of rivets on its edges. It has file-sized drawers and an alder wood top. His Danville bed frame mimics a girder beam you would find on a train bridge. The piece was inspired by the song "Wreck of the Old 97," sung by Johnny Cash, among others.
Don't let the heavy look of the pieces fool you, Perez says. Yes, they are made of real metal or steel, but the craftsman has found ways to keep them relatively light for moving and shipping.
"When I build it, I have to move it around. It's actually not that bad. … I've figured out how to keep the weight down," he said.
Most of Perez's clients are upper-middle-class people looking for a specific industrial addition to a space. "Their homes are pretty standard and normal, but they're just looking for that something that sets everything apart in that room, that statement piece," he said.
He also sees differences between his male and female clients.
"Guys want this look like it just came out of the bottom of the ocean or it was dug up from a heaping pile in the desert. Some call it 'biker chic'. But women tend to want those clean lines, the modern look," he said.
Montana muse
Back Alley Metals owner Mick Thompson is known in Red Lodge, Montana, for building bear-proof garbage cans. While the practical offering makes up a good portion of his business, the metalwork and iron pro is also carving out a niche in furniture, too.
His father started the business a while back as a hobby. Then, nine years ago, he helped his father with an extensive restaurant remodel that involved a lot of metalwork.
That experience transformed the business to a full-time endeavor. A lot of Thompson's work comes in the form of gates and railings, but furniture is becoming a more common request, and he enjoys building pieces for his showroom floor, too.
"These are things that are functional, but it has a unique style," he said.
Like Ironclad Vintage Industrial, Back Alley Metals goes for an industrial look. You will find plenty of rivets, turnbuckle threads and rods from industrial applications. Thompson has used lift cables from chairlifts to create shelves and his popular dry bar with wine rack encapsulated by metal mesh doors also draws attention.
Thompson uses more grays than dark colors in his furniture designs, and he uses a three-part metal coating treatment that involves treating with acid, neutralizing with base and then a clear coat.
Outdoor design for lofts
Tiki Santos is the owner of Patio Picasso, an Arizona-based manufacturer of wrought-iron patio furniture. Santos' company has seen an increase in requests for outdoor furniture to use in Phoenix downtown loft spaces.
"We have those straight lines, and you're integrating more of an indoor feel with an outdoor look. … But people are also looking for value and quality. The stuff in the big box stores doesn't last like this stuff does," he said.
Santos' Phoenix collection brings modern square and rectangle frame designs lending themselves to a what he describes as somewhat of a Restoration Hardware look. The collection offers love seats, sofas, couches and sectionals.
Its style can be personalized with unique cushions and pillows. Santos uses Solar Guard thread, which is marine quality and salt-water resistant and comes with a five-year warranty.
Style factors aside, Perez said metal and iron furniture makes big statements about craftsmanship and human connection. To him, it's furniture built with heart.
"This is something that's created with the brain and hands," he said. "People are so sick of cookie-cutter stuff. … This is something that is going to last forever. … It's human to human, especially, as is the case with a lot of my work, you get to sit down and design a piece with somebody."