Cabanas are great complement for backyard pool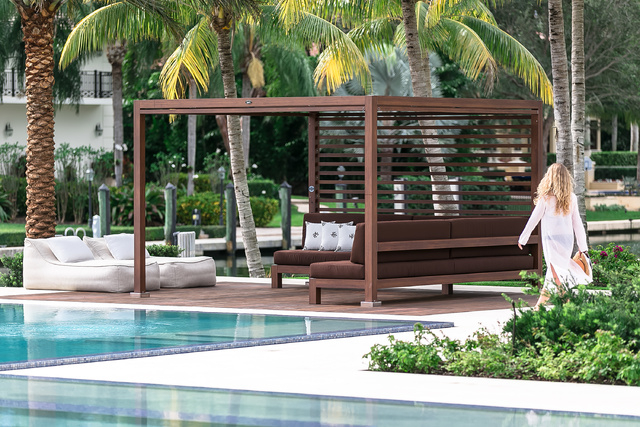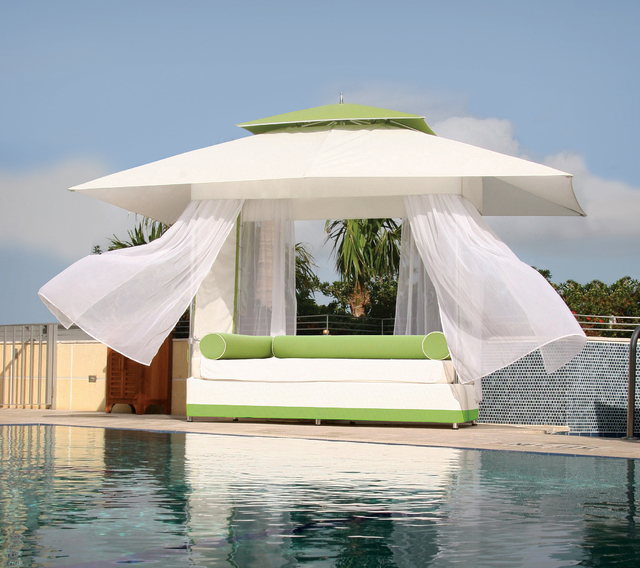 A cabana is defined by where you live or who you ask. If you live near the Mediterranean Sea or Pacific Ocean, it is a small tent or hut with one open wall that is used as a dressing room.
Ask about a cabana in Las Vegas and learn that it is a private (and expensive) tent in the pool area of a hotel that is rented out for groups of two or more to gather and socialize. These cabanas include serious amenities such as flat-screen plasma TVs, couch, mini-fridge, ceiling fan, food, beverage services and mist sprays.
That same cabana environment is available for the home. Tuuci, the Miami-based designer and manufacturer of luxurious outdoor shade, is able to provide an outdoor living room that is available in multiple shapes and sizes and includes options for a roof and side walls that can withstand winds exceeding 50 mph.
Dougan Clarke created Tuuci and is now CEO and chief product architect. He said the company's Equinox Cabana provides an outdoor retreat.
"I think of this cabana as a getaway where you can lounge in style, yet remain plugged in with all the options that are available to equip it," he said. "There are power outlets, high-quality lighting and Bluetooth speakers to provide surround sound.
"The cabana acts as an outdoor living room with the option to customize the seating with a bed, bench or L bench. Additionally, curtains or roller blinds can be added to shade the sun or provide privacy. It's an open-air living room."
According to Clarke, the Equinox Cabana is designed to bring the ultimate in luxury.
"This sleek shelter gives consumers a chance to be a part of its creation," he explained. "Begin by selecting a bed or bench and packages for outlets, music and lights. Innovative shade systems complement surrounding furniture and environments and can be the extension of a backyard or a separate poolside accent. The outdoors never felt more luxurious with music and lighting options, trellis roof with trellis sidewalls, and full fabric curtains with tie-backs."
At California Patio on South Dean Martin Drive, Jose Herrera said cabanas and gazebos are popular for many local backyards, but homeowners need to pay attention to area winds.
"I always ask customers what part of the valley they live in and inquire about how windy it gets in their neighborhood," Herrera said. "Aluminum and metal cabanas are good and can stand up to the high winds that we get here, but proper placement in the backyard is just as important as the material itself. The high heat and strong sun is also a factor so we sell marine-grade awnings that are durable and more wind-resistant."
Herrera said a cabana is often purchased to give the backyard a "resort" look and that having a pool isn't necessary.
"The cabana gives the feeling of a place to go and relax," she said. "There can be a daybed inside and it becomes a conversation piece or gathering place like your own personal oasis.
We have all types of fabrics and colors and patterns with either Velcro or zipper ties. It's a great look and atmosphere ranging in sizes from 7 by 10 feet or 12 by 12 feet and even larger for most backyards."
Robin Wright, general manager at Mrs. Patio on West Flamingo Avenue, has an alternative to cabanas — cantilever umbrellas, also known as offset or side post umbrellas.
"This umbrella is perfect over large dining sets, pools or hot tubs because they are easy to operate and have a full 360-degrees rotation," she explained. "They also tilt up to 54 degrees in all directions so the sun is always blocked as you adjust it as the sun sets in the West."
According to Wright, the umbrellas can be customized in a variety of colors and fabrics. The fabrics, Obravia or Sunbrella, are a solution-dyed material that can stand up to the local elements with no fading for at least five to seven years.
"The umbrella is self-standing and more practical and stable," she said. "There are different sizes, including a 10-foot square, 11- or 13-foot octagon and 10-by-13-foot rectangle. The bases are from 250 to 400 pounds, and there is even a concrete mount kit that is more stable in Las Vegas winds.
"When we deliver the umbrella, we fill the base with 400 pounds of sand. It's a universal product and customers put a chaise lounge or chair underneath and enjoy."
Wright said the versatile umbrella offers more choices than a standard umbrella as it covers a seating area or patio table without an umbrella hole, and side post umbrellas provide shade without an obstructing center pole.