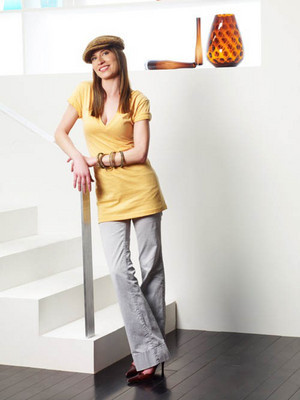 Being on a reality television show is about as far-removed from reality as one can get. In fact, it is more of a surreal experience, said Teresa Keegan, who is appearing on this season's "Top Design" reality competition on Bravo.
"Unless you do the show, no one really understands the hours that go into it," said the Las Vegas designer. "The first day for me was 23 hours long. Each additional day was between 20 and 22 hours.
"There's a lot that goes on that they can't actually show. There's only a limited amount of time — it's a one-hour show with commercials. That's a lot of time to literally crunch down into minutes."
Most viewers also don't realize how grueling the experience can be. She said contestants worked nonstop with only a few hours of sleep and probably very little to eat.
"You really get to see how strong you are. It's tough to be in group of strangers. You can only assume and trust that they know what they're doing."
Keegan said the experience even surprised her. Normally a high-energy, enthusiastic and creative designer, she said she often found herself sitting quietly in a corner, content to watch the other contestants banter and bicker with each other while remaining "under the radar."
She said she didn't want to expend extra energy fighting and preferred to focus on her designs. She said it was kind of like putting blinders on a horse.
"You really have to focus and concentrate on what's in front of you. I didn't want to get bogged down in the drama."
Keegan, who owns Keegan Designs (www.keegandesigns.com), said she specializes in modern interiors and exteriors for residential and commercial projects, blending touches of nature with glamour and a bit of shimmer.
One thing she hopes to accomplish by appearing on the show is letting others, including fellow Las Vegans, see that there is more to the city than neon lights and rhinestones. She said she takes a more natural and organic approach to her work.
"No one can believe I'm from Las Vegas. I don't want Vegas to come off as cheesy. I would like to be part of that, to create designs that are more natural rather than all faux rocks and faux treatments."
And her work is not going unnoticed.
In the show's first episode she was on the winning team decorating a loft for judge Kelly Wearstler and for the second episode she worked with Natalie Williams to create a Zen Den in a bomb shelter that impressed the judges even though it didn't win the "Top Design" designation.
The third episode had her designing a window with Eddie Ross for "Project Runway" fashion designer Santino Rice. They placed firmly in the middle of the five teams competing.
She said she's used to people being surprised by her work. Her petite stature often belies her experience and she frequently encountered those whose "jaws dropped" when they saw her designs, especially on commercial projects in the Seattle, Wash., area, where she pursued a degree in interior design and lived before moving to Las Vegas in 2002.
"They totally underestimate me," she said.
In addition to enlightening show viewers and her fellow designers about her new hometown, Keegan said the experience has been very helpful to her.
"I think it definitely puts things into perspective. These are some really talented people. … When you are at that level and with really creative people that you respect, I felt lucky that I was among them."
She said friends and clients had been urging her to participate in some type of television design show for years before she finally decided to apply for "Top Design." Although Keegan had met designers from shows like "Trading Spaces" and knew the impact such shows can have on a person's career, she was reluctant to participate.
"I'm not an actor. I never wanted to act. I really am a designer," she said, admitting that she even lived without a television for quite some time.
It was only after doing a bit of research about Bravo and "Top Design" and seeing that true talent was favored over personality that she applied. And even then it was an on-the-spot decision while casting agents were visiting World Market Center Las Vegas during a recent trade show that Keegan was attending.
After casting agents called her, Keegan borrowed a video camera from a friend, did one take and sent in her audition tape.
Despite the challenging schedule, Keegan said she has no regrets about participating in the show. She said she'll have to wait until the entire series has aired to learn if America hates her or embraces her style.