Drapes can be more formal than curtains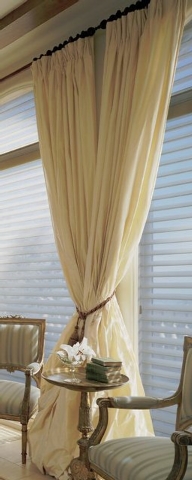 Dear Gail: I'm just about finished decorating my living room, dining room and master bedroom. I want to soften my windows and add color, but I'm not looking for a valance. I'm getting overwhelmed when I go online and what the difference is between curtains and drapes. I just know I don't want the old-fashioned draperies my mother had. — Torri
Dear Torri: The choices can be overwhelming, plus you have to consider whether you are going to buy something ready-made or have them custom made. If you can find something already made, great, but if not, price out custom as it will allow you to get exactly what you want. There is a considerable difference in price, but you can control that with how intricate the style is, as well as choice in fabric.
So what is the difference between curtains and drapes? Although the words curtain and drape are commonly used interchangeably, drapes distinguish themselves by being lined.
Curtains are less formal, the fabrics are lighter in weight and not lined. Most people think of curtains as window length versus to the floor, but lighter weight panels are sometimes referred to as curtains.
I'm sure your mother and/or grandmother had cafe curtains in the kitchen; mine sure did. She actually had different ones for each month. The first Saturday of each month she would switch them out, and my job was to clean the windows. You can bet I looked forward to that each month.
A cafe curtain usually covers only the bottom two-thirds of a window. It's a nice treatment that allows light in while still giving you privacy. They are mainly used in a kitchen with a small top valance.
Drapes, on the other hand, can be more formal, floor length and lined. Lining gives the drapes more body so they hang better. If you are going to have operative window treatments, meaning they open and close, versus stationary, meaning they do not move and simply decorate the sides of your window, lining is a must. If you use light-weight curtains across your window instead of lined drapes, your fabric would fade and disintegrate in a short period of time in our sun.
So what can make your drapes not like your mother's? The header. A header is how the fabric is finished at the top, which determines how it is mounted on the rod.
I'm guessing that your mother's drapes were possibly made out of antique satin and had a pinch pleated header. I say this because it was the most popular style at the time. My mother also had them and, yes, even ones for the different season. Guess who had to clean those windows?
What you need to first determine is if you want to open and close the drapes. This will narrow down your header options.
For operable drapes you want something that allows you to easily open and close the drapes. You don't want a treatment where you have to get up on a chair to push and pull it open and close every time. The best option if you are going to open and close them every day is a traverse rod. For those not familiar with a traverse rod, it's what you have in hotel rooms. They either have a wand, like you see on blinds, or a pull string to open and close them.
There are some very attractive traverse rods in styles from traditional to contemporary, but they can be pricey. If you want it to traverse, you also can use a standard rod with a valance treatment. Although, the price difference may be negotiable.
A few other options are rings, clip rings or grommets. The difference between rings and clip rings is that clip rings have a clip on a ring hanging from the bottom that you simply clip onto the fabric, whereas a basic ring just has the additional ring, so think of two rings looped together. With the basic ring, the drape top is either sewn onto the ring or pleated and attached with a concealed drapery hook.
If you like the standard ring and are not going to use a traverse rod, I would use a drapery hook versus the sewn option as it will not handle the wear and tear of daily use. For these options, I would consider a drapery wand instead of pulling on the fabric. The oil in your hands will make for more frequent cleaning.
For stationary panels, you can also use the rings, clip rings and grommets as well as ties, a rod pocket and tabs.
For a more contemporary style, you'll want to lean toward simpler, smooth, clean lines. You can find some beautiful and inexpensive drapery rods. I recently purchased some for a client at Wal-Mart for $25 each. We were looking to just soften the lines of her windows, and I was constricted on the width by the wall to just 18 inches. So I went with a simple unlined panel, giving me the ability to gather it tighter than I could do with a lined panel. The panels had a rod top so, when gathered on the rod, all we saw were the finials. All four windows cost $250.
Another great style is to have a contrasting fabric at either the top or bottom of the drape. These have become very popular in ready-made. When doing this, think of what you are going to see the most, the top or the bottom of the drape.
It's also a very easy DIY project. I've done it by purchasing the drape with the header I wanted and added 18 inches of fabric to the bottom. It's a great alternative to custom made when you can't find the length you need.
Along with the header style, your fabric and tieback choice will make your window treatments current.
Gail Mayhugh, owner of GMJ Interiors, is a professional interior designer and author of a book on the subject. Questions may be sent by email to: gail@gmjinteriors.com. Or, mail to: 7380 S. Eastern Ave., No. 124-272, Las Vegas, NV 89123. Visit GMJinteriors.com.