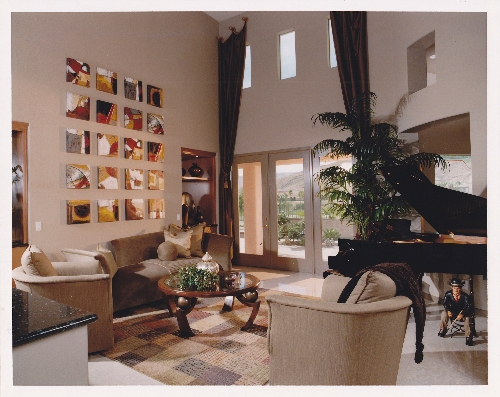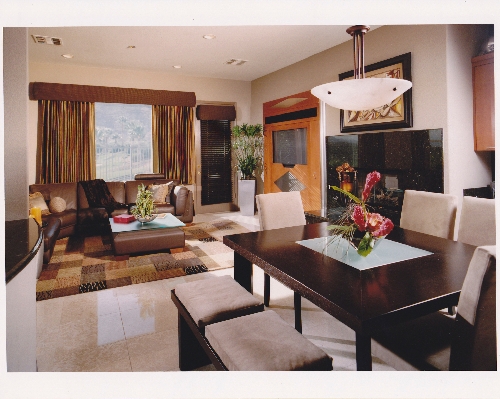 Just as we don't make maximum use of our time, we also don't make maximum use of the space within our homes. While wasted days and wasted nights can't be reclaimed, wasted home space can be reclaimed.
"Most homeowners just aren't knowledgeable about spatial relationship," said Marteen Moore of Marteen Moore Interior Planning of Las Vegas. "When I'm working with a client, I inquire about each room to find out what it's going to be used for. Is it for work or play or for sitting or dining? How many people are going to use it? Then, once the room is properly identified as to its purpose, I design it to make full use of its space."
According to Moore, more space is lost in large homes (3,500 square feet versus 1,500 square feet) because those homeowners don't realize just how large their rooms really are.
"Interior design and spatial relationship go together and people need to think about their rooms to make the most efficient use of them," she said. "Too often a sofa is placed here and a table and chair over there. Furniture doesn't always have to be against the wall. To the untrained eye, it may look good, however, to the trained eye, the room is unbalanced."
Making optimal use of home space is no easy task. Shawn McNeace, design principal for SRI Design Group and design salon director at Las Vegas Design Center at World Market Center Las Vegas, said people tend to ignore certain areas of the home.
"In a two-story home, look at the space underneath the staircase and visualize what could go there," she explained. "It could become a private alcove for reading or maybe a small library or even a mini wine cellar. This imagination can be taken from room to room, even to bathrooms and the garage, to see what can be done to maximize room space."
McNeace, a professional designer for 30 years and vice president of the local chapter of the Interior Design Society, said most rooms have at least two focal points.
"Take the family room, for instance, where the two focal points are the television and fireplace," she said. "Too often, I see the TV above the fireplace. This is a distraction because you now have two focal points in one location. So even though you may think you're making wise use of your space by placing the television there, what you're actually doing is making the room lose its ambiance. Better positioning can make the room look larger and you're making optimal use of space."
When it comes to the dining room, McNeace believes most people assume the table must be in the middle. It doesn't have to be that way.
"Depending on the size of your room, the table in the middle creates wasted space around it," she said. "Consider setting it off to the side or at an angle. And when you're doing this, don't forget the ceilings. They're part of the room. You put carpet on the floor and put wallpaper or place art on the walls. So why not do something with the ceilings. It can give the room a whole new look and feel."
One of McNeace's suggestions is to paint the ceiling a different color than the walls to give it more atmosphere and ambiance. More specifically, paint the ceiling red because, psychologically, red, according to McNeace, assists the digestive system.
Both designers emphasize that advance planning can make a difference in eliminating wasted space as it is easier and more economical to do something once than doing it three or four times.
McNeace is finding that today's economy is driving people to recover home space or remodel rooms.
"Today's economy means homes have to be multifunctional," she said. "Several rooms can become multipurpose rooms to make optimum use of space. For instance, a kitchen can be used for cooking, have a breakfast bar, be a study area, and can also be an entertainment area. A lot depends on the size of the family. Are you a young couple just starting out, a large family with young children or empty nesters? People need to ask themselves what they need to live comfortably."
One of the benefits of having a professional review a home is detachment.
"All I need is one hour to know how I can reclaim some space," said McNeace. "Where some people may take months to fully realize their home, I'm detached from it and can walk in and see things the homeowner cannot see. And I'm comfortable telling them what I see."