Geometric designs are scoring points with DIYers
December 9, 2017 - 8:05 am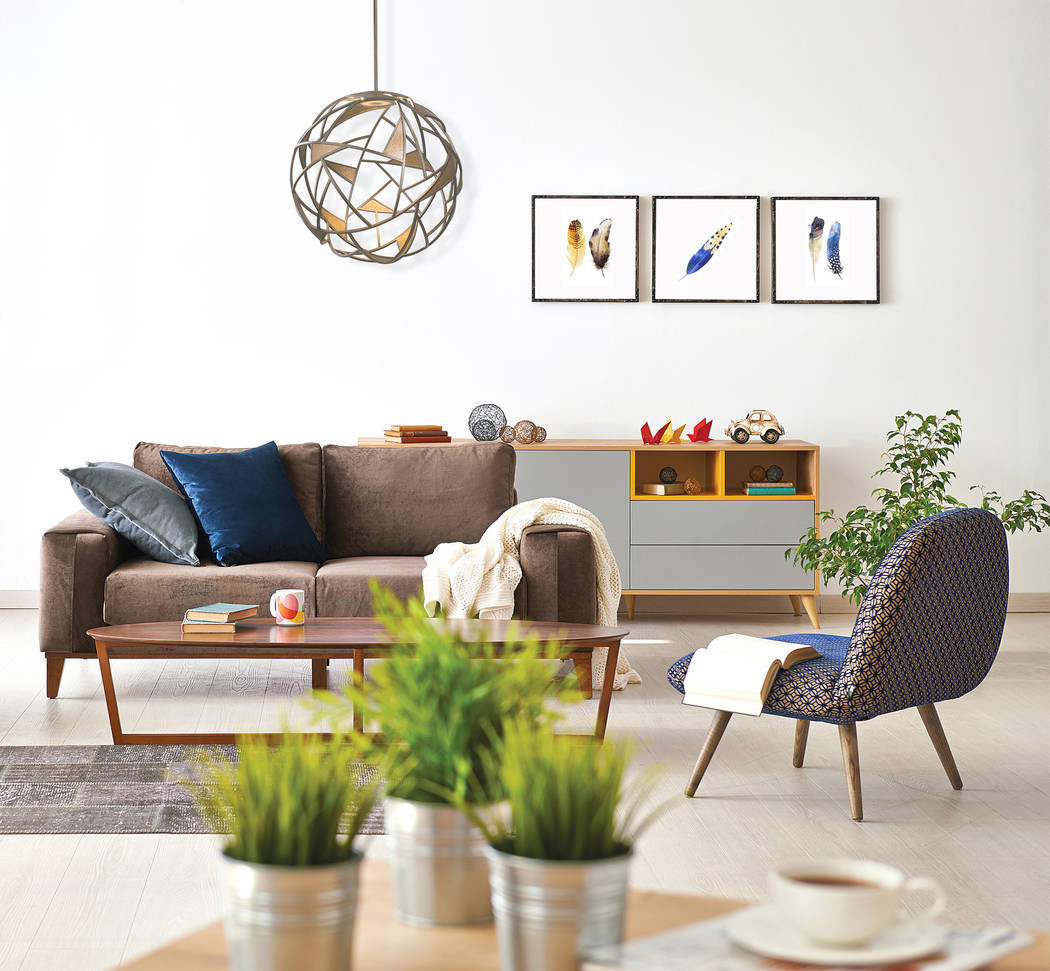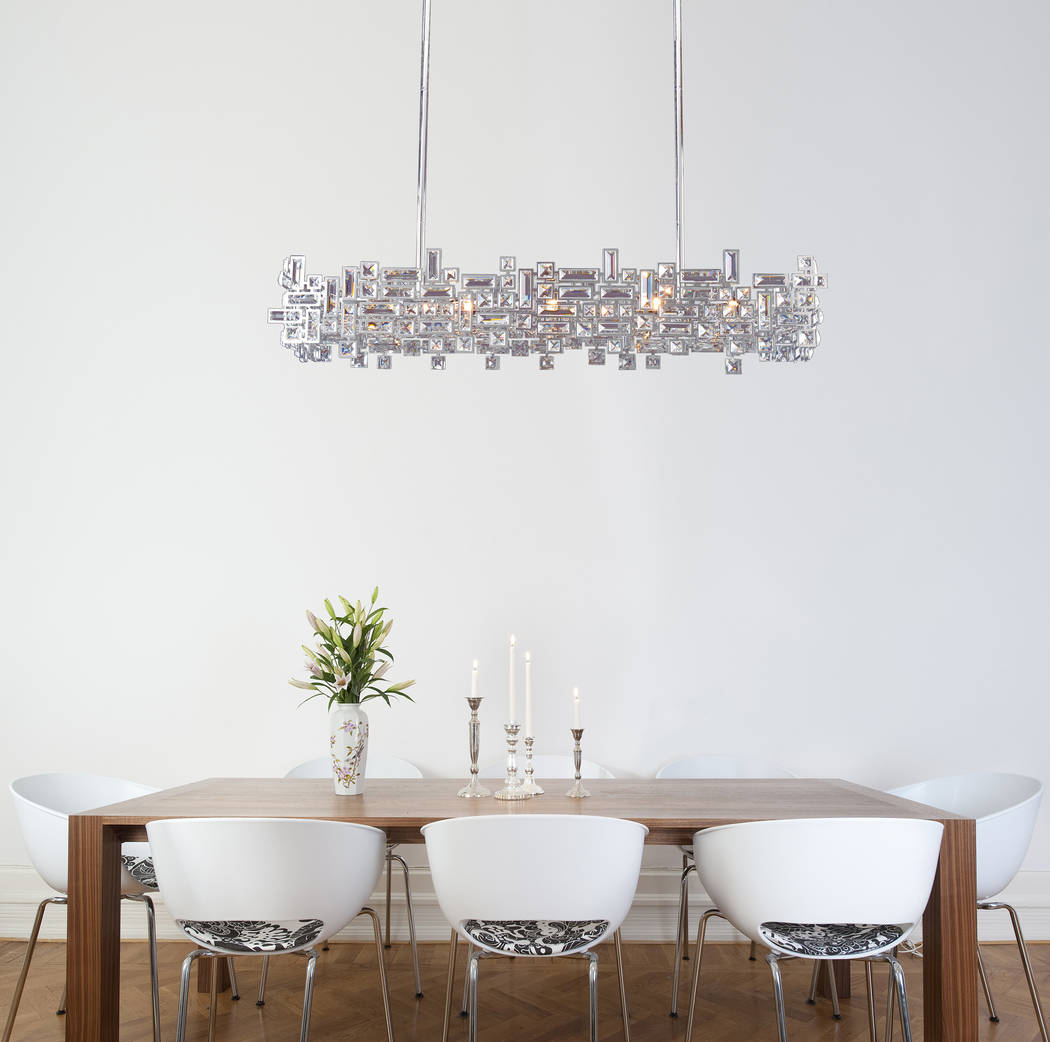 Geometric designs, from floor to ceiling, add rhythm and classic style with simple shapes that easily create sophisticated living spaces.
From tile on backsplashes to glimmering light fixtures with perfect points, the geometric trend will continue to grow through 2018, according to local and national designers. Pantone — the world-renowned authority on color — also predicts that decor enthusiasts will find themselves drawn to geometric patterns to decorate their homes as 2018 gets underway.
Several trends have converged to make geometrics stand out as one of the hottest trends of the past few years, said Christine Zimmer, product manager for Top Knobs.
"The first is the movement that designers are always looking for," Zimmer said. "Simple shapes are pleasing to the eye and yet offer movement and energy to a space."
Geometric shapes, from coffee tables to vases and candle holders, bring a modern touch to any space and can personalize a stark room instantly. Adding geometric tiles to the planks or squares of the flooring puts an interesting element into a dull space.
"The simplicity of the shapes and patterns add a contemporary feel. They are both comfortable and familiar, nearly vintage since they are timeless and classic patterns," Zimmer said, "and yet their clean lines are also modern and minimalistic."
The captivating design draws the eye without making the room feel busy or cramped.
"It's a point/counterpoint to offer balance in our otherwise cluttered and disorganized state," Zimmer said. "We want its authentic familiarity, energy and minimalistic feel. The shape that has so many touch points."
Blending geometric pulls and handles with the simple lines of cupboards and drawers can add a unique touch to the otherwise uninspired look of a kitchen or office cabinetry. Top Knobs' Serene and Mercer collections showcase this trend and have had an uptick in consumer interest recently.
There is a good reason that the geometric design has taken hold. It is approachable and easy to incorporate. It has made an impression since its beginnings in Greek art around 900 B.C. It popped up in art deco decor and has made appearances in small and large ways every decade since.
"We're seeing strong vintage patterns and shapes in tile that make for fun backsplashes and floors," Zimmer said. "This is being echoed elsewhere in the kitchen space, such as our hardware designs."
Consumers are popping in and out of online design sites and taking the trend to inspired levels at home using simple tools and items to create the look from floor to ceiling.
"There are a lot of DIY ways to use tape and paint to bring this look into a room as well," she said. "Hexagons are really trending, and we're seeing honeycombs everywhere we look in the room, (from) lighting, furniture and more."
If you just want to dip your toe into this trend and not make a big splash, consider changing out small items, such as your kitchen door handles or office pulls.
"Cabinet hardware is an easy way to introduce geometric patterns and to freshen an existing design without going to a lot of expense and time," Zimmer said.
Geometric elements in interior design have lit up local home decor, said Libby Hartman, marketing manager for Kalco Lighting in Las Vegas.
"While geometric shapes and patterns have always been around, a la the slow death of chevron (a line or stripe in the shape of a V), I feel modular designs are more visible in the marketplace as it emerges from a long stay in the minimalist, industrial realms," she said.
Customers are turning to Kalco's Miramar and Broadway collections to add a touch of geometric glamour to their spaces. Two upcoming collections, Neptune and Esmerelda, are getting attention from Kalco's large base of lighting lovers and designers.
The trend is not relegated to lighting or a specific room or area, Hartman said. Paint and tape in a geometric pattern can make a bland accent wall stand out. Or make your bookcase shine by adding wallpaper with a modern print to the back of each shelf, even alternating patterns for each shelf for a spin on the trend.
"We're seeing layers and bohemian blending, layers in lighting from task to ambient to statement," she said. "Layers in decorative flooring, like a shearling rug as an accent to a primary area rug. In general, people are looking to add more dimension to their spaces. Not necessarily stepping away from a simple design scape but adding more character."
Geometric elements instantly add class and style to walls, which is why they have lasted through bold trends and have been incorporated into new twists on old decor ideas. A striking chandelier with bold patterns, such as one from Kalco's Ashbourne collection, paired with a wallpaper in a complementary geometric design on the ceiling can make for a stunning contrast in a small room.
"Modular and geometric trends are always interesting because it's eye-catching, adds texture and is a super fun way to give a space a noticeable X factor," Hartman said. "An ever-so-simple print with a geometric design can become any space's focal point or draw attention to a special area."
Adding the trend to your current decor is not that difficult considering all the choices available as the trend continues to grow, from tiny pulls to plush pillows.
"Nothing quite like a few throw pillows for easy pop factor," Hartman said. "Like with anything else, start small and simple. If you want your bedroom to be a bit more funky, find a geometric pattern on a pair of drum shades for your bedside table lighting.
"Or buy a geometrically inspired print on Etsy that fits your color scheme. Try a removable wallpaper for an accent wall that features a loud geometric design in a half bath or your walk-in. Keep it fun."