Have a professional check your trees for problems
November 24, 2018 - 8:05 am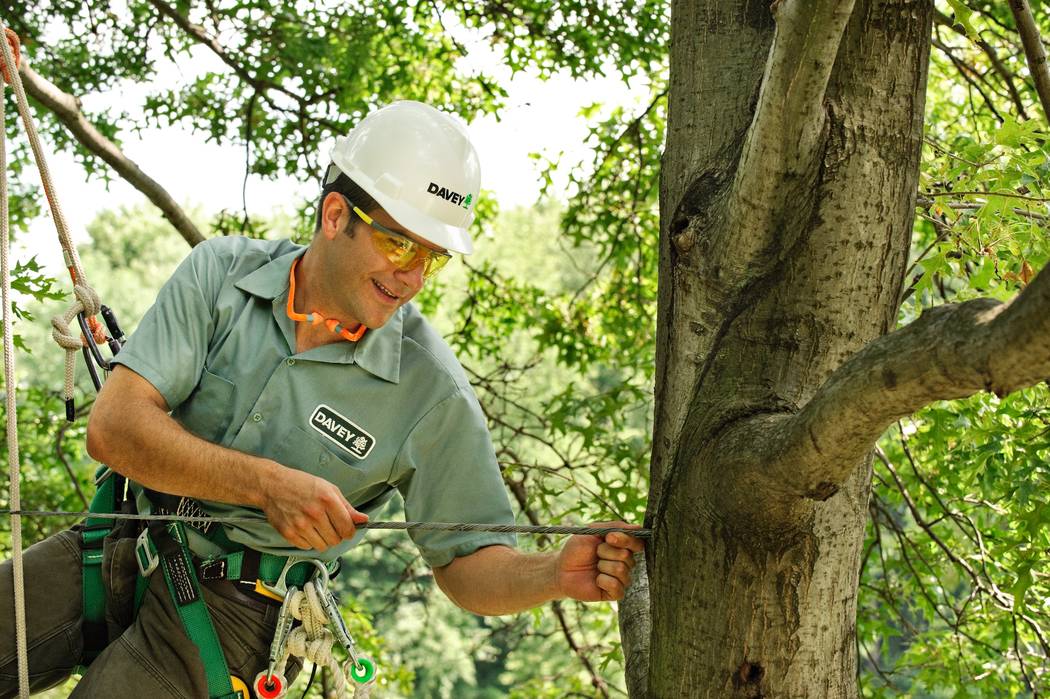 It's fall. The brisk air is an indicator that winter weather is on the way, and now is the time to talk trees or, more specifically, to talk about preventive tree maintenance.
Las Vegas does not have intense winter weather with snow, ice and days of freezing temperatures. But winter storms occur that can wreak havoc: downed trees, broken limbs and power outages.
"In the long haul, a few preventative measures will save time, money and damage," said Matt Haro, a Las Vegas arborist and district manager with The Davey Tree Expert Company, which provides tree care, grounds maintenance and environmental consulting services. "Pruning is vital in promoting plant health. It improves plant appearance, prevents development of weak branch structure and creates a more eye-appealing tree."
Haro advises homeowners to look up at their trees and look for the sky or some clouds overhead.
"If you can't see the sky through your tree, then it's too thick," he said. "When pruning, we focus on better wind flow. Proper pruning thins the tree canopy, allowing wind to blow through it instead of against it as though it were a sail.
"We get rid of dead limbs, which can fall at any time, along with crossing limbs. Just remember that strong branches equal a strong tree."
Haro prefers pruning when there are still leaves on the tree, so he can distinguish between limbs with green on them versus limbs without leaves that don't look healthy. Although he believes pruning once a year is sufficient, he has customers who prune and maintain trees two to three times a year.
"This may sound strange, but for some people, having a tree is like having a pet," he said. "That tree can be very special to them. Maybe the person planted it and maintained it for years and watched it grow from just a sapling to a majestic tree. Or maybe it was planted in honor of a family member. The point is, for many, trees are special."
Haro has noticed that new residents moving to Las Vegas want immediate shade, so they plant quick-growing trees such as mesquite or California pepper.
"There is both good and bad to this," he said. "Yes, these trees grow fast and people get the instant gratification of shade, but they are not sound in the ground. Keep an eye on them in their early years. With a little rain, I have seen these trees grow 6 to 7 feet in a given season. I prefer trees that are strong and fit in with the desert climate.
"One of my favorites is red push Chinese pistache. It's an excellent shade tree with a broad canopy that can reach a height of between 30 and 60 feet. During fall, the normally dark green foliage changes over to beautiful orange and red leaves. Two of my other favorites are holly oak and chaste tree (Vitex). These sturdy trees don't falter to stress or the infamous Las Vegas heat."
Sharp tools make pruning that much easier. Those tools might include hand and pole pruners, hedge shears, hand saws or razor tooth pruning saws. And Haro advises having a can of Lysol nearby.
"There are several fungal pathogens that we have seen in the valley, and they can be spread via the various pruning tools you might be using," he said. "So after each cut, spray your tool. It's that simple, and you're preventing the possible spread of fungus and disease. Exercise caution when pruning, and always wear protective clothing."
Though the weather is cool, it is still warm enough to plant certain trees and shrubs. Root systems planted now will have time to develop and be strong enough to hold water during the coming hot summer months.
Haro said most local nurseries have a good selection of trees and shrubs, but homeowners should know when to shop for them.
"My suggestion is to talk to the nursery manager and learn when the next shipment of trees is due," he said. "You'll be surprised how quickly they get picked over. Go within a day or two of when the trees arrive, and the selection will be much better.
"And once you plant that tree, maintain it with proper nutrients and water, but not too much water. That's my biggest complaint. People tend to overwater their plants."
One final note from Haro: Clean the yard.
"Homeowners need to take time to get rid of leaves and dead plants that have collected over the past few months," he said. "If nothing else, be aware that water collects within this debris, and it creates an environment where insects thrive. If there are too many bugs in your yard, all that debris could be the reason."