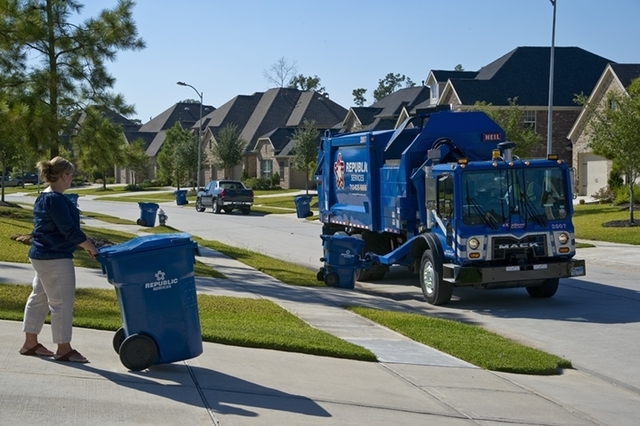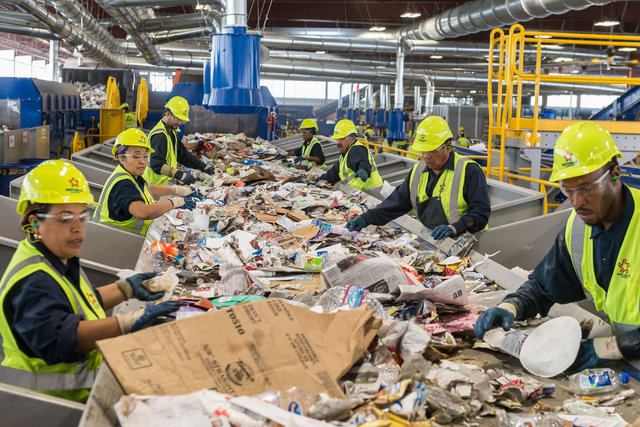 Let's face it, we live in a throwaway society; take, make and waste. We buy, consume and throw things away all day long, every day. Recycling can be a popular green activity we can all practice in our homes.
However, just how and what should we recycle? What happens to all of our waste? And what is beyond recycling?
Items that can be recycled vary depending on each municipality. Local municipalities contract with waste management and recycling companies.
For Southern Nevada, Republic Services has held the contract for decades. Recently, Republic has made big changes. However, when it comes to changed behavior in consumers, Southern Nevada is still catching up compared to other cities around the country and around the world.
One option: Zero waste
In a small town named Kamikatsu in Shikoku, one of the most beautiful parts of Japan, the residents have been tasked to work toward a zero-waste society. At present, they separate their trash into 34 categories. In addition to scraping, rinsing or cleaning their trash, they must cut and fold boxes and cartons and remove caps and labels.
Several cottage industries in Kamikatsu have sprung up around the idea of reusing or repurposing larger, more sturdy materials, thus reducing the amount of waste sent to landfills.
Many residents of Kamikatsu have claimed that, at first, it was a bit troublesome, but they are now used to the process. Since 2003, they have increased their recycled portion of their trash to 80 percent, with the goal of reaching 100 percent by 2020. That means that everything they use will be reused, repurposed, recycled or composted.
Sounds like a lot of work?
Well, luckily for Southern Nevadans, our municipalities have supported Republic in its effort to make things much easier for residents. As you may have read in an article back in November, Southern Nevada is now home to the largest recycling plant in the U.S.
I was impressed when I visited the sparkling new plant for its grand opening last fall, but even more so on my recent visit, now that it is up and running (see videos and photos on my website, driverofchange.net).
Republic's new Southern Nevada Recycling Center houses massive optical sorters, where more than 160 full-time employees monitor various machines that sort our recyclables so we don't have to.
All we have to do is put them into one container. It doesn't get much easier than that.
All-in-one
Until recently, we have had to separate our recyclables into three categories using the red, white and blue bins — not quite as difficult as the citizens of Kamikatsu. Republic is in the process of supplying more than 535,000 single-family homeowners with two new large containers, one for recyclables and one for trash. This will allow residents to put all their recyclables into the all-in-one container and trash that cannot be recycled into the other.
Nationwide, more than 70 percent of recyclable trash still goes needlessly to the landfill. This simple separation method should enable everyone to increase their recyclables, while decreasing their landfill contribution.
Many homes in the valley still use these older bins and can basically put any recycle item in any color as they all go into the same truck. Henderson and the city of North Las Vegas have switched to the new system.
The curbless
Unfortunately, for those without curbside pickup, living in an apartment or condo, it will take more effort and commitment. There are only two choices for apartment and condo dwellers.
One is to solicit your property manager and neighbors to spend the extra pennies to increase the service to include recycle bins. The other choice is to find the closest public bin and start a regular drop-off habit.
I recommend your nearest Boys and Girls Club.
To recycle or not to recycle
Knowing what to recycle can be confusing. In a recent meeting at Republic, Len Christopher, general manager of the recycling division, explained the details of what can be recycled now in the all-in-one containers.
Paper, cardboard, cans and glass can be put in the all-in-one bin. Most plastics are accepted, including juice and milk cartons. The only types of plastic not accepted are styrofoam and PVC pipes.
Recyclables should be empty, clean and dry. Half-filled water bottles or wet food should remain in plastic containers, as it will contaminate the surrounding items. A rule of thumb is, "If you don't want to dig through your trash at home, chances are our workers won't want to either," Christopher said.
Out of sight, out of mind
What happens to our waste once it's weeded through, separated, smashed and bundled into bales?
Recycling businesses must consider the price they can get for each commodity. Republic ships to more than 150 mills and manufacturers worldwide, often within 24 hours of collection. According to Republic, most recycled goods are shipped overseas, mainly China, except for aluminum and glass.
The Southern Nevada Recycling Center can now process more than 2 million pounds a day of recycled materials. The average American creates 4.3 pounds of waste every day — that's more than 9 million pounds a day for Clark County residents, not including the waste produced by 42 million tourists a year.
At full capacity, we still would only be recycling 25 to 30 percent of our total waste. Compared to Kamikatsu at 80 percent, we have a long way to go to reduce our waste.
While proper recycling can help us feel like we are acting in responsibly, the next step is to see if we can lower our overall trash waste. By decreasing waste we can contribute to lowering our carbon footprint, CO2 emissions and save money and energy.
In the next Green Living article, I will examine other options to reduce your personal home waste beyond recycling.
Mary Beth Horiai has split her adult life between Japan and Southern Nevada. In Las Vegas, Horiai works for the nonprofit, Green Our Planet. A graduate of UNLV, she was trained as a speaker for The Climate Reality Project and also teaches part-time at College of Southern Nevada. For more information and links to additional resources relating to this column, visit driverofchange.net.