In kitchens, function is as important as style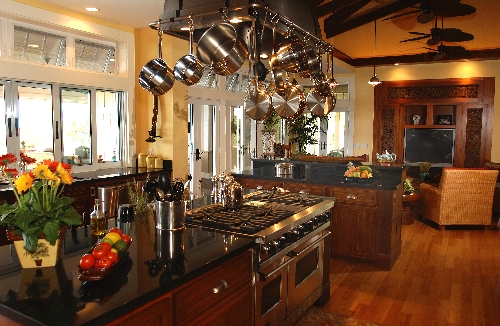 One of the fundamental principles of design is that form should follow function. Simple enough. In all likelihood, this rule may apply more to one space in your home than to any other - the kitchen, which just might be the most important and busiest room of all. Some have even referred to it as the heart of the home. And while I, as a designer, am always personally dedicated to what's "pretty," the way a design works to help better one's use of a space is always foremost in my mind.
Kitchens should ideally be functional as well as attractive . The design of a kitchen remains one of the truest tests of interior design taste and style. It's a challenge for anyone, which may explain why many people turn to a professional designer for help in this area of the home.
Where does one begin with a kitchen design? Initially, this room needs to be thought of as a work space, because that's exactly what it is. And first and foremost, you need to have a good idea of just how you plan to utilize that space in order to achieve the most functional kitchen possible within the confines of your square footage and budget as well as your lifestyle. This is referred to by designers as a work center or work triangle.
The work triangle path is what controls the flow of traffic in your kitchen so that you don't have to walk too far between work stations and appliances. A work station is simply an area that you will use to do a certain task, such as preparation and cooking. Another station might be for cleanup.
All kitchens are designed around this path, which ties the work stations together.
The actual kitchen layout is based on the creation of work spaces. Your design ideas need to be in sync with whatever kitchen shape you ultimately choose – or need to choose due to the aforementioned constraints. There are four basic kitchen options that you may consider:
Single wall is usually found in smaller homes and apartments as well as in the open space concept often seen in contemporary homes. All appliances and cabinetry are placed against a single wall, where it's best to place the refrigerator at one end and the countertops near the sink and never at the other end. The design is simple, fairly inexpensive and the perfect choice for long and narrow kitchens. One drawback is that counterspace is extremely limited.
Corridor or galley is the most efficient use of a small space as it allows for convenient access to cabinets and appliances on both walls. The corridor separating the opposing counters should be at least 48 inches wide, making this kitchen highly functional .
L-shaped is one of the most common of all designs and will provide wonderful flexibility in the placement of major appliances. It also allows for a work area virtually unbroken by traffic. It's great for kitchens with limited space, even more than the single wall or galley kitchen. With the increased counter space provided by this design, you just may have extra room for a double sink.
U-shaped kitchen is a great place to work because its very design doesn't allow for any obstruction in the room's traffic pattern and provides a greater amount of counter space than the other kitchen layouts. Also, a great bonus is that one area of the U is often used to separate the kitchen from the breakfast or dining room. It is essentially the most versatile and efficient of all possible kitchen designs – and one that I live with myself.
Once you've decided on which of these plans works best for your home, there are a number of other points to think about in kitchen design. If space allows, consider incorporating an island, which will give you more countertop area. Often, the bigger the kitchen, the bigger the island. But remember to allow at least a 36-inch aisle on either side of the unit, no matter how big or small. By the way, it seems that islands and breakfast bars are now the kitchen's new "walls" and act more like bridges to open up the space rather than separating it from the rest of the home.
Cutting back on cabinets in a small kitchen by designing a walk-in pantry for storage is another great option. And don't forget the importance of good lighting, which includes undercounter lighting (which I love) that can double as task as well as ambient lighting.
But what if money is a problem and you still want to do something with a tired, older kitchen? Simply upgrading your existing knobs and door pulls will go far in giving your space a fresh, new look without much cost. Refinishing is another great cost-conscious option if you feel that your cabinets need an update; walls may just need a fresh coat of paint to give them new life. Also, new appliances (if possible) will not only help with energy costs, but will go a long way in helping to beautify your kitchen.
Try to get to the very core and essence of your kitchen when thinking about its design. It's really more than just appliances, colors and lighting that count so much, it's the plan and flow of the kitchen.
Stephen Leon is a licensed interior designer and president of Soleil Design; he has been designing and manufacturing custom furniture and cabinetry for more than 25 years. He has served on the board of directors of the Central California/Nevada Chapter of the American Society of Interior Designers and is a certified professional in green residential design. Questions can be sent to soleildesign@cox.net.