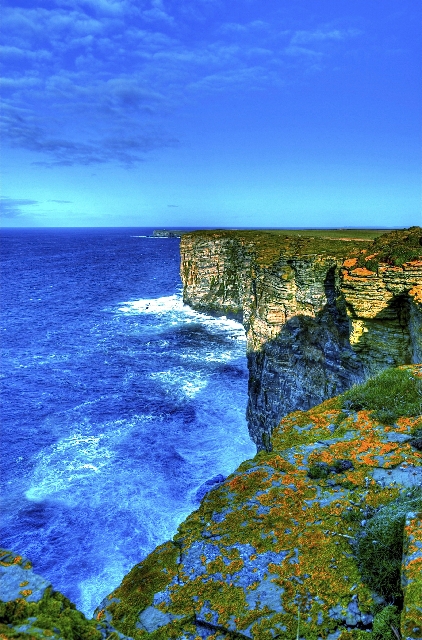 Last month I shared with you the how and why we respond to colors. Now let's look at how they affect us. If we understand the responses to colors and the way they effect us, we can better utilize color to our advantage.
Regardless of what colors are trendy, nearly everyone has a strong opinion concerning color. We all have our favorite colors, or those we don't care for. A person's color preference also is dependent on demographic factors such as age, gender, ethnicity and even socio-economic level. In addition, our preferences can be affected by external factors such as climate. In sunny warm climates, people tend to prefer strong warm colors, whereas in colder cloudy climates, soft cool colors are favored.
Let's look at each color.
Red is one of the most powerful colors; it will speed up your body's metabolism, increase blood pressure and heart rate. Red is the hottest hue, a stimulating color of passion, energy and appetite. It elicits the strongest of emotions in all cultures. It makes us feel more energetic, outgoing and ready to move forward.
Red continues to be a very popular color in dining rooms but don't place in your kitchen if you're trying to lose weight as red will improve your sense of smell, cause your taste buds to become sensitive and improve your appetite.
Did you know that red disturbs our brain, which causes it to automatically forget time? There's a reason they use red in restaurants and casinos. Its purpose is to get you to stay longer and spend more money.
Orange warms a room but in a less dramatic and passionate way than red. Orange is considered more friendly and welcoming then fiery and seductive red. It works well in social areas, such as your living and family rooms, as it brings a cozy feeling to the rooms and encourages conversation, humor and laughter.
Softer peach tones stimulate the mind, renewing interest in life, making it a wonderful antidepressant . Orange sustains the effect of excitement letting you momentarily forget any negative feelings that are bothering you. But many find orange offensive and obvious, especially when too bright. It can be overwhelming and noisy for subdued souls.
Yellow is the color of sunshine, laughter and sunflowers. It gives us a warm feeling, excitement and the notion that it is always summertime. Even though our summers are hot, when we think of summer, it's vacation time.
Yellow can be used with wonderful results to grab someone's attention; it catches your eye more than any other color. Put yellow flowers outside your front door if you want to sell the house. It can easily attract buyers.
Yellow brightens any room so it is great in poorly lit rooms. However, it reflects light resulting in excessive stimulation of the eye, causing eye fatigue and irritation as it speeds up a person's metabolism. So, watch how bright you go. In a bright yellow room, studies have found that babies cry more and adults loose their tempers quicker and for a longer duration.
It also has been found that yellow encourages being open-minded and enhances concentration. So it can be good for a working environment.
Blue has been the No. 1 color for years and is considered the color of money by retailers. Who doesn't wear blue jeans? It is the color preferred by most Americans.
Blue is ideal for bedrooms as it is soothing and restful. But too much blue can create a mildly depressing and melancholy mood so watch using it around those who tend to get depressed. It also can make a room feel cold and sterile so warm it up with a little yellow or peach.
Blue has an overall effect of calming, soothing, reducing feverish conditions and headaches. If you have a headache, go out and look at the sky. Research shows that if you look at the blue color, the pain easily fades; it gives us a peace of mind. Give it a try the next time you have a headache or fever; it's cheaper than a trip to the doctor. The color causes the brain to release tranquilizing hormones and can be used effectively in hospitals and dentists' offices for its overall calming and soothing effect.
There are few blue foods found in nature and so it is not surprising that blue is not an effective color for a restaurant. It tends to suppress the appetite.
Green is nature and around us everywhere. Most people are very comfortable with green because of that reason. It is the easiest color on the eye and has been said to improve vision. Research has shown that green evoked the highest percentage of positive emotions: relaxation, happiness, peace and hope.
Green makes us feel at home and darker shades make us feel very secure. But be careful with any greens that are too yellow as they will have a sickly and unpleasant feeling.
Overall, green is great in every room of your home and said to sharpen your memory.
In addition to green, you can use blue or other cool colors in all things you use during working hours. According to color expert Leatrice Eiseman, author of "More Alive With Color," "Cool colors can relax or calm our minds while working on the budget at home, transactions in the office or to focus on a complicated subject or topic."
Purple the most mysterious of all colors as it is a combination of the excitement of red and the tranquility of blue. It represents passion, magic and regal presence. It is a royal color and is associated with monarchs, extravagance and wealth, therefore generating feelings of self-respect, dignity and self-worth.
Depending upon the shade, not all people react well to purple. In darker shades it is a very regal and rich color. Lighter shades are more appealing to most and good in bedrooms as they promote sleep.
Purple is said to increase your ability to think, so in your office add yellow, which increases concentration, and green, which helps with memory for an amazing productive day.
Color is a magical and wonderful thing; just imagine the world without it. Give color a try. What do you have to lose?
Gail Mayhugh, owner of GMJ Interiors, is a professional interior designer and author of a book on the subject. Questions may be sent by email to: gail@gmjinteriors.com. Or, mail to: 7380 S. Eastern Ave., No. 124-272, Las Vegas, NV 89123. Her Web address is: www.GMJinteriors.com.