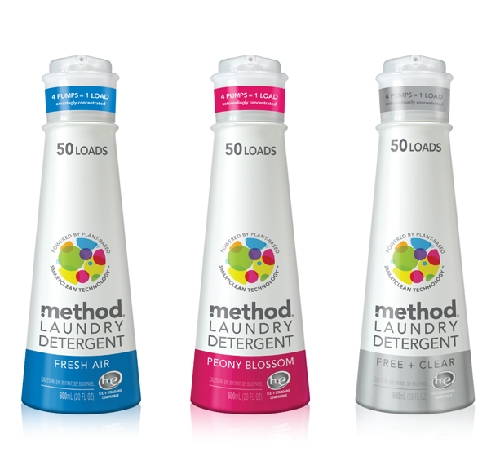 Whether you stuck a red sock in a load of whites or shrunk your favorite jeans, we all have experienced our share of laundry disasters. Make laundry mishaps a thing of the past by following these tips from Lowe's, Method and Whirlpool to make laundry chores easier, saving you time, energy and money when it comes to fighting stains and keeping your family's clothes squeaky clean.
Rethink your laundry detergent: Lowe's is the first national retailer to introduce the Method Laundry Detergent with Smartclean Technology — a new approach to laundry care in an easy-to-use handheld pump bottle. Method's patent-pending Smartclean Technology delivers efficient cleaning power with a quarter the dose of the leading, national brand.
Method Laundry Detergent with Smartclean Technology is ultra concentrated, meaning your clothes get clean using less detergent. The new detergent works with both standard and high-efficiency washers and helps keep your home clean and green, by offering a 35 percent lower carbon footprint, a 40 percent reduction in packaging plastic and 33 percent less energy and oil for production than conventional detergents. The formula itself is biodegradable, and the bottle is made from 50 percent post-consumer recycled plastic.
"We're excited to introduce a new way to do laundry, without the heavy, messy jugs and hard-to-read measuring caps," said Adam Lowry, Method co-founder and chief greenskeeper. "Our new laundry detergent makes laundry easy and cleans clothes amazingly well, with a biodegradable formula that's 95 percent natural."
Don't "overdose": Don't overdose your machine with laundry detergent. Filling a laundry cap above the recommended line for a load of laundry can actually make clothes dirtier and washing machines less efficient. Overdosing creates excess suds in the machine, leaving a residue on clothes that attracts more dirt and causes extra rinse cycles .
The extra detergent also causes you to buy nearly twice the amount of detergent you need, putting a huge dent in your wallet.
Overdosing also can trap odor-causing residues inside the washer. Avoid the potential for pungent smells by "washing" your machine every 30 days using a product such as Affresh that will keep your machine looking and smelling like new.
Perform regular maintenance: Like checking your car's tires for wear, be sure to check your washer hoses periodically for bulges or bare spots. Replacing hoses every five years may save your machine from a damaging leak. By remembering to clean the dryer lint trap after each load, which maintains proper ventilation and heating, you can save $34 annually. Also, be sure to avoid overdrying, which wastes energy and causes clothing to shrink.
"Consumers don't think twice about conducting regular vehicle maintenance like changing the oil and checking the tires' air pressure," said Monica Teague, manager of public relations and brand experience at Whirlpool Corp. "But laundry appliances also require some regular attention to run at peak performance. Checking washer hoses periodically, changing them every five years and keeping the dryer's outside exhaust clean are two small steps toward maintaining the health of your laundry appliances."
Embrace Energy Star appliances: Realize the benefits of a high-efficiency washer. Lowe's, the 2009 Energy Star Retail Partner of the Year, carries washing machines that save 7,000 gallons of water a year, cut energy consumption by more than 40 percent and save you as much as $110 per year compared to non-Energy Star washers manufactured before 1994.
In 11 years, that's enough money to buy laundry detergent for four years or a new clothes dryer. For both dependability and efficiency, consider the Maytag Bravos appliances that use as much as 67 percent less energy and 70 percent less water as compared to pre-2004 conventional top-loaders, according to Whirlpool Corp.
Also, be sure to set water heaters to 120 degrees Fahrenheit to achieve the most energy-efficient temperature. For each degree you reduce the water temperature, you can save between 3 to 5 percent in energy costs, according the U.S. Department of Energy. For more tips and to conduct your own home energy audit, visit www.lowes.com/buildyoursavings.
Pay attention to your washer's and dryer's features: Don't ignore your washer's and dryer's features. Each load is different, so be sure to choose the right setting .
Adjust the washing machine according to the soil level and size of the load to save time and money. For increased water efficiency, front-loading machines have sensors that regulate the amount of water based on load size. To save time, use a shorter cycle for lightly soiled laundry.
Organize your space: Take the boredom out of laundry chores by transforming your space into a clean and serene retreat. Adding cabinets, shelves or countertops can improve functionality and using simple organizers in obscure ways, such as hanging an over-the-door shoe rack for drying clothes, can make the most out of small spaces. Spruce up the walls by selecting a paint color that reflects your personality and inspires tranquility, such as a relaxing yellow or aqua.
For more home laundry organization tips, visit www.lowescreativeideas
.com. For more ways to keep your home healthy and clean, visit www.lowes.com/healthyhome.
Information courtesy Lowe's