Learn the terminology when purchasing a sectional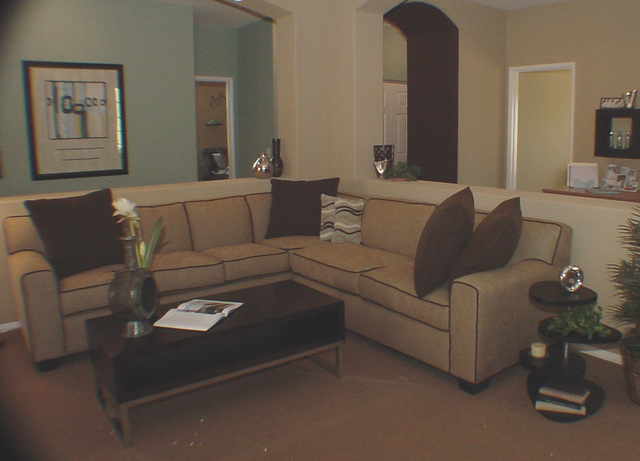 Dear Gail: We want to replace out sofa and love seat with a sectional. We're getting confused with all the decisions we need to make. Can you educate us some so that we don't end up buying the wrong thing? — Jenifer
Dear Jenifer: Absolutely. Purchasing a sectional does have more options and configurations than your traditional sofa and love seat, which can make your buying experience confusing. I've found that people either love having a sectional or hate them.
One misconception is that you need a large room for a sectional — not true. Sometimes a small room is better suited for a sectional versus a sofa, love seat and chair, which can look cluttered and crowded.
What makes ordering sectionals different than sofas is the terminology used. With a sofa you just need to know a few basic dimensions, length, depth and height. With sectionals you also have to consider arm placement, returns and the types of corners so you avoid making a costly mistake.
One of the things you'll be asked is what the dimensions are for, "right arm facing" or "left arm facing" pieces. "Right arm facing" means that when you are standing and facing the piece, the arm is on the right side. "Left arm facing" means that when you are standing and facing the piece, the arm is on the left side.
Not to confuse you, but some manufactures do it opposite. Instead of standing and facing the piece, they configure the pieces as you are sitting. So a "right arm sitting" means that your right arm is on the right armrest when you are sitting. A "left arm sitting" is that your left arm is on the left armrest when you are sitting.
I know this is very confusing but crucial to know before ordering. What I suggest is that you do a simple floor plan of your room with dimensions. Then place the sectional where you want it with the overall dimensions of what will fit.
Also, take pictures of your room to help your salesperson make sure you purchase the right pieces.
A sectional is basically made up of two or more pieces depending upon how much seating you want. The fewer the pieces you use, the less expensive the price. Keep this in mind when configuring your sectional as some manufactures have multiple individual pieces to build exactly what you want.
One of the first decisions to make is whether you want a curved, aka wedge, or square corner. A curved corner gives you a seat in the corner, but takes up a lot more room, whereas a square corner doesn't give you that extra seat, but takes up less room.
If space is a concern versus number of seats, consider a square. Or if someone likes to ball up on the corner — or, as in our house, our pup Millie has claimed the corner as her favorite place — a square works perfect.
Another consideration with a curved corner over a square corner is if you like to sit with your feet up and your back flat against the back of the seat. If you do, a square corner is more comfortable. Other options, if you prefer a curved corner, is to have one end a chaise or use an ottoman.
Another term is the "return." If you are configuring your section with a separate corner or curved corner, you will not have a piece with a "return." If you are going to have a square corner, this is where you can save money by ordering one of your pieces with a "return."
If you are going to see the back of your sectional, you'd want it to be one solid piece, so that piece would be the one with a return. Then the next piece will butt up to it. This isn't a concern if your sectional will be in a corner.
You can see the difference in the drawings as far as the return and a right and left arm facing piece.
Sectionals are also great with a chaise. If you're configuring your sectional in the shape of an "L," you have to make sure you have enough room for a chaise. You'll need to have at least two seats and then a chaise otherwise you won't have room for a coffee table, and, to be honest, it just won't look right. If you're a feet up home like us, you do an oversized ottoman if you don't have room for a chaise on an end.
Along with the traditional configurations, you might also want to consider a curved sectional. In a large room it can be a statement piece.
I'm sure by now Jenifer you're thinking, heck, with the sectional I'll just get another sofa and love seat. Don't be afraid of a sectional, just be smart when shopping. Bring your floor plan, pictures and ask lots of questions.
Gail Mayhugh, owner of GMJ Interiors, is a professional interior designer and author of a book on the subject. Questions may be sent by email to: GMJinteriors@gmail.com. Or, mail to: 7380 S. Eastern Ave., No. 124-272, Las Vegas, NV 89123. Her Web address is: www.GMJinteriors.com.