November 6, 2008 - 10:00 pm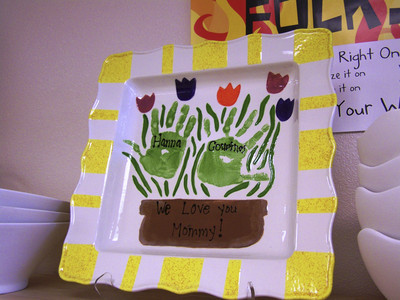 When it comes to home decoration, some valley residents are seeking one-of-a-kind artful options to not just reflect their style but their personal lives as well. Personalized items can not only beautify one's living space, but can double as thoughtful gifts and works of art.
Among the unique, one-of-a-kind items that even a nonartistic person can create, thanks to local businesses, are ceramics, clay handprint and footprint artwork, restored photographs, painted portraits and shadow boxes.
Paint-your-own ceramics
Several valley businesses provide the work space and materials required to create unique ceramic pieces that are decorative as well as functional. One only needs to select the desired piece, paint and glaze, and just sit down and start painting away. The painted pieces are fired in a kiln and picked up at a later date.
On a recent Saturday, adults and children alike were painting functional pieces — mugs, plates, holiday-theme platters, photo frames and tea sets — as well as decorative items — wall plaques, Christmas tree decorations and knickknacks — at Creative Pottery, a new studio with paint-your-own home accents located at 6592 N. Decatur Blvd., suite 120.
"Creative Pottery is for people of all ages. They can come in and let their imaginations run free," manager Nikole Crosby said. "There are so many fun things to make, and they can make great gifts for anyone. We offer things for every holiday there is. This is a great place for getting together with your friends and enjoying each other's company."
Crosby said a popular option among parents is decorating the chosen item with a child's fingerprints, handprint and/or footprint.
"One of the popular things done is that you can put handprints and footprints on just about anything we have in store. They make great presents for moms, dads and grandparents," Crosby said. "Even if you think you aren't artistic, we are here to help you along and walk you through it step-by-step."
For more information and store hours, contact the studio directly at 395-9323.
Clay keepsakes
Taking the handprint and footprint concept one step further into three-dimensional art is Tiny Impressions, which is independently owned and operated by Las Vegan Connie Hallett. During the past five years, Hallett has been incorporating children's as well as adults' handprints and footprints (along with a few paw prints of family pets) into nontoxic clay that is then crafted into personalized art.
"Basically, you meet with me and choose the type of finished piece that you'd like. We can do hand and foot impressions of people from all ages, starting from the date of birth all the way up to adults. I've included the handprints of eight people on one plate before. Holiday ornaments in the shape of a single handprint or footprint are popular during this time of year," Hallett said.
"In addition to the holiday ornaments, there are about 28 different shapes that can be personalized anyway that you want. Some of the shapes are oval, heart, circle, sailboat, frog, ball, star, ladybug, cross, teddy bear, dinosaur, a princess crown, angel, butterfly, tropical fish. … There are so many different things that you can do and it's basically up to the customer's imagination," Hallett said.
"After you decide the desired look, the shape and the colors, I roll out the clay, take the impression of the handprint and/or footprint, and then cut it into the desired shape. I then glaze and sand it before it's fired in a kiln. It may take up to five weeks for it to be completed."
Hallett works by appointment and frequently participates in craft and vendor shows, works with valley mothers' groups, holds home shows, and hosts fundraisers at day care centers and preschools. For more information or to schedule an appointment, call 279-5592 or visit www.tinyimpressions.net.
Old photos and painted portraits
A more traditional way to preserve memories has been through photography. Sometimes the quality of photographs — particularly old black-and-white photos — can diminish over time through the yellowing of paper, scratches or the onset of mold. Thanks to computer technology, photographs can be restored to high quality, embellished and reprinted.
Galleria de Chavez, owned and operated by Myrna Chavez and photographer Ernesto Chavez at 6592 N. Decatur Blvd., suite 125, is one local business that restores photographs.
"Through photo restoration, we can bring the picture back to life," Ernesto Chavez said. "When people bring us photos to restore, there is usually something in the photograph that is flawed. We scan it into the computer, fix it digitally and then reprint it in any size that the customer likes.
"Most of the photos that we restore have sentimental value rather than a monetary value," he said. "After we restore and reprint the photographs, we are often asked to mat and frame them or to make a framed collage of photographs to create a keepsake item," Chavez said, adding that some seek multiple copies of heirloom photographs for other family members.
In addition to photo restoration, framing and a display of local artists, Galleria de Chavez oversees portrait painting.
"We also arrange for the painting of people as well as pets. People can either bring in a photograph that they would like to have duplicated in paint or we can arrange for a photo shoot in our gallery. If a photo shoot is selected, normally the painter attends and we take photographs of the person from all different angles and close-ups," Chavez said.
The customer may choose for the photograph to be duplicated onto canvas or incorporated into a fictional location, creating a more whimsical piece of art.
"If someone wants to be painted with a fictional background, we electronically incorporate the person's photograph into that setting and print it out for the artist. The local artist then interprets the image into an original painting," Chavez said. "It's truly one-of-a-kind and only limited by the customer's imagination."
For more information and business hours, call 395-0598 or visit www.ezphotobase.net.
Shadow boxes
Like Galleria de Chavez, hundreds of framing options are available at Aaron Brothers' five valley locations. Framing has gone beyond flat photographs and artwork to three-dimensional keepsake items in shadow boxes, according to Dan Barber, district manager of its Nevada and Arizona stores.
"The coolest thing about shadow boxes is that it is an original piece of artwork that reflects who you are," Barber said of the deep frames that can accommodate mounted three-dimensional items.
"The most common things that customers have placed in shadow boxes are collages, sports memorabilia, jerseys, graduation diplomas and hats, christening gowns and special memento outfits for children," Barber said, adding that photographs are often incorporated within the display. "Some of the unique things that we've placed in shadow boxes have been a woman's wedding dress and musical instruments like violins and guitars. … The sky is the limit and you can do just about anything you want."
Premade shadow boxes are available or they may be custom-made to practically any size from about 600 options in frame type. Both the premade and custom boxes may be further personalized by placing one of the store's 400 mat options in the box and through the choice of glass.
"We basically give customers three options in creating a shadow box. You may buy a premade shadow box and put it together yourself at home. Or, you can bring in the items that you want to use into the store and a staff member will help you select a shadow box that fits the materials, and then you put it together yourself. The third option is bringing your items into the store, we will help you choose or order a shadow box, and then we'll put it all together for you," Barber said, adding that there is a fee when associates mount the display.
For store locations, hours and shadowbox examples, visit www.aaronbrothers.com.