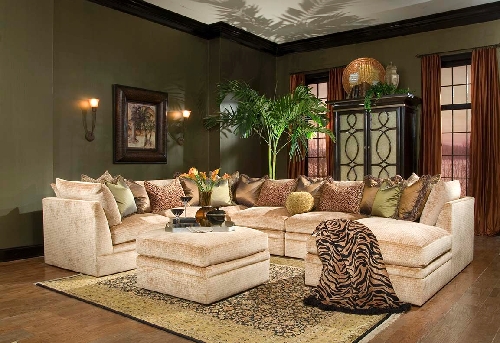 DEAR DESIGNER: I am moving into a new home and want to reupholster my furniture. I found a lovely print fabric that has all my favorite colors. I am wondering if a large print will be too busy to use on my sofa and love seat. — Betty.
DEAR BETTY: The principles and elements of design give us timeless guidelines to follow in creating a well-designed space. The question of when and where to incorporate a large print in your room is answered while considering a few of the elements of design: space, balance, color, texture, unity and value.
You said this print has all your favorite colors so let's build from there. Does your print have texture? Good design includes various textures to achieve variety. Is your print in unison (unity) with the rest of your style? If you are traditional and your print is abstract, that could be a no. Value is the tone of your fabric. Is it dark or light? How does that work with your overall plan and balance of the room? If your print is dark, you will need to balance it with heavier furniture. Does your room have the space for heavier furniture?
After considering if your print passes the tests for good design, we then rely on personal taste, talent and trends.
Trends today have us using solid colors on large pieces of furniture, such as a sofa, and using busier fabrics in the accents. There are some real advantages to this look as the accents can be changed easily for a complete makeover. Solid colors tend to make rooms look larger and prints make a room feel smaller. We generally tire of print fabrics quicker than we do solid fabrics.
Chenille upholstery fabric is durable and adds texture. (Chenille is the fabric used on the sectional in the featured photo.) If your sofa has loose back cushions, you can utilize your print fabric on those, adding some fringe to soften the edges. If your sofa has an upholstered back, bring in your print fabric on throw pillows. Select a second coordinating fabric to complement the print fabric. Too much of a good thing does not equal a better thing. Surprisingly, a complementing fabric can bring more attention to your favorite fabric.
You also can have your favorite fabric made into a beautiful throw. Don't skimp on the fringe and lining; these professional touches will add value to your throw.
Another option is to upholster the tops of your seat cushions and the fronts of your seat back cushions with a print fabric. They can be flipped over to reveal a quieter look if you tire of it.
Whatever you decide to do with your sofa fabrics, repeat it on your love seat. This will create unity in your design.
Most importantly, have fun playing with the fabrics in the room where they will be used. Lay samples around your room and live with the colors night and day for a couple of days. Walk in on them with a fresh eye a few times and observe how you feel. If you like them after two days, chances are you will be happy with them for a long time.
Cindy Payne is a certified interior designer with more than 25 years of experience, a member of the American Society of Interior Designers, as well as a licensed contractor. E-mail questions to her at deardesigner
@projectdesigninteriors.com or send them to her at Project Design Interiors, 2620 S. Maryland Parkway, Suite 189, Las Vegas, NV 89109. She can be reached online at www.projectdesigninteriors.com.