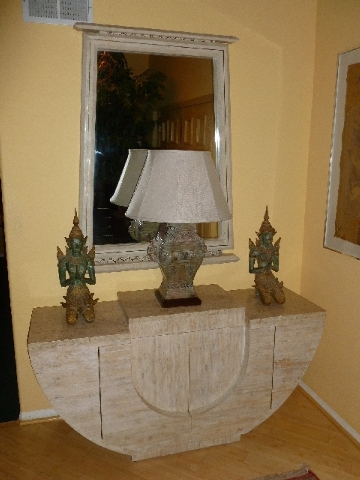 Somehow, I've instinctively known that the most important element in design is the relationship between objects in their size and form. That's a good thing because a designer needs to have a real sense of scale and proportion in order to come up with the correct balance of beauty, functionality and scale. This is fundamental for successful interior design.
For many, though, especially nonprofessionals and those without the "eye for design," this is something that's more easily said than done. However, there are points that can be helpful in achieving harmony of proportion, line, color and feeling.
First, you need to understand what "scale" actually means. Simply put, it's the size relationship of one object to another or to the size of the room. It suggests the comparison of objects where the actual size of an object is known. Unfortunately, learning a good sense of scale is a difficult thing to do because there are so few rules that apply to it. Lucky is the person who has an inherent understanding of scale and can actually sense when objects are in scale and out of scale with their surroundings or, for that matter, with each other.
To see scale properly, you need to take an overview of the space. Look at the entire room and see how one thing relates to another. The point is to design the entire space.
For example, if a room has very high ceilings and all your furniture is 3 feet high, you need to do something. Another way of putting it is to say that your seating must be a size that can be easily used. If the seat it too high or too low, the whole purpose of the design may be defeated.
If the scale of an object refers to its overall size, then proportion refers to the relative size and shape of that object and how it relates to other things in the room without knowing their actual sizes or scales.
For example, a square table with a rectangular dish in the middle of it might not be such a good idea because the dish is not the correct proportion for the table. To create a room that visually looks right, the furniture should be the proper scale according to the room's size but also in proportion to the other items in that space.
Scale tends to be absolute while proportion is only relative and requires an understanding of the interactions between items within a room. There's no right or wrong when it comes to proportion. And since it can actually alter the way a space looks and feels, getting proportion right all depends on the intent of the designer.
Following are some tips for creating the correct scale and proportion. Keep in mind that these are only general rules:
n Large rooms can handle large-scaled furniture and vice versa. The smaller the room, the more petite and delicate the furnishings should be. Always go bigger (scale up) rather than smaller. If you're in doubt, make it bigger — not smaller. That's providing your space can accommodate the piece. (Oversized scale is better than undersized scale.)
n The main piece of furniture in the room sets the stage for the scale of all the other furnishings. For example, an overstuffed sofa and a delicate side table don't go together. With furniture, the delicacy or the beefiness of the pieces creates the harmony. When selecting furniture it's a good idea to do a scaled floor plan of the room, drawing the pieces of furniture before purchasing anything.
n The higher the ceiling, the taller and more imposing the furnishings should be. Low ceilings ask for low furniture and décor. An exception to the rule is a contemporary room with high ceilings where you can use low, modern furnishings to achieve a dramatic effect.
n If the room is small, use smaller prints and less of them. A large room can usually handle larger prints and more colors. If you still want a print in a small space, try to use one that has lots of white space in it and use it sparingly. Try to use repetitive patterns or colors throughout the space.
n Color is very important when it comes to scale. In a small space, a larger look can be achieved by using closely related values, hues and intensity. A large space can be made to look smaller by having a great contrast of color, value and hue and intensity. Value is an important element, whether it's light or dark; a little bit of value contrast makes for more unity and a sharper contrast makes for a stronger statement.
Balance is another important design principle that can help in achieving the correct scale and proportion in a space. Always try to mirror the size and impact of a large object such as a wall unit with an arrangement, for example, of several items on the wall across from it that will take up almost the same visual height. Balance is all about making the room visually comfortable to the eye.
Interior design can be complicated with so many interactions between all the elements of design that can have such a profound effect on the feel of a space. Scale and proportion, often used interchangeably by designers, are about how design elements relate to each other in a space. And whether you're a designer or not, most of us are either instinctively pleased with good proportion or disturbed by a lack of it. If something doesn't feel right in your home, then it probably doesn't have the correct scale or proportion for the space. Rearrange it, remove it or replace it until you achieve the room that feels just right.
Stephen Leon is a licensed interior designer and president of Soleil Design; he has been designing and manufacturing custom furniture and cabinetry for more than 25 years. He is president of the Central California/Nevada Chapter of the American Society of Interior Designers and is a certified professional in green residential design. Questions can be sent to soleildesign@cox.net