Rather than a resolution, take steps to finish projects
January 15, 2014 - 4:36 pm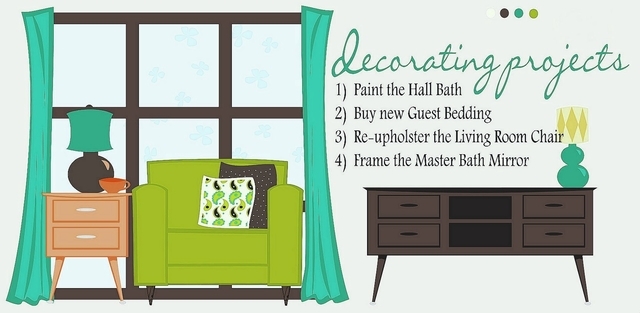 Dear Gail: Every year I say, "This is going to be the year that I finish my house." I get excited to put things in motion after the holidays, but here another year has passed and I'm no further along this year then I was this time last year. Do you have any advice for me so that this year I follow through with my 2014 resolution to finish my house? — Doris.
Dear Doris: You're not alone as we all have good intentions. I took most of December off so that I could get some of my own projects done. Now here it is January, and, well, my list is still there, practically untouched. There's just not enough hours in the day for these crazy lists we make up for ourselves; I admit I'm addicted to lists.
I look at every day as a new day to start over, but there's just something about a new year. It gives me permission to wipe the slate clean and stop beating myself up about the things I didn't get done. So how can I help you do as I say, not as I do?
First, there's something about the word "resolution" that I have come to dislike. To me, resolutions are an all or nothing thing, so you're setting yourself up for failure.
Instead, think of your project in steps. "This year, these are the steps I'm going to take to …" This way by taking projects one step at a time, step-by-step you'll get them done. So let's start with Step 1.
Step 1: Realize that nothing big gets completed in one day, but in many steps, sometimes hundreds.
Step 2: Remain flexible and expect that your plans can and most likely will change, life happens. Take a deep breath, take care of what must be done and then go back to what you were working on.
Step 3: Make a list of all the projects you'd like to work on this year. I'm a big Excel user so I make a worksheet for each project. Then make a file folder for each project — paint, kitchen, garage and so on. I suggest a file folder for each project so when you come across a picture, advertisement or article about it, you can keep your ideas organized.
Next, place the folders in the order you want to get the projects done. Put the No. 1 folder on your desk and file the rest of them away.
Step 4: Write down all of the things you need to do to get this project done, don't worry about the order at this time. Be detailed in your list. If you want to paint the kitchen, don't just write "paint kitchen."
You need to pick the color, buy supplies, prep work — wipe down the walls, tape, remove switch plates, remove artwork, move furnishings, etc. Or if you're not doing the work yourself, you'll need to get quotes from painters, call references and check on their licensing.
Step 5: Next to each step, write down how much it will cost to complete that step. This is where Excel comes in handy so that you can keep track of your budget versus actual cost for each step. It really is one of the most important steps because once you're over budget you have to reconsider your next step. Will you have the money to complete the project you started?
Now if you don't have the money to start or complete all the steps, start a decorating fund to save the extra money. Remember when banks had Christmas club accounts? It was amazing how the money added up with just a couple dollars a week. Instead of taking rewards miles on your credit cards, take the cash back award and automatically transfer it to a separate account.
If you haven't used grocery coupons, start. Bet you'll save at least $25 a month. Sign up for all of the free rewards programs offered. If you use your Smith's rewards card at Shell, you save $0.10 a gallon. Put what you've saved into your decorating fund. Found something for less online? Bank the savings.
What you don't want to do is purchase something that you look at as a temporary item. It's not what you really wanted, but it's good enough for now.
Instead, when you find that perfect piece, but it's not in your budget yet, take a picture of it and put it in your project folder. Then move it to the top of your list and make it your next purchase when you can.
You'll be lying to yourself if you think that it's only temporary until you find something better. Those temporary time frames most times turn into years.
Step 6: You have your list. You know what each step is going to cost. So simply take it step-by-step until the project is completed. Do not jump into any of your other project folders, as you may find yourself right back here next year and have nothing completed. I know it's hard, but there's nothing better then the feeling of accomplishment.
Have a very happy, healthy and prosperous 2014.
Gail Mayhugh, owner of GMJ Interiors, is a professional interior designer and author of a book on the subject. Questions may be sent by email to: gail@gmjinteriors.com. Or, mail to: 7380 S. Eastern Ave., No. 124-272, Las Vegas, NV 89123. Her Web address is: www.GMJinteriors.com.