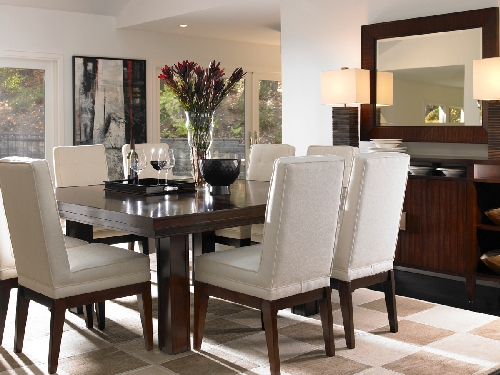 "When hospitality becomes an art, it loses its soul." Max Beerbohm (1872-1956) English essayist "Hosts and Guests," 1920
Spot on, Mr. Beerbohm! Hospitality should enhance your life, not cause you to make real estate mistakes.
How many times have you heard on TV real estate programs, "Oh, I want space to entertain" or "I need room for houseguests." I even heard a lady proclaim once that the living room wouldn't work because she didn't know where to put the Christmas tree. Seriously?
What brought this all to mind is that I was with a friend recently who was looking for her new home. In the dining room in one house, as is perfectly normal, we started thinking about furniture placement and decided that her dining room table, with the leaf in it, wouldn't fit comfortably. The discussion then turned to, "Well, how many times do you need the leaf?" Turns out, not many. Holidays. We also decided that when she did put in the leaf, the table could be angled in the room and it would fit just fine. She also didn't need six chairs every day, so by placing one on each side of the buffet, she could accommodate her chairs and the table looked great with four chairs.
Now, please don't misunderstand. If you are buying the "house of your dreams," money is no object and you routinely have eight to 10 folks for dinner, then by all means shop around for that dining room to fit your normal routines. But don't make the mistake of buying or renting a house based on activities that occur four or five times a year.
A lot of us live in relatively small spaces, but are frequent hosts. When the number of dinner guests exceeds table space, host a buffet. Guests love the informality and ability to move around to chat with different people. Cocktail parties don't even require enough seating for every bottom — it's a party and should always be on the move. Creative hosts set up food and drink stations throughout the house so people are not stuck in one place.
The same "Carolyn" rules apply to guest rooms. Some years ago I did a column on the guest room challenge, and asked "Did you really need one?" Again, some folks have circumstances that require that extra space frequently.
For most of us, however, buying a house for a separate guest room is a waste of money. There are other ways you can handle the occasional guests, i.e., combining the extra room with another activity, such as the office, library or den. Sleeping on a pull-out sofa is not a forerunner for back surgery as it once was. Most are actually quite comfortable, and certainly stylish. A day bed functions great as a sofa, too, and, then, voilà, a bed! And, of course, we have about 300,000 hotel rooms here in our town.
What I like to tell clients and friends is that your home is your "home," your safe haven, not a restaurant, not a hotel. However, that doesn't mean you can't entertain or have houseguests. You simply have to use common sense and remember that you are there 365 days a year. Others are not. Hopefully.
And as for the lady with the Christmas tree issue, that's a completely separate column. And not necessarily about interiors.
Carolyn Muse Grant is a design consultant, expert home stager and creator of beautiful spaces. Questions can be sent to her at creativemuse@cox.net.