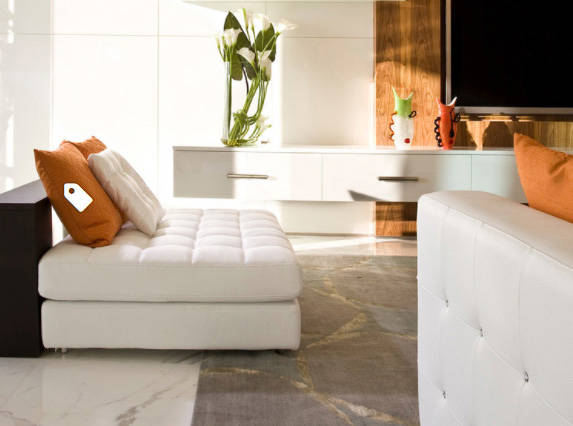 "In season, all is good." — Sophocles (c.496 B.C.-406 B.C.), ancient Greek tragedian, "Oedipus the King" (c.430 B.C.)
A recent headline on the cover of a national shelter magazine caught my eye and made me think about how and why we decorate our homes the way we do.
The line was "Rooms you'll never get tired of."
Dressing your rooms is somewhat like dressing yourself. There are those who are trendy and like to buy the latest fashions: miniskirts, sky-high heels, belly-revealing tops and bottoms, loud colors or whatever is happening in the fashion magazines and on television.
Then there are some of us who are more comfortable wearing classic clothing — clothing that will never go out of style, such as jackets, slacks and skirts that will always "go" — and we update them with new blouses, shirts, shoes, jewelry and other accessories.
There is definitely a correlation between fashion and home decor. Purveyors of home furnishings and accessories have long said that what happens on the runways of great fashion houses is the same thing happening in furniture showrooms. This is often limited to colors and patterns, but it can also work for the staples of your furnishings, i.e., sofas, chairs, chests, tables and rugs.
I always tell clients and friends that you don't have to replace everything you own to give your spaces an entirely new feel.
When purchasing, it's a good idea to keep this in mind, realizing that a major investment of case goods or upholstered pieces will last many years, and your decisions need to include this. Good, solid pieces of furniture can last, and if, over the years, you tire of it or wish to change your style, you can generally alter your existing pieces.
Upholstery can always be changed. Arms and cushions can be modified to reflect your new tastes. Legs can be removed or added to sofas and chairs, and wooden furniture can be painted or refinished.
The key to "recycling" your rooms is making a good decision when purchasing. As with basic clothing, my advice would be to buy basic pieces when purchasing the staples of a room, and, hopefully, you will also love the lines and overall style of the pieces.
If you buy a more muted or solid color sofa and chairs, for instance, you can make changes to the look of your room simply by changing out throw pillows and throws or making a color statement with lamps and other accessories.
Making a seasonal switch out of your area rugs will also give your rooms a new look, all the while keeping the main basic pieces as the stars.
Now, if you just have to have that plaid sofa or the one with flocked velvet upholstery, hopefully the frames on those pieces are very sturdy (eight-way hand-tied/glued and screwed) so that when you get up one morning and the very sight of that sofa sends you into apoplectic shock, you can call your friendly upholsterer in for a quick house call.
Good upholstery people can remake a piece so completely that you won't recognize it. And if the previous symptoms of that shock thing have subsided, we certainly don't want to re-create that. And here in Las Vegas, we are blessed to have some wonderful upholsterers.
On yet another hand, sometimes it's the way the room works that you're in love with, so the pieces can change when you get bored with them. For instance, if the traffic flow is perfect, if the view of the backyard is perfect from your favorite chair, and you can see the TV from every seat, then you may want to change out your furniture and keep the furniture layout.
Most of us don't have a lot of options when it comes to furniture placement — not options that really work, that is. So if you love the room arrangement, use it to your advantage. And when the furniture doesn't work for you anymore, replace it.
Love is a strong word to use in the design world, but designers do use it, and there are truly things that most of us love about our homes. Getting tired of something in your home is a little easier to understand, and when that happens to you, remember that you have many options. Decide what it is exactly that you are tired of.
Before you replace major pieces of furniture, be sure it's the upholstery on your sofa you don't like anymore and not the way you have to lean around to see the TV or have an easy conversation with others in the room. As a stager, I know all too well how a new furniture arrangement can change the whole ambiance of a room; so be sure you know what's bugging you before you de-bug.
Hopefully, if you shop wisely, you too will have rooms you never tire of. And, if you do tire of certain things, you will have an easy fix.
Carolyn Muse Grant is a founder and past president of the Architectural and Decorative Arts Society, as well as an interior design consultant and stylist specializing in home staging. She can be reached at creativemuse@cox.net.