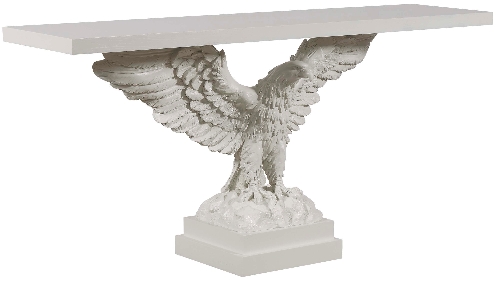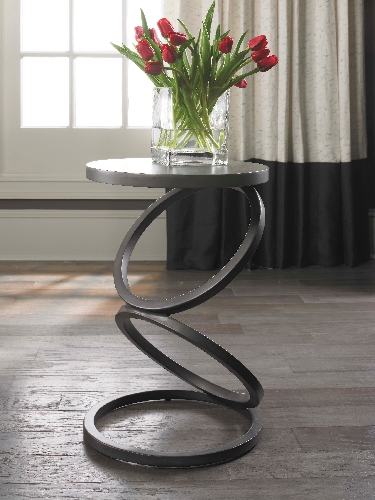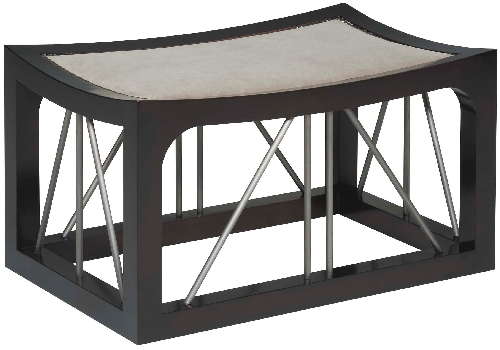 If there's something familiar about this new collection of home furnishings, it could be from the designs themselves, which are based on the classics, or from the designer, who has become a nationally known celebrity.
Thom Filicia, host of The Style Network's "Dress My Nest," recently debuted his self-named home collection through Vanguard Furniture.
"It's a fresh interpretation of classical design. It feels timely and of the moment, but it's also very timeless," Filicia said.
The look and feel of pieces within the Thom Filicia Home Collection are familiar yet different, he said. For example, his Saratoga sofa was inspired by the classic Chesterfield, an upholstered sofa with arms as high as the back. Filicia's modern interpretation is squarer and devoid of traditional tufting.
Another example is his Brattle Road chair, which is presented in a butterscotch-colored leather with a gray finish on the wood legs, casters on the front two legs and a handlelike bar atop the back. The shape is traditional, while the color combination and hardware accents are more modern.
Filicia, who first gained nationwide fame as one of the Fab Five from Bravo's "Queer Eye for the Straight Guy," says he has a unique perspective on what's available and what's needed in the marketplace.
"I have an unusual career, in a sense. As an interior designer, I work privately with high-end clients as well as on TV. There's a good synergy," he said.
Filicia, who has a bachelor of fine arts degree in interior design from Syracuse University's School of Art and Design, was already a rising star and well-respected designer in New York prior to joining the cast of "Queer Eye." He has been named one of House Beautiful's "Top 100 American Designers" and House and Garden's International Tastemakers.
His portfolio includes interiors for Jennifer Lopez and Marc Anthony, W Hotels, dressing rooms at "The View" and windows at fine art auctioneers Christie's.
By dealing with clients at both ends of the price spectrum, Filicia said he's had the opportunity to design rooms with furnishings that are offered exclusively to the trade and those that are filled with pieces purchased at retail outlets. He's also designed special pieces for his high-end clients.
Launching his own furniture collection was a natural progression of his desire to create.
"As a designer I love creating spaces and environments," he said.
The furnishings in his collection are all named after places in New York, where he lives and gets much of his inspiration.
His James Street wing chair was named after the street on the northeast side of Syracuse, where some of his favorite homes are located. "The smart James Street wing chair embodies the same strength of architectural character as the homes I love," he said.
"The Solvay spot table was inspired by the industrial past that defined the town of Solvay, N.Y. Its lively metal rings are a stylized evocation of gear parts and other manufacturing components. It also happens to be the town where I attended the New York State Fair, which was always a site to be seen."
None of the pieces in the initial collection "match," he said. The idea was to offer furnishings that appear to have been collected over time versus purchased as an entire suite.
"It's very approachable and very unusual," said Alan Reinken, vice president, Western region, for Robb & Stucky, the exclusive dealer for the collection in the Las Vegas Valley.
Reinken said Filicia's designs incorporate traditional elements and materials, including wood, metal and leather, but uses them in unusual and fun ways. He mixes the materials with a natural flair and offers customers the opportunity to customize pieces to suit their lifestyles.
Notable characteristics of Filicia's initial offerings in the collection are sensuous and whimsical curves and bright pops of color.
"Give a little zip (to your room) with a pop of color," Filicia said.
"It's OK to have fun with your home furnishings," Reinken added. "Add some color — livable, easy-to-use colors."
Filicia plans to expand his collection, adding pieces that are "more anonymous. Every piece doesn't have to make a statement," he said.
He said he is thrilled to work with Vanguard, which is as enthusiastic about the project as he is, as well as environmentally conscious. He said the company also was able to produce furniture in America that can be sold at a price point that he feels is reasonable and makes sense to him. For example, the Brattle Road chair has a suggested retail price of $1,399 and his French Fort table is priced at $1,199.
For additional information about the collection, visit www.thomfilicia.com or www.robbstucky.com.