TVs are customized for outdoor living spaces
February 4, 2017 - 8:05 am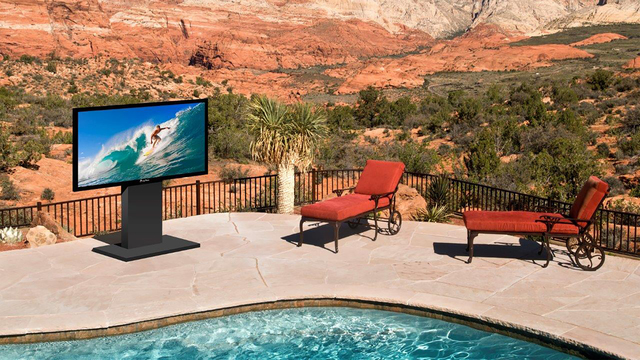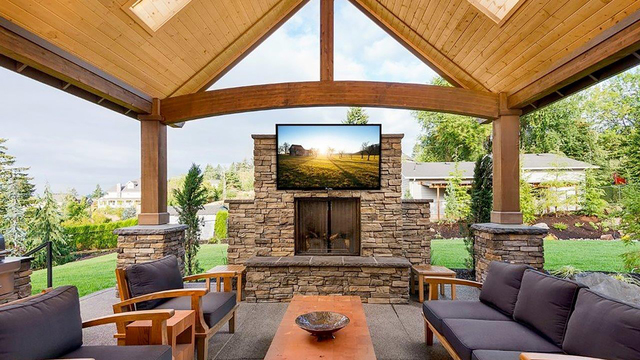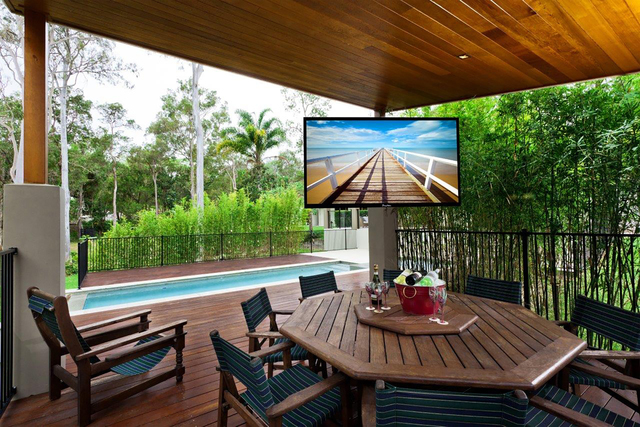 Temperatures will be in the mid-60s for the big game Sunday. It's the perfect kind of weather for an outdoor gathering to watch the New England Patriots battle the Atlanta Falcons.
Now that patios are becoming an extension of indoor spaces, more homeowners are bringing the television viewing outdoors.
"As the popularity of outdoor living continues to surge, there is a corresponding rise in intentionally designed outdoor living spaces that feature fully appointed kitchens and entertainment areas," said Jim Cline, president and CEO of Trex Co., a manufacturer of wood-alternative decking and railing.
But it's not as easy as just transporting your TV outside. Frequently, television manufacturers will refuse to honor any warranty or guarantee claim if they think you kept the TV in an extremely hot, cold, or dusty environment.
One company has the solution and it's a lot closer than you think. MirageVision Outdoor TV on Valley View Boulevard boasts a line of outdoor televisions that are weather-resistant and have high-definition picture quality.
Dale Potts, president of Global Outdoor Concepts, which owns MirageVision Outdoor TV, said when the company started nearly 10 years ago, it developed a weather-resistant television utilizing existing name brands such as Samsung, Sharp and LG.
"I thought to myself that there had to be a way to take an existing indoor television and make it resistant to weather conditions that would still have a bright picture outside," he said. "When we first started, we'd coat the boards with a special spray for moisture, bugs and humidity and put our own internal fan motors on the back to create airflow within the television."
The company's product line starts at $850 for a 28-inch television and rises to $20,000 for an 85-inch model.
"What makes us unique is customers can still have a modernized television that looks like one you'd have indoors, but it's altered for outside permitted use," he said. "We're growing extensively almost every year."
Though all of MirageVision's models are smart TV, Wi-Fi and app-ready, product lines differ.
The Gold 1080p outdoor TVs use a proprietary calibration to improve the original television settings including brightness, contrast, color, hue and sharpness for a better picture quality, however, they're more suited for shady environments.
The Gold Ultra HD (4k) outdoor TVs work best in direct sunlight, which is because its resolution is four times better than the 1080p technology.
The Diamond Pro Ultra HD (4k) outdoor TVs have the highest level of contrast, which results in the highest picture quality in outdoor sunlight.
Potts said people often make the mistake of taking their indoor television and putting it outside, not realizing that bugs, weather and moisture can cause televisions to corrode.
"The problem with taking an indoor television and putting it outside is that it won't last long and the sun will wash the picture out," he said. "Our televisions enhance the picture and are tested to work in extreme heat and cold."
MirageVision's outdoor televisions are tested to withstand subfreezing weather and temperatures up to 145 degrees Fahrenheit.
Potts added that television companies are instructing customers to not take televisions outside unless they're specifically made for outdoor use.
"Ten years ago, if you put an indoor television outside and something happened to it, generally the insurance company would pay, but now that there's an outdoor television, manufacturers are getting smarter and are inspecting them when customers return them," he said. "When they come in they look for water, dirt or dust to determine if they were outside."
MirageVision TVs come with a waterproof nylon cover, which Potts suggests keeping on when the television isn't in use.
Among the most noteworthy offerings being introduced by Trex for the 2017 outdoor living season are customizable cabinets for televisions and entertainment systems. These wall-mounted cabinets conceal and protect pricey electronics from the elements, while eliminating unsightly cordage. Trex products are available at Lowe's and The Home Depot.
Potts expects outdoor televisions to continue seeping into homes and businesses nationwide.
"It's still a ground floor market and the reason for that is because not all consumers know about them," he said. "While it can take a while to get the market to where it's big time and there are a lot of players in it, people are finally starting to catch on."
For more information on MirageVision products, call 844-968-8366, visit www.miragevisiontv.com or visit its showroom at 6380 S. Valley View Blvd.