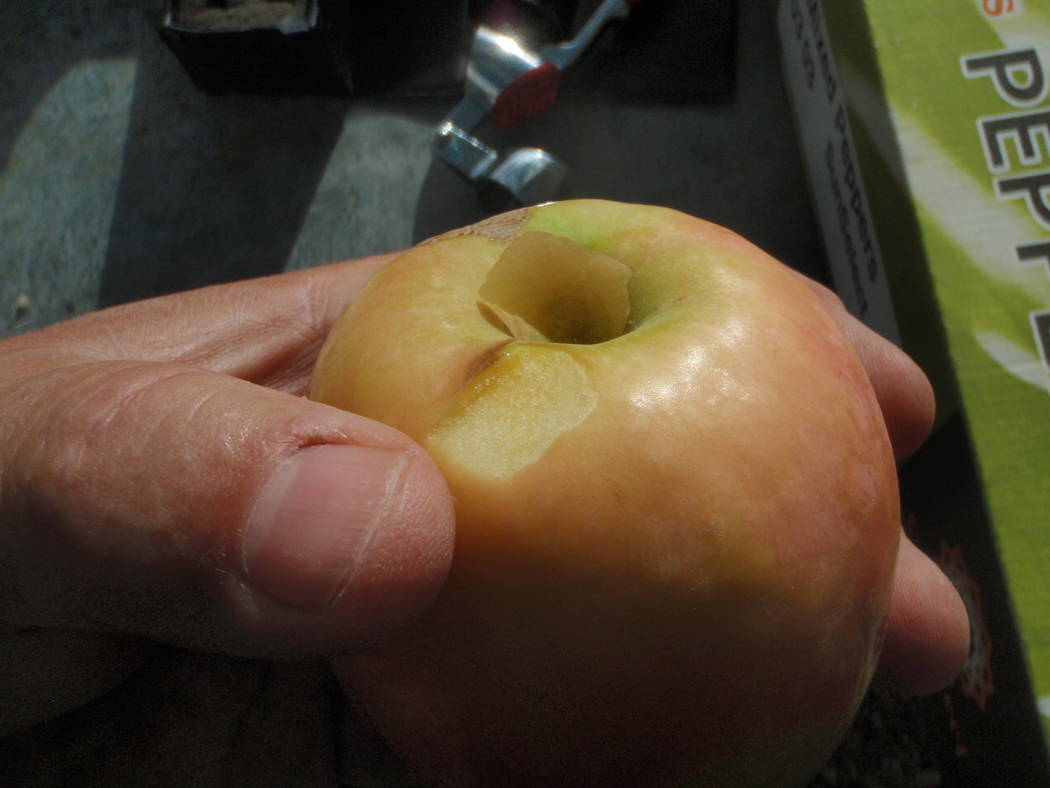 Q: Are eggshells good for your garden and should they be added to your compost? Conventional garden wisdom says yes, but I believe that we have too much calcium already in the soils here in Southern Nevada, so adding eggshells is not a good idea. What do you think?
A: Nothing is wrong with putting eggshells in a compost pile and adding that compost to our desert soils. The small amount of calcium from eggshells doesn't really do much.
Yes, you are right. Calcium is abundant in our desert soils and our irrigation water. But plants growing in our soils can be deficient in calcium under the right situation. Let me explain.
Calcium is one of six major plant nutrients used by plants and needed in large amounts. The other five are nitrogen, phosphorus, potassium, magnesium and sulfur.
But calcium is not very soluble in water, so its release from our soils can be relatively slow compared with others. So, abundance in the soil does not necessarily translate into an abundance to the plant.
When you grow lots of plants and push them hard to produce something (think intensive home vegetable gardens and fruit trees), our soils can be deficient in available calcium because of continuous harvesting.
In apples, there is a disorder called bitter pit that is caused by a calcium deficiency even in high-calcium soils. It can happen in pears too but is called corky spot. I have noticed it in some apples and European pears in the Las Vegas Valley after about 10 years of production.
When magnesium is in short supply, Epsom salts or dolomitic limestone is applied. Both contain calcium, and they are good choices if you're not sure what the problem is because they can take care of both shortages.
Some of the rosarians in the Las Vegas Valley are adamant about fertilizing with Epsom salts regularly. The reason is the magnesium.
Calcium is released best from more acidic soils than from our desert soils, which are alkaline. Garden soils can be made more acidic by adding compost or sulfur.
Aluminum sulfate used to be applied, but it has fallen into disfavor by gardeners. But the sulfur should be pulverized, like a dust, not in a granular form.
Granular sulfur dissolves very slowly in the soil. If you have a granular sulfur, put it in a bag or rapid and newspaper before pulverizing it to a dust with a hammer.
Eggshells dissolve slowly in a compost pile. Put eggshells in a blender, blend them with some water and large vegetable chunks, and then add it to a compost or vermicompost pile. The smaller size helps them to dissolve faster in the compost.
Q: Do you know what might be causing discoloration on my apricot fruits? This hasn't happened previously. The small fruits are still very hard, and the discoloring isn't inside the fruit. Will the fruits still be edible?
A: Apricot fruits started forming in February. Depending on the variety, they can be ready as early as mid-May through August.
There was on-and-off rainfall during the time the fruits were first forming, and the weather was cool. Perhaps the discoloration was from powdery mildew disease early in the season when the fruits were first forming.
Powdery mildew disease likes cool wet weather, so as soon as the weather dried out and became warmer, the disease disappeared. The Mojave Desert is not known for powdery mildew because of its normally dry springs.
But during some springs that are unusually wet, such as this last one, we might see powdery mildew appear, cause some damage and then disappear as the weather corrects itself and becomes drier.
I saw this same problem on apricots growing in the Kingman, Arizona, area last year. If I'm right, the disease is long gone, and there is nothing you can do to rectify this problem.
The fruit is hard because it hasn't matured. The fruit will be fine to eat, but it might not be the best meat quality because the damage caused by the disease. Damage from this disease, or diseases like it, will not cause health concerns for humans or other animals.
Q: I will be moving back to North Las Vegas in few months. I am planning to have some fruit trees in our backyard. I read some of your blogs about the use of mulch. I would like to ask if you know where I can get mulch for free.
A: If you are living in the northwest part of the Las Vegas Valley near Aliante, you can pick up woodchip mulch free of charge from the University Orchard in North Las Vegas. I started that program in 1998 when I was with the university. But you must go and pick it up or hire someone to do it for you.
If you only have a car, take heavy duty plastic garbage bags, fill them and put it in your backseat.
The University Orchard is 100 yards east of the intersection of North Decatur Boulevard and Horse Drive, not far from Shadow Creek High School and the RC flying field. You can pick up this woodchip mulch any Tuesday, Thursday or Saturday morning before noon. For more information, call the master gardener helpline at 702-257-5555.
Woodchip mulch is also available in bulk quantities from First Choice Tree Service. But it will cost you something for delivery and a loading fee.
Q: I was unable to attend your pruning classes earlier in the season. I read that peach trees should not be pruned until the third year. Mine have not been pruned, and they are 2 years old from bare-root planting. Is this wrong?
A: There is a commercial method of pruning peach trees that waits until the third year after planting. Another method encourages pruning as soon as they are planted.
I think when you buy bare-root trees that are young and small, it's not a problem waiting three years to prune. But homeowners who buy container trees that are larger should start their pruning as soon as they are planted.
Pruning is divided into two different processes: structurally training of the tree during its early years and pruning for fruit production as the tree gets older. When peach trees are planted very young as bare-root, they frequently have a good structure starting to develop. This structure allows you to wait three years before you start pruning. Once the structure is established early, most of later pruning is to encourage fruit production.
When peach trees are bought in containers, the structure of the tree is already established. You are stuck with the structure you bought, whether it's good or not. Therefore, I tell homeowners over and over to buy their fruit trees as small as possible but still healthy.
Q: Why does my columnar cactus look so sick and is producing a lot side babies?
A: You are seeing some side shoots (pups) develop on one of the columns because of sunburn on one of the columns facing the sun. When there is damage to the column or pad of the cactus, whether it's damage from the sun or cold damage, we see buds breaking and growing in response close to the damage.
The column producing this side growth appears to be damaged in the picture. I would guess it's sun damage from intense sunlight and heat.
Many of these columnar cactuses appreciate a little bit of a break from the intense sunlight in the afternoon. They are not Mojave Desert cacti.
They will grow well in areas where they have lots of sunlight until about 2 in the afternoon. They don't like to be in locations where it is extremely hot with intense sunlight or lots of reflected light.
You might consider moving this plant to a cooler location or microclimate where it can get some afternoon shade.
Bob Morris is a horticulture expert and professor emeritus of the University of Nevada, Las Vegas. Visit his blog at xtremehorticulture.blogspot.com. Send questions to Extremehort@aol.com.