Distinctive dunes require effort to reach but are worth it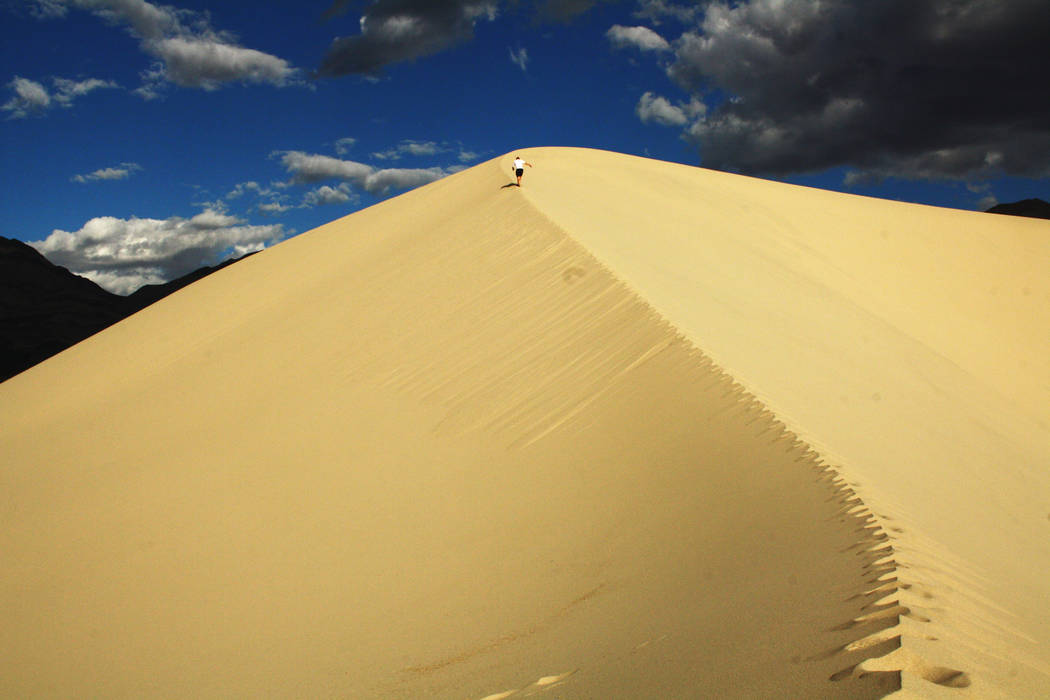 Everyone loves sand dunes. They seem exotic, and we associate them with romance and adventure. Some of the tallest in North America, Eureka Dunes, are in Death Valley National Park.
The dunes are in the extreme northern area of the park and you'll have to make quite an effort, driving along rough gravel roads to see them, but the rewards are good. The dunes, at a base elevation of around 3,000 feet, rise up about 700 feet more, and they run about 3 miles long and 1 mile wide.
One of the bonuses to visiting these dunes, unlike most in the Southwest, is they are closed to off-highway vehicles, sandboarders and horses.
Most people want to hike up to the highest peak, but be aware that the sand is quite soft, which makes walking arduous. The easiest route for the trek is to start from the camping area in the dunes' northwest corner.
These dunes are about 10,000 years old and are considered stable. They are in Eureka Valley just west of the limestone Last Chance Mountains.
These dunes are known as singing or booming dunes, found in only 35 desert locations. This means when the sand is very dry and avalanches down the steep areas, odd sounds can be heard. Some say it sounds like a deep note on an organ, while others describe hearing what sounds like an aircraft passing over. Many experts theorize it's the result of friction when the sand grains slide against each other.
Five species of beetles and three types of plants in the Eureka Dunes are found nowhere else in the world. The plants are Eureka dunegrass, Eureka Dunes evening primrose and shining milkvetch. You might see a few black-tailed jackrabbits or a rattlesnake, or hear a coyote during the night, but otherwise there isn't much wildlife here.
There are about 10 park-designated campsites, some with fire rings and picnic tables. There are no services close by, so go equipped to take care of yourself. You will need a high-clearance vehicle, preferably with four-wheel drive, with good off-road tires and two spare tires.
If it has rained recently or rain threatens, postpone this trip; the roads are rough enough even before they wash out. There is no shade, so you might want to pack a large sun umbrella. And in all seasons, use sunblock and wear a hat.
Deborah Wall's book "Base Camp Las Vegas: 101 Hikes in the Southwest" ($24.95, Imbrifex) is available on Amazon. She can be reached at deborabus@aol.com.
Directions
From the Furnace Creek area of the park, drive north on California 190 for about 17 miles and go right onto Scotty's Castle Road. Follow for about 33 miles and go left onto Ubehebe Crater Road. Follow for about 2.7 miles and go right onto Pig Pine Road. Drive about 34 miles and go left onto the Eureka Dunes Access road. Follow about 10 miles to the sand dunes and camping area.