For the adventurous boater, Topock Gorge a good one-day trip
February 13, 2014 - 2:45 pm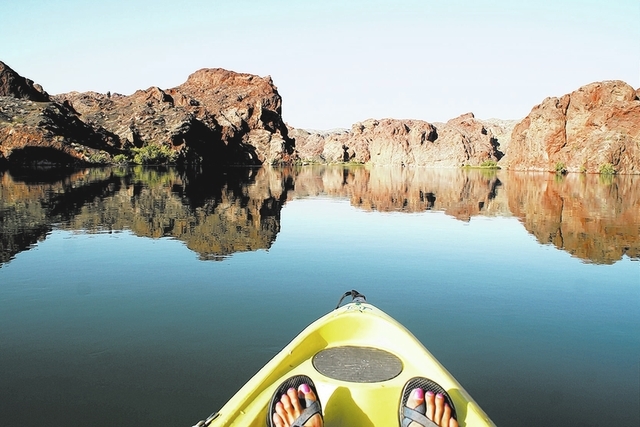 While the Havasu National Wildlife refuge protects 30 miles of the Colorado River, 20 remarkable miles of that flow through one of the few natural stretches remaining of the lower Colorado: Topock Gorge. Exploring it is a wonderful one-day adventure if you have boating skills.
The gorge has high rocky cliffs on both sides with interesting formations, including many natural arches. This stretch of the river is a native riparian area with Fremont cottonwood and Gooding's willow and mesquite, which support a variety of wildlife. It is especially a birders' paradise, with more than 300 species either making homes here or using it regularly when when migrating.
The wildlife viewing possibilities are endless. You will have the opportunity to see Western and Clark's grebes, summer tanager and yellow-billed cuckoo. Larger birds include great blue herons, peregrine falcons and an abundance of Canada geese, ducks and other waterfowl. Other wildlife in the gorge includes desert bighorn sheep, coyotes, javelinas, foxes, bobcats and mountain lions.
Established in 1941, primarily as a migratory bird habitat, the refuge includes 37,515 acres in California and Arizona. All of it lies within the Pacific Flyway, and it is considered an Important Bird Area in Arizona.
To visit Topock Gorge, you'll need to take a boat upstream from the Lake Havasu area or downstream from the Topock Gorge Marina. The Gorge is considered a Class I section of the Colorado, meaning it has flat water with a light current and no rapids.
My favorite trip through the gorge has been a one-way downstream kayak trip, starting at the Topock Gorge Marina under the Interstate 40 bridge over the Colorado River, then paddling and drifting down to the Castle Rock area. Besides the Havasu National Wildlife Refuge, the 15-mile trip also takes you through the Needles Wilderness Area.
Be warned, though. This trip is very remote. No roads access the river between your starting point and the place you'll take your kayak out of the water, so you'll need to be a confident and self-sufficient kayaker.
The lack of alternative take-out points makes it especially important when planning your trip, so pay careful attention to weather conditions and forecasts, because high winds can ruin your adventure. If blowing up the river, they can make it very difficult and slow to paddle those 15 miles. With good weather, and allowing time to stop a few times for exploration, the trip downriver will take about five to seven hours.
The first and most popular take-out point (or your put-in point if you want to go upstream into the gorge and return the way you came) is at Castle Rock, at River Mile 220. The parking area is found off Vista Drive in the community of Crystal Bay, just a couple of miles north of Lake Havasu City. From the parking area to the river is about 100 yards, so you'll need to portage your kayak or canoe. The Castle Rock Bay area is closed to personal watercraft and is a no-wake zone.
You can take two vehicles, leave one at the takeout point, and shuttle yourself and your vessels to the launching area at Topock Marina. Or you can use a guide service. Desert River Outfitters, out of Bullhead City, Ariz., offers a shuttle service that will pick you and your kayak/canoe up at your planned take-out point in the morning and bring you to the Topock Gorge Marina. Then you'll be on your own to cruise downriver, at your own chosen speed, to the place you left your vehicle. The company also offers a complete package of shuttle, kayak and gear, for $55 per person. For more information, call 888-529-2533 or visit desertriveroutfitters.com.
Deborah Wall is the author of "Great Hikes, A Cerca Country Guide" and "Base Camp Las Vegas: Hiking the Southwestern States," published by Stephens Press. She can be reached at deborabus@aol.com.
Directions to Castle Rock
From Las Vegas, take U.S. Highway 95 south through Searchlight to California, about 103 miles, then exit onto Interstate 40 going east and drive about 32 miles. Take the Arizona 95 south for about 18 miles to Lake Havasu City. Go right at the first stoplight, which is the London Bridge Road and drive west about 1/2 mile to the first street, which is Fathom. Go right about 0.7 miles to the first stop sign and turn left onto Reef which then turns right again (still Reef Street.) Go to the lowest spot on the road. There, an obvious dirt road (not to be confused with two washes that have off-road vehicle tracks in them) goes off to the left, 1/4 mile to a dirt turn around. There is a USFWS sign at the entrance of the road that says Castle Rock. You can walk down to the water on either side of Castle Rock.