Heading north for bragging rights includes Alaskan course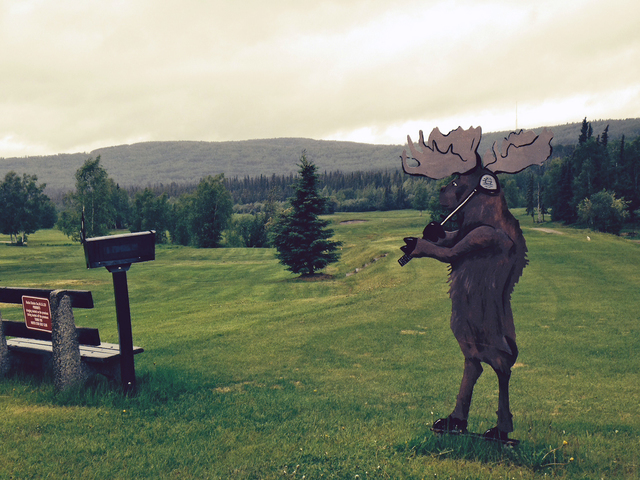 64 degrees, 89 minutes. Most of you would think that's my average round of golf. If you're thinking my average putts per round, you'd be closer. Hint: Murmansk is 68.58. Helsinki is 60.10. Tromso Golfpark at Breivikeidet in Norway is at 69.39. In comparison the Arctic Circle is at 66.33. That's where the sun never sets in summer and never rises in winter.
I'm talking latitude, folks. North Star Golf Course in Fairbanks, Ala., at 64 degrees and 89 minutes is the northernmost USGA-sanctioned golf course in North America. Latitude and longitude are angles that uniquely define points on a sphere. Latitude is defined with respect to the equatorial plane. In other words, latitude measures how far north you are.
I had a desire to play North Star. Just like I have a desire to play Pebble Beach. Or Doral in South Florida. Shadow Creek here in Las Vegas. Maybe Augusta National Golf Club. Would that be sweet? Why? So I could say I played it. Being the northernmost golf club in North America would score points and bragging points anywhere.
The Alaska tour included Denali National Park and two days in Fairbanks. I made reservations for Sunday afternoon. Saturday was a delightful 77 degrees, no wind and nearly cloudless skies. The sun sets at 11:30 at night, so darkness wouldn't be a factor. I'm that much closer to another bragging right.
North Star Golf Club was opened in 1993 and designed by Jack Stallings and H. Roger Evans. Apparently, this is the only golf course the duo designed. It's a par-72, 6,342-yard layout. The rating is 70.9 with a slope of 124. There are 13 water hazards and no sand traps. It opens in mid-May and closes in late September before temperatures plunge to below zero.
After the tour of a section of the Alaskan Pipeline, I headed to the course. So did the rain. I arrived to see four or five carts of wet golfers heading in due to heavy rain. Undaunted, I checked in for nine holes. I made it through three before I was waterlogged.
North Star has some stories that are interesting. The pro shop attendant was gregarious. He noted that at the bottom of the scorecard is an animal wildlife checklist. Make a check when you see the animals. Among the more interesting are moose, bears, eagles (this might have been the only time I'd ever see an eagle on a golf course), ravens and foxes.
The course is also built on permafrost: ground that is frozen year-round. An upper layer, called the active layer, thaws every year. This thawing creates an ever-changing pattern of dips, swales and mounds that some liken to the links courses in Scotland.
I had never heard of the Awesome Eight Golf Challenge. Extremesport4u.com explains it's a tour of the most remote and climatically challenging courses around the world. No carts or caddies are allowed. The challenge must be completed in one calendar year. North Star is included as the world's coldest golf course.
Others on the list includes Furnace Creek Golf Course at 214 feet below sea level as the lowest golf course in the world and Alice Springs Golf Course in Australia as the hottest course in the world. La Paz Golf Club in Bolivia is the highest golf course at 10,800 feet and known to cause nose bleeds. Ushuais Golf in Argentina is listed as the southernmost course in the world. The North Cape Golf Club in Norway is the world's northernmost layout. Ko'olau in Hawaii is considered the toughest golf course. And last but not least, St Andrew's, Old Course, Scotland is the greatest and oldest golf course in the world.
Merriam-Webster defines bragging rights as a good reason to talk with pride about something you have done, an entitlement to boast about something.
I earned 'em!
John Asay is a longtime golfer and local freelance writer.