Summerlin golf courses eye around $5M in improvements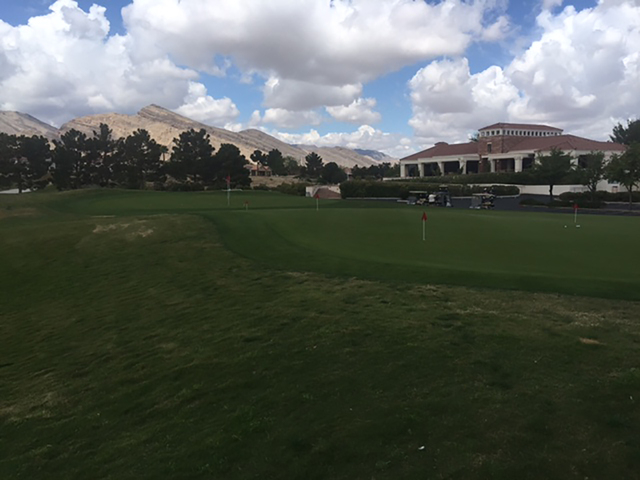 Let's face it: We've all used one in the past and probably not realized it. They are the source of some valuable information and advice. We generally act on the suggestions they put forward.
TechTarget defines "they" as an experienced individual who is trained to analyze and train a client in order to help the client make the best possible choices.
So I was very interested when I heard Golf Summerlin had hired a consultant to give the three golf courses — Palm Valley, Highland Falls and Eagle Crest — a comprehensive review of Sun City's three golf operations. I attended the preliminary presentation. Golf Convergence was the consulting firm with J.J. Keegan, managing principal, as the presenter.
What I found interesting was the demographics of golfers and the state of golf. It seems golf courses fall into three main categories. The leisure courses, mini-golf, chip and putts, and nine-holers made up the first. Recreational courses are defined as layouts with a slope of 130 or less — perfect for the occasional players. Golf Summerlin's three courses fall into this category. Last is the accomplished course category. These include courses that have slope greater than 130 and are favored by serious golfers.
Today, there are 13,833 in the United States. This breaks down to 2,200 municipal courses, 7,600 daily fee courses and 4,033 private clubs. Note: This number is down from over 15,000 courses two years ago.
Who is the typical player? Of average golfers, 80 percent are male, 45.1 years of age and have a $91,900 median household income. Summerlin Golfers are 91 percent male, 55.6 years of age and have a $98,502 median household income. Sun City golfers are 73 percent male, 72.8 years of age and have a $67,500 median house hold income. Implications? Older golfers play less golf.
Why do we play golf? The top 10 in order: time outside, the social aspect, the exercise, the ball striking, the challenge, the course, stress relief, the mental game, the values of golf and the competition.
Why do we choose one course over another? The top 10 factors: course condition, pace of play, price, tee time availability, customer service, course design and challenge to play, proximity to home or work, course design or easy to play, availability of practice facility and clubhouse amenities or food beverage and pro shop.
Here's a shocker but not a complete surprise regarding finances of golf courses: Only 80 percent of the course can cover operational costs. Less than 50 percent can cover debt. And less than 20 percent can cover future capital needs.
I'm not going to go into detail of what the many recommendations were at the final presentation. In some terms, it sounded like a used car salesman selling floor mats as add-ons.
One other interesting take-away involves Golf Summerlin's website at golfsummerlin.com. The report noted that the website is informational versus transactional. Most any other website, be it golf or not, includes a transaction box on the opening page. With Golf Summerlin, an additional click is needed to book tee times. Golf Summerlin is fixing this.
Golf Summerlin is also working to upgrade the driving range and practice area at Highland Falls. Again, this feature scores high on the list of why golfers choose one course over another.
Another item was an analysis of green fees. It included an extensive analytical and numerical scenario that left most in the audience mentally stymied.
In all, the suggestions for all three courses totaled over $5 million. Improvement will be apparent. I know Golf Summerlin expects to be the best golf experience in the valley.
John Asay is a longtime golfer and local freelance writer.