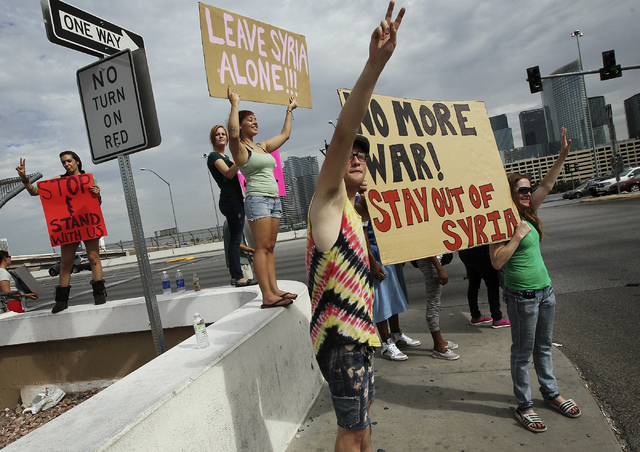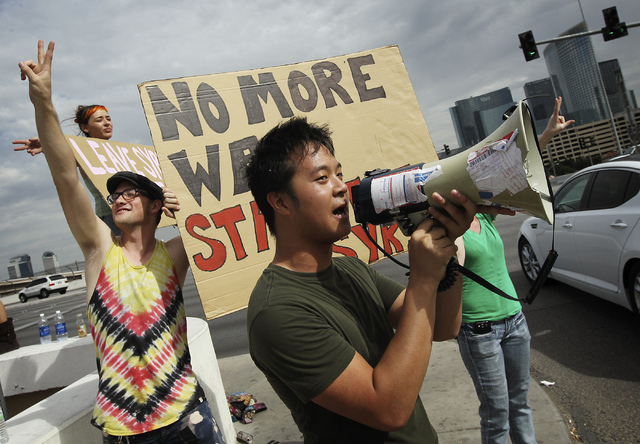 "We Don't Belong in Syria." "Leave Syria Alone." "No More War."
The signs hung above Interstate 15 on the Tropicana Avenue overpass Saturday morning.
With tensions rising in Syria and American interest growing, protesters lined the Las Vegas street to exercise their First Amendment rights with a demonstration against a possible U.S.-led attack on the Mideast nation over allegations that the Syrian government used chemical weapons against civilians.
"U.S. involvement isn't altruistic. We just want to make money," said protester Missy Lane. "Nothing makes money like war."
Lane moved to Las Vegas from Washington two months ago, she said, but spent time in the Palestinian terrorities, Israel and Greece as an activist. In Las Vegas, she is a tour guide.
"This war has been going on for years, but now it's our benefit because we can put in a government that has our best interest in the Middle East," she said.
Las Vegas was one of several cities nationwide where protesters rallied Saturday against a possible strike on Syria. They held signs and banged on drums as heavy traffic traveled beneath them on I-15.
As cars approached the overpass heading north on the freeway, a 50-foot banner that read "No More War. Honk For Peace. Stay Out Of Syria" could be seen. Many motorists honked as they drove past.
"Every time I hear a honk, I get goosebumps," said protester Robbie Andrew. "I love it. We're just individuals coming together for a common cause."
Andrew held up his 3-foot cardboard sign adorned with a green peace symbol and reading "No More War."
"We need to stop relying on government," he said. "They lied about Iraq. Why wouldn't they lie about this?"
Protesters were vocal about President Barack Obama and the possibility of a U.S.-led attack on Syria. "Unconstitutional" was the word of the day.
"They need to stop making excuses to go to war," Andrew said. "I don't care if you're a Democrat or Republican. You need to follow the law of the land."
Andrew was adamant that problems were imminent if the U.S. were to strike Syria.
"It could possibly lead to World War III," he said. "China and Russia already walked out of the United Nations meeting when this was brought up. Nobody wants this war, but our government is doing it anyway. Who represents us?"
As the morning grew longer and the air became more humid from Friday night's rain, several others made their way to the overpass to express their opinion. Children in strollers waved American flags as their parents held signs.
"No, honey. It's not time to play. It's time to protest," one woman said to her son, who wore a T-shirt with an American flag on the front.
A few local Syrians joined the protest.
Mike, who declined to give his last name, said he is from Al-Hasakah, a city in northeastern Syria, near the Turkish border. Most of his family still lives there.
He said he came to the United States when he was 42 with the hopes of providing his children a better education.
"I came here to make peace," Mike, now 56, said with a thick Arab accent. "I wish we could just stop everything."
Mike said he was proud that President Bashar al-Assad emphasized the importance of education in Syria.
"Our president put everything into education the last 10 years," he said of Assad. "We were even smarter than Germany. Syria is the best Muslim country, and Israel wants to destroy the Syrian military, and nobody wants to say anything about it because they're scared."
Protesters said U.S. involvement in Syria is purely for financial gain.
"This civil war has been going on for years, and we haven't cared until now," said Allen, a protester who spoke through a megaphone chanting anti-war rhymes. "If we really wanted to protect their citizens, we would've been involved sooner."
Contact Steven Slivka at sslivka@reviewjournal.com or 702-383-0264. Follow him on Twitter @StevenSlivka.