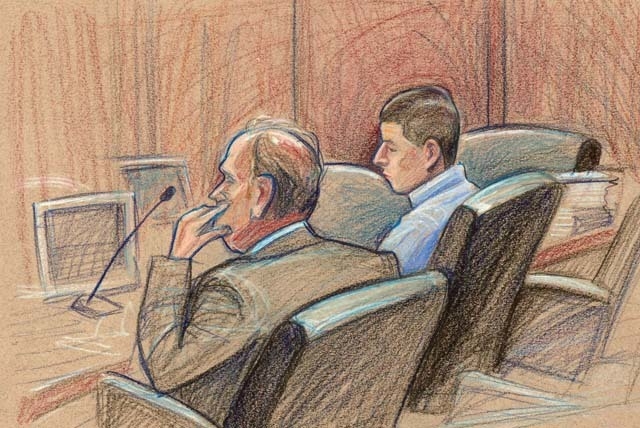 A 22-year-old Phoenix man was convicted Friday of racketeering and conspiracy charges for his role in a cybercrime enterprise known as Carder.su.
"It is difficult to fathom the enormity and complexity of the Carder.su racketeering organization and its far-reaching tentacles across international borders," Daniel Bogden, the U.S. attorney for Nevada, said in a statement. "The Internet has provided sophisticated international criminals access to the United States and its citizens, and the ability and means to harm us."
U.S. District Judge Andrew Gordon of Las Vegas is scheduled to sentence the defendant, David Camez, on April 10.
"I think this verdict wasn't a surprise to David Camez," said his attorney, Chris Rasmussen. "He's always insisted that although he may have been guilty of the charges, he was not responsible for the $50 million in loss that the government alleged."
Prosecutors have billed this case as the first time racketeering laws have been used against a cybercrime organization. They claim the Russian-based syndicate caused more than $50 million in financial losses worldwide through a massive identity theft scheme.
Camez is among 55 defendants who have faced charges in connection with the Carder.su case. He was the first to go to trial.
Eight have pleaded guilty, and others await trial in February. Authorities say the leaders remain at large.
"The actions of these computer hackers and identity thieves have harmed countless innocent Americans and seriously compromised our financial system and global commerce," according to a statement by Michael Harris, assistant special agent in charge of Homeland Security Investigations in Las Vegas.
During closing arguments Friday, Justice Department attorney Jonathan Ophardt described Camez as a "prolific participant" in the Carder.su enterprise.
Ophardt said the United States never alleged that Camez, 22, was the mastermind of the criminal enterprise.
But, the prosecutor added, "If you're part of the enterprise, you're guilty."
Rasmussen said Camez is currently serving a seven-year prison term in Arizona for related conduct.
"This case isn't about this young man right here," Rasmussen told the jury Friday as he stood a short distance from Camez.
Rasmussen called the case a "great experiment" by prosecutors "to try to establish that a website is a racketeering organization."
"The government is on trial in this case just as much as David Camez," he said.
Rasmussen argued that an undercover agent spent more than four years investigating Carder.su but found no evidence that Camez had anything to do with the operation of the website.
The attorney said Camez first went on the website when he was 17.
"It's a virtual chalkboard, and people post messages," Rasmussen said.
He argued that the government has an "army of prosecutors," and the "biggest hammer" it holds is the Racketeer Influenced and Corrupt Organizations Act, commonly known as "RICO."
"One guy didn't get scared," Rasmussen said, referring to Camez. "He said: I'm not part of a racketeering organization."
Camez was 17 when he bought a fake Nevada driver's license from the undercover agent investigating Carder.su.
Rasmussen said prosecutors probably thought Camez would give in and plead guilty after he was charged with racketeering.
"If you believe in David Camez, fight for him and send him home," the defense attorney told jurors.
During a May 2010 search of Camez's home in Phoenix, agents recovered counterfeit credit cards, equipment used to manufacture counterfeit credit cards, counterfeit U.S. currency and counterfeit identification documents.
A search of his computer revealed software used to encode counterfeit credit cards and stolen identity information.
The defendant's trial began Nov. 18. Jurors deliberated less than two hours Friday before reaching a verdict.
Contact reporter Carri Geer Thevenot at cgeer@reviewjournal.com or 702-384-8710. Follow @CarriGeer on Twitter.