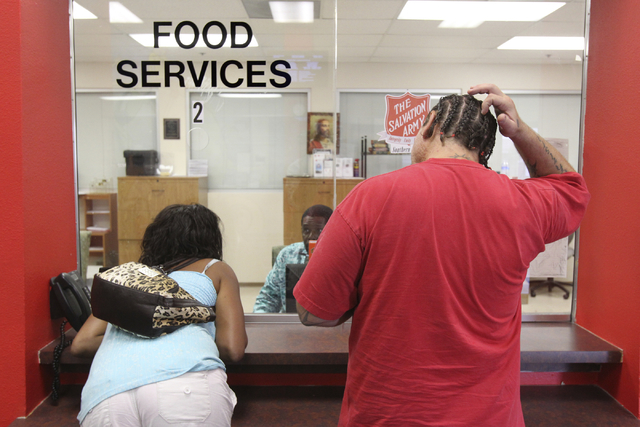 CARSON CITY — The federal government started providing less help Friday to put food on the table for Nevada's 362,000 food stamp recipients.
A cut in the Supplemental Nutrition Assistance Program run through the U.S. Department of Agriculture has taken effect for 48 million SNAP recipients nationwide.
Leslee Rogers, public relations officer for the Salvation Army of Southern Nevada, said the cut in the program will likely lead to even more families and seniors coming to food banks for assistance.
The food pantry operated by the organization saw an increase this week from about 200 families a day to 220 to 225 families seeking food, she said. Last year at this time the pantry was seeing 120 to 130 families a day.
The expiration of unemployment benefits for some families, combined now with this reduction, are factors in the rising demand, Rogers said.
"So we've seen a big increase for a lot of different reasons already this year," she said.
The cut will reduce the maximum monthly benefit for a family of four by $36 to $632, the Department of Agriculture said. The cuts are across the board to all families. Benefit amounts depend on family size and a variety of other factors.
The cut is actually a return to the benefit levels for the program seen before they were upped in the American Recovery and Reinvestment Act of 2009 in response to the Great Recession.
SNAP benefits, which are paid by the federal government but are administered in Nevada by the state Department of Health and Human Services, run about $45 million a month.
According to data compiled by the Pew Charitable Trusts, the SNAP reduction in Nevada will total $37 million a year, affecting 167,000 children and 63,000 elderly or people with disabilities.
The average monthly benefit in Nevada is $259, according to the Pew data.
Rogers said the pantry provides 20 pounds of dry and canned foods to senior citizens each month, while families can come in every 60 days for the same amount. The reasoning is that children are usually eligible for free lunches and even breakfasts at school. With the increasing demand however, the pantry might have to reconsider limiting family visits to every 60 days, Rogers said.
Contact Capital Bureau reporter Sean Whaley at swhaley@reviewjournal.com or 775-687-3900. Follow him on Twitter @seanw801.