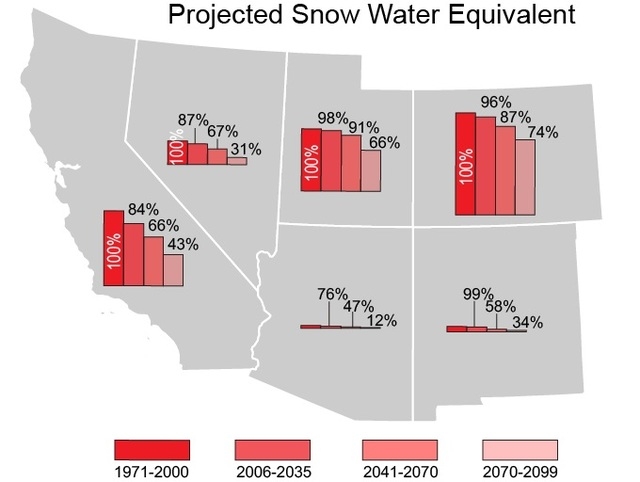 Global warming is already having widespread impact on everything from agriculture to urban health, according to a federal report released Tuesday, and the Southwest — the hottest, driest region of the country — faces unique challenges.
The National Climate Assessment highlighted five ways climate change is already impacting the region, which the report defines as California, Nevada, Utah, Arizona, New Mexico and Colorado:
Reduced snowpack and streamflows
Over the past 50 years, the Southwest has seen less late-winter snow, earlier snowmelt and earlier arrival of most of the year's streamflow, according to the report. Snow water equivalent, or the amount of water held in a volume of snow, is expected to decrease dramatically over the next century. In Nevada, it's projected to drop to 31 percent by 2099. Reductions in snowpack threaten an already delicate water situation in the region.
Climate change is also expected to increase the cost of improving and maintaining drinking water. Infrastructure improvements are already expected to cost Nevada $2.7 billion over the next 20 years even without accounting for climate change, according to the American Society of Civil Engineers. The state needs another $2.9 billion for wastewater infrastructure improvements over the same time period.
Threats to agriculture
The Southwest produces half the nation's high-value specialty crops, including almonds, artichokes and olives. Currently, 79 percent of the region's water is used in agriculture. Agriculture will see a threat from two places: A longer frost-free season, less frequent cool-air outbreaks and more frequent heat waves threatens the market value of crops with high water content like fruit. And a warmer, drier climate will put stress on agriculturally dependent economies as more water is transferred to urban areas.
Crop yields are expected to decrease as the frost-free season continues to lengthen, accelerating crop ripening and maturity.
Increased wildfire
The Southwest has become more vulnerable to wildfires over the past century due to climate change, increased drought, insect infestations and the accumulation of woody fuels and non-native vegetation. Climate change alone was responsible for a 650-percent increase in burned area in the western U.S. between 1970 and 2003.
Aside from destroying homes, excessive wildfire threatens public health, exposes slopes to landslides and erosion and can do millions in economic damage. The Carpenter 1 fire on Mount Charleston in July cost $20 million and burned about 44 square miles.
Sea level rise and coastal damage
Sea level has risen along the California coastline between 6.7 and 7.9 inches in the past century.
"In the last decade, high tides on top of this sea level rise have contributed to new damage to infrastructure, such as the inundation of Highway 101 near San Francisco and backup of seawater into the San Francisco Bay Area sewage systems," according to the report.
Rising sea levels over the next century expose the coastline to further erosion and threats of major floods, making especially vulnerable transportation infrastructure like highways, bridges and airports.
Heat threats to health
Of all U.S. regions, the Southwest has the highest percentage of people who live in cities, at 92.7 percent. Nevada is even higher, at 94.2 percent as of the 2010 census. Nationwide, 80.7 percent of the population is urban.
Along with increased demand for water, increased heat threatens urban infrastructures because a small problem can create a domino effect that impacts millions: The researchers cite an 11-minute power disturbance in 2011 that led to 1.5 million San Diego residents being without power for 12 hours. The outage also caused problems with pumps and water service, leading to 1.9 million gallons of sewage being spilled near beaches.
Increased demand for air conditioning as heat intensifies also puts a strain on electricity demand, resulting in blackouts and brownouts.
Severe heat waves also aggravate preexisting health conditions and can result in death, especially in lower-income areas.
The Obama administration is hoping the report, which includes work by hundreds of scientists and government officials, will drum up renewed support for environmental initiatives including curbing heat-trapping gases. Opponents say the report is alarmist.
Contact Stephanie Grimes at sgrimes@reviewjournal.com. Find her on Twitter: @stephgrimes