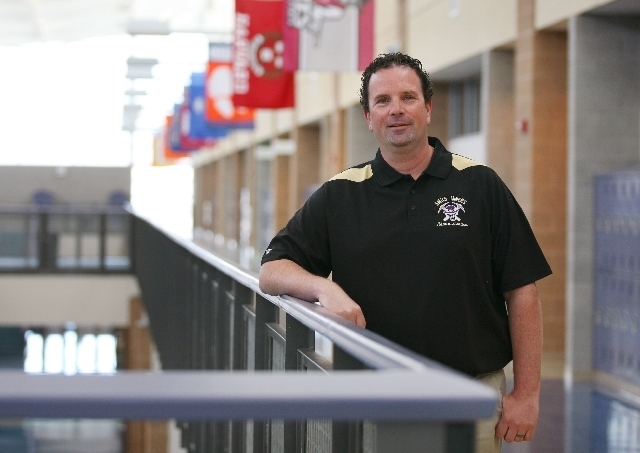 As principal of Moapa Valley High School last year, Grant Hanevold knew he was in the winter of his administrative life. Hanevold knew he needed a new challenge, too.
"I just longed to get back into a school that had a tremendous need," Hanevold said. "I just wanted to get back into a community where kids really needed help, needed a change and needed hope."
Hanevold jumped at the opportunity when Sunrise Mountain High School became a turnaround school in February. He was named principal in March.
In the academic year's final three months, Hanevold juggled both schools. While an interim principal handled the day-to-day activities at Sunrise Mountain, Hanevold evaluated the school and planned for the upcoming year.
"What I saw missing more than anything was organization, vision, direction and expectations," Hanevold said.
Sunrise Mountain, 2575 N. Los Feliz St., posted a graduation rate of 42 percent in 2012 — 19 percent below the Clark County School District average.
For the school to make a 180-degree turn, Hanevold knew his top priority was assembling his staff.
"For me, the toughest thing is and will always be recruiting the best teachers," Hanevold said. "That will always be the No. 1 struggle. I need to surround myself with quality teachers and administration, which I believe I really have at this point."
Hanevold retained 61 teachers and hired 60 new ones. For the first time in Sunrise Mountain's four-year history, every teacher position is filled. In the past, the school year would open with vacancies and long-term substitutes.
Sunrise Mountain uses a block schedule, where students alternate two blocks of four periods every other day.
However, Hanevold is implementing double blocks for students who are deficient in English, reading or math. Deficient students would attend class every day with the same instructor.
Starting from scratch isn't foreign to Hanevold, who served as principal when Harney Middle School opened in 2002. The previous experience gave Hanevold a road map for Sunrise Mountain.
"When you open a brand new school, you have to create a mission statement, a vision, goals, a direction, and all those ideas people take for granted," Hanevold said. "Having the experience of opening a new school was critically important for what I'm going through now. Even though those things do exist in Sunrise Mountain High School, it's been a historically low-performing school. I'm running into this full steam ahead like it's a brand new school."
The school district's academic manager of turnaround schools, Jeff Geihs, said the two keys of success for turnaround schools are accepting ownership and having a prescriptive approach.
Hanevold is a step ahead of Geihs in acknowledging Sunrise Mountain's much-maligned past.
"I refuse to lower my expectations for Sunrise Mountain High School because of where it's located, the socio-economic value of the community, a second language and demographics," Hanevold said.
Apathy among students was a concern for Hanevold when he took the job.
Hanevold said he'll hold students accountable and a nonchalant attitude won't fly.
Geighs lauded Hanevold's people skills and approach.
"Grant Hanevold is a very warm, caring and highly confident individual," said Geihs, who has known Hanevold for 20 years.
Clark County has 11 turnaround schools. District Superintendent Pat Skorkowsky said schools have seen progress under the turnaround model.
"I think we're seeing some great results (with turnaround schools)," Skorkowsky said. "We're seeing a renewed energy in school. We're seeing a renewed focus on the teachers and their instruction.
"We're seeing kids that feel good about their school and can articulate that."
Skorkowsky said his goal is for turnaround schools to exit the program in three to four years.
Turnaround schools will be under a microscope in October when proficiency test scores are revealed.
Geihs is optimistic about Sunrise Mountain under Hanevold.
"My prediction is there will be achievement increases with proficiency percentages at Sunrise Mountain High School," he said.
Hanevold is entering his 12th year as a principal, but there's a different feeling this time.
"This is my 24th year in Clark County, and I can honestly say I feel more inspired going into this year than any other in my career," Hanevold said. "All the pieces are falling into place."
Contact reporter Eric Uribe at euribe@reviewjournal.com or 702-383-4642.