Accidental fire causes partial evacuation of Carson Tower at Golden Nugget
September 22, 2016 - 3:14 am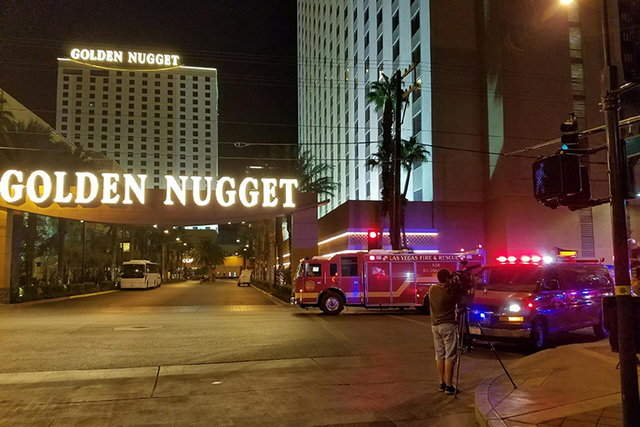 An early Thursday morning fire forced the evacuation of three floors of the Carson Tower at the Golden Nugget in downtown Las Vegas.
The fire was contained to one room on the ninth floor and nobody was hurt, Las Vegas Fire Department spokesman Tim Szymanski said. Guests on the eighth, ninth and 10th floors were told to leave their rooms and wait outside while crews assessed the damage.
By about 2:45 a.m., fire investigators had determined the fire to be accidental. Szymanski said a woman fell asleep when a lit cigarette on the adjacent nightstand caught her mattress on fire.
By the time fire crews arrived about 1 a.m., the automatic sprinkler system had doused the fire, Szymanski said, adding the system kept the damage to a minimum.
He said part of a mattress and headboard had been burnt. Szymanski estimated the damage at $10,000.
"They'll have the room back in service tomorrow," he said of the hotel staff.
One guest at the property, 44-year-old Debbie Fritts of Chicago, was heading back to her room when a Golden Nugget security guard stopped her and her family from entering Carson Tower elevators just before 1 a.m. She and a few hundred other guests waiting outside were allowed back inside a little before 2 a.m.
During the wait, Fritts said she could see water coming out from windows.
"[It was] just pouring down the front of the building," Fritts said.
Contact Mike Shoro at mshoro@reviewjournal.com. Follow @mike_shoro on Twitter.