September 22, 2007 - 9:00 pm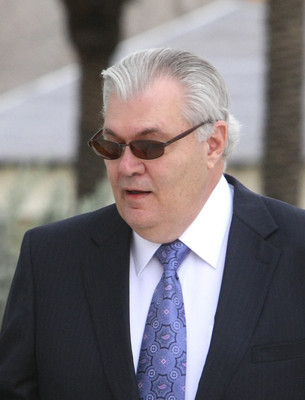 The campaign finance manager who helped former Clark County Commissioner Erin Kenny cover up her practice of stealing money from her campaign coffers was spared prison time Friday.
Las Vegas accountant Daniel Geiger was sentenced to three years of probation and six months of home confinement. He also was fined $5,000.
In arguing for a lenient sentence for his client, attorney William Terry explained that Geiger, 64, agreed from the beginning to assist the federal government with its political corruption investigation.
"This was not a last-minute deal that was made," Terry said of Geiger's plea agreement. "Kenny came to him (when search warrants were served) and said, 'What are we going to do?'
"Mr. Geiger said, 'We have to tell the truth.' "
Geiger admitted that he cooked Kenny's campaign finance books to cover for cash she withdrew to spend on personal expenses. He said that it was a practice Kenny regularly engaged in and that he would reduce the amount of campaign contributions to balance the report.
Geiger said he was involved in the establishment of an off-shore account in which Kenny planned to hide $200,000 she received in exchange for pushing through a controversial zone change that paved the way for a CVS Pharmacy.
Kenny pleaded guilty in 2003 to taking bribes from strip club owner Michael Galardi and was recently sentenced to 30 months in federal prison.
During subsequent conversations with federal agents, Kenny said she also received money from real estate consultant Donald Davidson.
Geiger told U.S. District Judge Roger Hunt that he regretted continuing to work for Kenny after witnessing her illegal behavior.
"I am very sorry for the circumstances that have taken place," Geiger said. "I regret I didn't terminate my relationship with Erin Kenny in 2001."
Geiger also served as Galardi's accountant for years. He said he ended his relationship with Galardi before the political corruption investigation came to light "because of some of the things going on."
Geiger sold his business and will become an employee of the accounting firm Nyberg & Associates. Hunt said Geiger is allowed to leave his home for work during the next six months.
Hunt summed up Geiger's role in Kenny's illegal scheme as that of someone who "allowed his loyalty to interfere with his good judgment."
Hunt noted that Geiger played a minor role in the political corruption scandal and allowed probation in part because Geiger did not benefit financially from the scheme.
POLITICAL CORRUPTIONGalardi InvestigationNews Archive