Agencies gather to address domestic violence
October 1, 2010 - 11:00 pm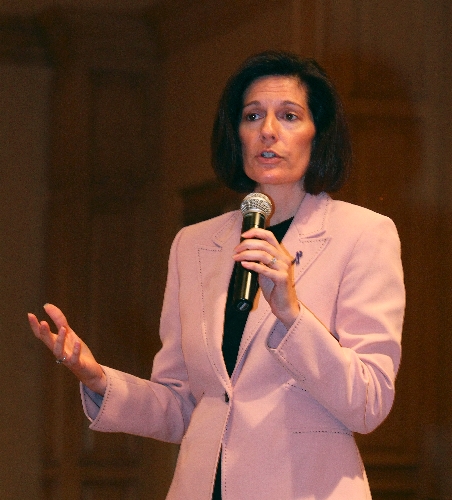 The 17 red T-shirts served as a reminder to everyone at the first Statewide Domestic Violence Fatality Review Summit on Friday how far the state has to go.
The traveling display is a 2005 memorial exhibit with the stories of Nevadans killed in domestic violence disputes.
The T-shirts detail each victim's story on a gold breastplate, reminding law enforcement officers, social workers, victim advocates and medical workers how much more work needs to be done to end domestic violence.
An 18th T-shirt paid tribute to uncounted women whose deaths went unreported or unacknowledged.
About 120 people from agencies in Reno, Carson City and Las Vegas gathered at the Suncoast hotel-casino to discuss why Nevada tops the nation for women slain by men at 38 in 2008, according to the most recent statistics.
When the victim's relationship to the offender was identified, it was found that 83 percent of the victims were killed by someone they knew.
The state ranked fifth last year, according to the Violence Policy Center, a Washington D.C.-based nonprofit.
It's yet another unhappy record owned by the financially strapped state that still ranks first in unemployment and foreclosures.
"I think the downturn in the economy — high foreclosure, high unemployment and high bankruptcy — is creating more of a stressor on the family," Attorney General Catherine Cortez-Masto said.
"Now we're seeing some of these things play out more often, and that's what we're seeing now."
But Cortez-Masto fell short of fully blaming the state's economic climate for the increase in domestic violence.
"It's not a direct correlation, but is it a coincidence? I don't know," she said. "There's something obviously going on, and that's why we're coming together to talk about what we're seeing, look at the statistics and, more importantly, discuss what we can do about it."
Lt. Rob Lundquist of the Metropolitan Police Department family crime bureau said the agency investigates about 25,000 cases annually.
Police have identified at least 110 offenders through a tracking program designed to monitor those with a "propensity to reoffend causing significant injuries or death," Lundquist said.
Officers are teaming up with middle and high schools to teach about dating violence in health classes.
"Where do we need to go? In my opinion there's a lack of communication on all parts," Lundquist told the group. "We need to be talking more, everybody, all partnerships involved. We need to develop procedures not only for victims but for perpetrators. What else can we do with them besides throw them in jail?"
Cortez-Masto described the summit as a way for agencies statewide to create a blueprint for communicating vital information with one another.
"Quite often the victim will recant when it comes down to court time," Cortez-Masto said. "We really need to understand how to bring the case forward even if the victim doesn't cooperate. We also cannot neglect the batterer. There are treatment programs around the state that provide appropriate treatment for these individuals."
Sue Meuschke , executive director of the Nevada Network Against Domestic Violence, spoke of Donna, a Fallon woman who was killed in January 2005 by an ex-boyfriend against whom she had filed a restraining order one week before.
She died of a gunshot wound in her head. When police went to question the ex-boyfriend, they found his body four days later. He had committed suicide.
Donna's story was on one of the red T-shirts hanging in the room.
"We have contact with people, but we don't always identify the seriousness of the situation," Meuschke said. "We could have done it. We could have saved this woman's life."
Contact Kristi Jourdan at kjourdan@reviewjournal.com or 702-383-0279.