Anniversary panel wants to name Tahoe cove after Samuel Clemens
December 14, 2013 - 8:45 am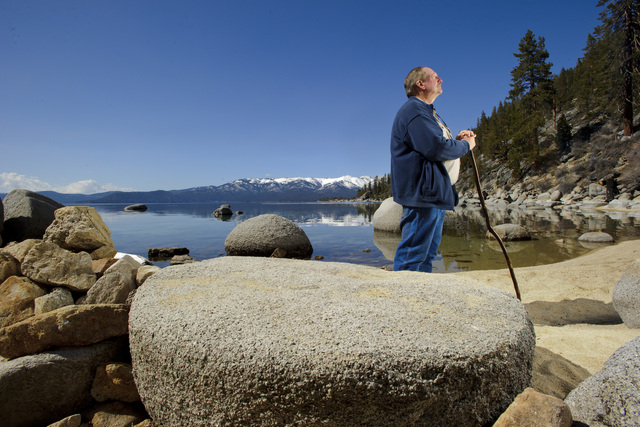 CARSON CITY — Mark Twain wrote in "Roughing It" that he burned down a large section of Lake Tahoe forest because he didn't attend to the campfire where he was heating his coffee pot.
When Twain camped at the lake in 1861, one would assume settlers frowned upon setting forest fires. In today's world, careless campers are cited and fined the cost of suppressing the wildfires, though they probably never will have enough money to pay off the debt.
Smokey Bear does not like such fire starters, but Mark Twain — his real name was Samuel Clemens — might be the exception for 21st century Nevadans.
The state Sesquicentennial Commission voted unanimously Thursday to back a move to name a cove on the Nevada side of the lake Clemens Cove. The cove is thought to be where Twain and his friends camped and played faro on a large flat rock.
"There is no better time to do this," said Lt. Gov. Brian Krolicki, the commission's chairman.
He said Twain is most often associated with his native Missouri, but naming the cove in his honor could lead to more people becoming familiar with his Nevada years and the start of his writing career.
Commissioners and members of the state Board on Geographic Names hope the U.S. Board on Geographic Names approves the name before the state's 150th anniversary on Oct. 31.
Twain (1835-1910) first took the pen name Mark Twain while writing for Virginia City's Territorial Enterprise in February 1863. He later wrote "The Adventures of Huckleberry Finn," "Life on the Mississippi" and other classics.
His sojourn in Nevada lasted three years. He fled Missouri basically to escape serving in the Civil War and arrived in Carson City in August 1861 to work for his brother, Orion, appointed the territory's secretary. Orion's job was just under the governor in importance.
The Clemens home, three blocks from the Capitol, now is a law office operated by Julian Smith.
Twain didn't stay in Carson City long but headed off to the Aurora mining camp. When he failed to gain riches, he hired on with the Territorial Enterprise.
As a reporter, he covered the Territorial Legislature and launched "The Third House," a tradition that is still alive. It features members of state's press corps spoofing legislators and the governor.
In "Roughing It," an account of his early years in Nevada and the West, Twain also made his famous assessment of the beauty of Lake Tahoe: "As it lay there with the shadows of the mountains brilliantly photographed upon its still surface I thought it must surely be the fairest picture the whole earth affords."
But in the same book, Twain recounted his trip with friends to Lake Tahoe to stake out a timber claim. He wrote that a forest fire started from his unattended coffee pot.
"In a minute and a half the fire seized upon a dense growth of dry manzanita chaparral six or eight feet high, and then the roaring and popping and crackling was something terrific."
Twain was a satirist known to exaggerate even straight news stories, so maybe the fire story was another of his tall tales. Also, "Roughing It" was written 10 years after his visit to Lake Tahoe, and his recollection might not have been perfect.
But the raging fire story was one of the reasons two years ago that the U.S. Board of Geographic Names on a 5-4 vote rejected the Nevada Board of Geographic Names' move to name the cove after Clemens. Opposition came from the U.S. Forest Service.
The other reason was the insistence by California historian David Antonucci that the Twain camp was not in Nevada, but on the California side of the lake.
Bob Stewart of Carson City, a retired U.S. Bureau of Land Management spokesman, has done his own research and found the cove is in Nevada near the Thunderbird Lodge, a mansion built in 1936 by millionaire George Whittel Jr.
This time, Stewart believes the Clemens Cove effort will be successful.
"We aren't saying it was where he had his campfire, but Clemens was associated with Lake Tahoe, and here is a cove that doesn't have a name," he said Friday.
State Archivist Jeff Kintop, a member of the state Board of Geographic Names, led the move Thursday to induce the Sesquicentennial Commission to support Clemens Cove.
Twain's carelessness with forests hasn't hurt him in his native Missouri. A forest there is called the Mark Twain National Forest.
How did that one get past Smokey?
Contact Capital Bureau Chief Ed Vogel at evogel@reviewjournal.com or 775-687-3901. Follow him on Twitter at @edison vogel.